The onion tomato chutney is like the cousin of coconut chutney. It is indispensable and comes to everyone's rescue when there is no coconut at home.
No South Indian household is void of idly and dosa. And no such household exists where there isn't a plethora of side dishes to dunk idlies and dosas in. While the hunt for a new side dish is almost perpetual, some dishes work like a charm every time you make them. Like this onion tomato chutney. Lets just call it old world charm or may be a classic recipe that doesnt fail you any time ever.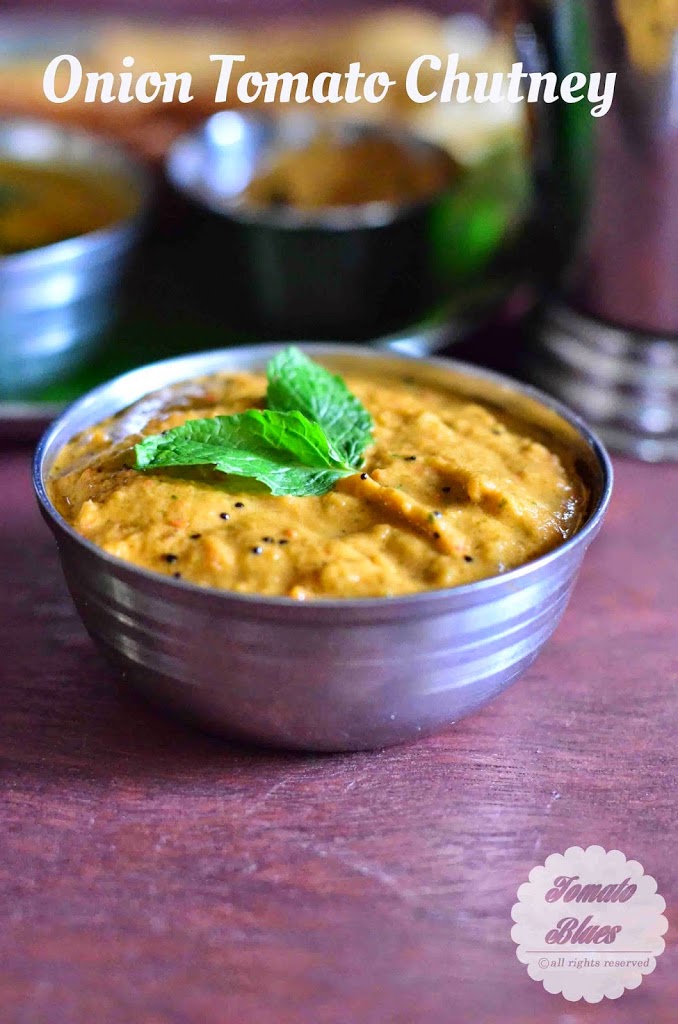 While there are so many variations to this recipe ( I m sure every region in TN has its own version), mine is a simple no fuss version that you can make and store in the fridge. Which is what i do any way. This chutney never fails me when i m whipping up Idlies and Dosas for my north Indian pals. Plus its such a breeze to make on a large scale. I always like making more than one side dish for any main course. So i make it a point to make some sambar or some other chutney to go with idly or dosa. This chutney pairs well with roasted garlic coconut chutney and some sambar ( recipe coming soon!)
Recipe For Onion Tomato Chutney 
( Learn how to make Onion Tomato Chutney, an easy dip with onions and tomatoes that pairs well with dosas and idlies)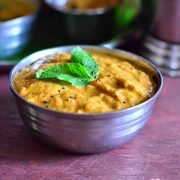 Print Recipe
South Indian Onion Tomato Chutney
Easy and quick south Indian style onion tomato chutney for Idlis and Dosas
Ingredients
Onions 2 large chopped finely

Tomatoes 3 large chopped finely

Mint leaves a handful

Cilantro leaves 1/4 c chopped finely

Curry leaves a sprig

Tamarind a small marble size

Dry red chilies 5 to 6

Oil 1 tbsp

Salt to taste
To temper:
Sesame oil 2 tsp

Mustard seeds 1 tsp

Curry leaves a sprig
Instructions
In a pan, heat 1 tbsp oil.

Add dry red chilies, curry leaves and tamarind and saute for 30 secs.

Now, add onions and saute till they turn pink.

Tip in the tomatoes next and saute till they turn completely mushy.

Once mushy, add cilantro, mint and curry leaves and saute for another 2 mins.

Add salt and mix well.

Switch off flame and let cool completely.

Once cool,  blend to a smooth puree in a blender adding about 1 tbsp water if necessary.

To temper, heat sesame oil and pop the mustard seeds.

Follow with curry leaves.

Add this to the ground mixture and mix well.
For Instant Pot & Air Fryer Recipes
Instant Pot timings may vary based on your geographic location. Air fryer settings and timings may vary based on the capacity and the model of the Air fryer.
Disclaimer
Nutrition values are provided here as a courtesy and are only a rough guide. Please consult a health care provider if you have any concerns.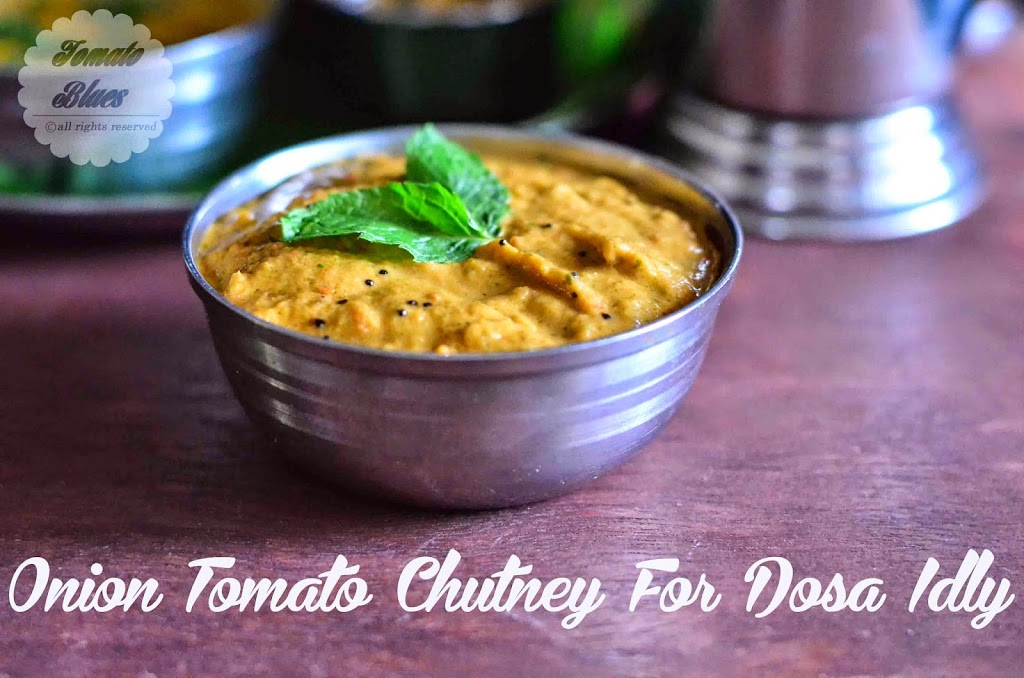 Recipe Notes
You can make this chutney in bulk and keep it refrigerated. This keeps well for upto a week if you handle it well.
This chutney freezes well too. To freeze this easy onion tomato chutney, grind it and transfer it to a freezer-safe container. Freeze until ready to use. When you want to use the frozen chutney, allow it to thaw in the fridge for a few hours. When thawed fully, add the tempering and mix well.
Use cold-pressed sesame oil for a great flavor in your chutney.