No matter what you do, your hunt for
the side dish
for idly and dosa is perpetual.I typically go hunting for such recipes every week. In spite of knowing about 20 chutney recipes, i still keep searching for something new to eat with dosa and idly. This thokku actually happened by chance. I make tomato thokku this way but since i dint have many tomatoes that fateful day, i decided to throw in a handful of onions and garlic. I must say, its a keeper! Won hands down with Mr. P s palate. While this goes very well with crispy dosas, i must say it pairs up well with curd rice too.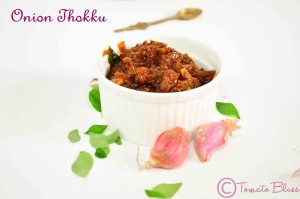 Recipe for Onion Thokku
( Relish made with onions and garlic)

Prep Time: 10 mins
Cook Time: 15 mins
Makes 1 cup
Allergy Info: Vegan, grain free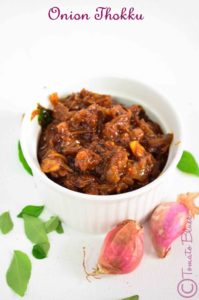 Ingredients
Onions 2 large chopped finely
Garlic 4 to 5 cloves chopped finely
Thick tamarind extract 1/4 c from a marble size tamarind
Jaggery 1 tbsp powdered
Turmeric powder 1/2 tsp
Mustard seeds 1/2 tsp
Oil 2 to 3 tbsp
Curry leaves a sprig
Salt to taste
To Dry Roast And Grind:
Dry red chilies 3 to 4
Fenugreek seeds 1/2 tsp
Mustard seeds 1 tsp
Directions
In a pan dry roast fenugreek, chilies and mustard and let cool. Grind to a fine powder and set aside.
Heat a pan with oil.
Pop the mustard and add curry leaves next.
Now, add the chopped garlic and fry till golden brown.
Next add the chopped onion and fry till light brown.
At this stage, add turmeric powder and tamarind extract.
Add jaggery, salt and the ground powder next and mix well.
Let it simmer on medium flame till oil separates.
Once done, transfer to a dry air tight container and refrigerate.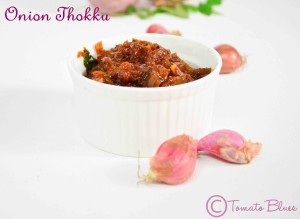 Works like a charm with dosas, idlies and curd rice.