How To Make One Pot Vegetable Ramen With Peanut Butter Sauce?
One Pot Vegetable Ramen With Peanut Butter Sauce- A delicious soupy dish with veggies, tofu& ramen. Vegan.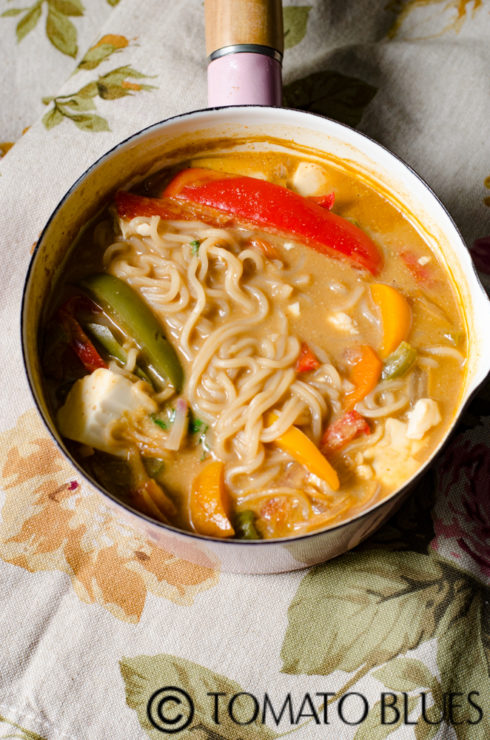 This one pot vegetable ramen with peanut butter sauce is something that i make when i m in no mood for extensive cooking. Besides the fact that it takes less than 2o mins to wing it off, this dish is a complete meal by itself because it is loaded with veggies, tofu and noodles. The dish is made in a sauce pan that is big enough to hold all this and that gorgeous peanut butter sauce that lends body to this otherwise watery ramen dish and rounds off the flavors well. This is the first time i tried my hands at using peanut butter in a savory dish. I have come across many savory recipes that call for peanut butter but have never really bothered much about it. And then one day, i felt like this delicious soupy one pot vegetable ramen with peanut butter goodness that is inspired from here . After all, there is really not much that peanut butter, chocolate and vodka cant fix ( in that order, by the way) in this world.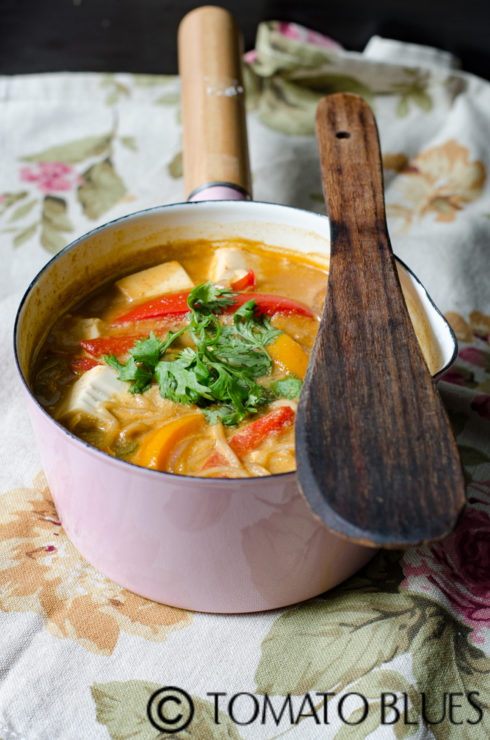 So, this dish is really forgiving but for the pan. You must use a pan that can hold all of this while the ramen cooks in that bubbling sauce for a good 5 mins. Apart from that, everything else is a cinch. You can any veggies you prefer but i really did keep this simple with just the basic stuff like bell peppers, carrots and zucchini. Baby corn would add a nice crunch and broccoli would lend a different flavor. I used some of that sriracha sauce i had made the other day along with a splash of red chili sauce but you can just limit that to the red chili sauce. There is really not much stirring required here and all you have to really do is put everything in a pan, mix lightly, bring the flame down to medium and turn away for a good 10 mins. And when you come back, your one pot vegetable ramen with peanut butter will be ready, hot and steaming.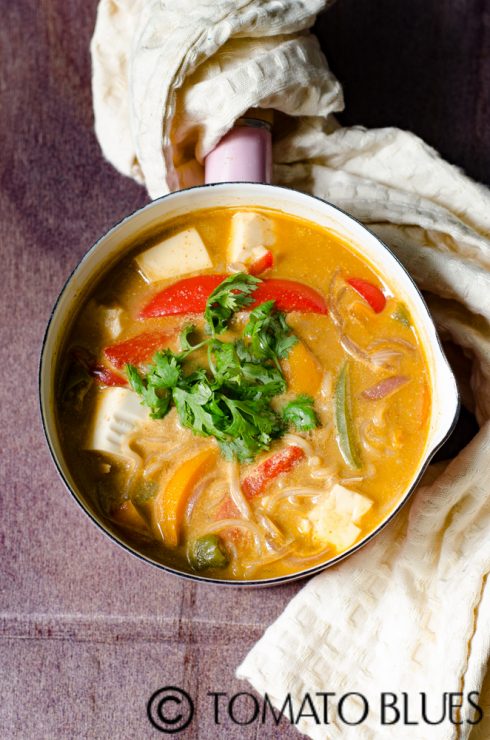 Recipe For One Pot Vegetable Ramen With Peanut Butter Sauce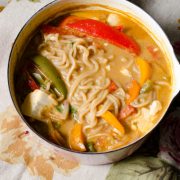 Print Recipe
One Pot Vegetable Ramen With Peanut Butter Sauce
One Pot Vegetable Ramen With Peanut Butter Sauce- A delicious and filling one pot ramen noodle dish with veggies and tofu. Vegan
Ingredients
Ramen noodles 1 small cake

Tofu 75 g chopped into cubes

Carrot 1 cut into julienne

1/2

a Red

yellow and green bell pepper each chopped into long strips

Mushrooms 5 to 6 sliced thinly

Red onion 1 chopped finely

Zucchini 1 smallish peeled and chopped into thin strips

Celery stick 1 small sliced thinly

Spring onion bulbs 2 chopped finely

Sriracha sauce 1 tbsp

Red chili sauce 2 tsp

Soy sauce 1 tbsp

Sugar 1 tsp

Peanut butter 1 tbsp

Garlic powder 1 tsp

Ginger 1/2 tsp grated

White pepper powder 1 tsp

Water 2 cups

Lemon juice 1 tbsp

Salt to taste

Coriander leaves for garnish.
Instructions
Place all the ingredients except the lemon juice, water and peanut butter in a heavy bottomed deep sauce pan.

Gently pour water over this.

Add salt and peanut butter.

Place the pan on medium flame and cook till the ramen noodles turn soft, stirring occasionally.

Once done, garnish with coriander leaves and add lemon juice.

Pour into soup bowls and serve piping hot.
Notes
1. You can use any nut butter in place of the peanut butter.
2. Adding sugar and lemon juice is optional but recommended.
3. Ramen can be replaced with angel hair pasta or brown rice noodles.
For Instant Pot & Air Fryer Recipes
Instant Pot timings may vary based on your geographic location. Air fryer settings and timings may vary based on the capacity and the model of the Air fryer.
Disclaimer
Nutrition values are provided here as a courtesy and are only a rough guide. Please consult a health care provider if you have any concerns.