This space doesnt have the classic brownie recipe. You know, the ones loaded with chocolate and vanilla kicking you in the shins ( ahem.. the tongue i mean.) It has a
blondie
though. And i thought it was time i did justice to the brownie void on the blog. After all, if one loves baking, then one must also love brownies. That is the unwritten rule here at
tomato blues

.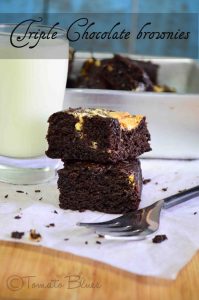 So, when i actually raided
Foodomania
, whose author is Kavi, a vivacious young thing who comes out of everything in flying colors, i was starstruck with this
Brownie
. I immediately knew this was the one brownie that s going to be akin to my comfort food brownie sorts. You know, those are hard to come by. This will be the brownie that i ll bake when Mr.P gets promoted. Or like i did yesterday for Amma as a mother s day treat. This will be it when i write my cookbook. ( yes, i intend to do that) Its definitely conclusively that brownie recipe that i ll turn to for all good things in my life. And its also that recipe that i ll turn to when i m in need of some chocolate to lift my spirits. Here s to brownies. And here s an even bigger one to brownies with coffee in them. I made some slight changes to the brownie recipe and it was perfect. I mean like the perfect perfect. And its a brownie recipe that you cant mess.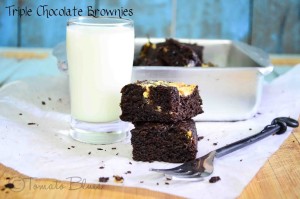 Recipe For Triple Chocolate Coffee Brownies
( Easy eggless brownies with chocolate and coffee goodness)
Prep Time: 10 mins
Cook Time: 35 mins
Level: For Beginner Bakers
Bake Temp: 35 mins
Yields 16 squares
Ingredients
All purpose flour 1 cup
Unsweetened cocoa powder 1/4 cup
Castor sugar 1/3 cup plus 2 tbsp
Baking powder 1 tsp
Baking soda 1/4 tsp
Salt 1/4 tsp
White chocolate 90 g chopped into pieces
Dark chocolate 90 g chopped into pieces
Instant coffee powder 1 tbsp ( i used sunrise)
Warm Milk 1/3 cup
Curd 1/2 cup whisked finely
Canola oil 1/4 cup
Vanilla essence 1 tsp
Parchment paper to line the tray
8″X 8 " deep square baking pan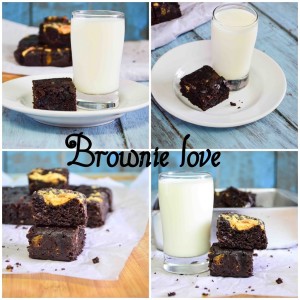 Directions
Preheat oven to 150 C.
Dissolve the instant coffee powder in 1/3 cup of milk. Stir well. Set aside.
In a bowl, combine all the dry ingredients except the chocolate and using a whisk, mix thoroughly to make sure that its well incorporated.
Line your tray with the parchment paper in such a way that the paper s a little extra on two sides so that you easily lift the brownie out. Never never make a brownie in a pan that s not lined. I ve had too many brownie disasters when i did that and disaster wisdom is always wise.
Now, make a well in the center of the dry mixture.
Add the coffee, curd, vanilla and oil.
Using a hand whisk, gently mix the ingredients until well combined. Make sure the wet ingredients are incorporated into the dry ingredients. Dont worry about the denseness of the brownie. A brownie is dense but hey! we like density. ( In physics and in brownies)
Now, pour half of the batter into the lined tray and evenly spread it out using a spatula making sure that it covers the whole pan.
Gently tap the pan onto the counter.
Now, sprinkle the white chocolate bits over the batter evenly. Dont do it like i did. In a fashion that s typical of squirrels eating fruit.
Now, add the dark chocolate bits to the remaining batter and pour over the remaining batter.
Gently even the batter using a spatula.
Now tap the tray on the counter again gently.
Pop the tray into the oven, sit back and relax. I made my dosa maavu while i waited for the brownie to bake and the aroma that filled the house more than took away the stress and strain of the monotonous cleaning process of the wet grinder.
After about 30 mins, insert a toothpick to check if its done. If not bake further for 5 mins.
If the toothpick comes out clean, then the brownie s ready to come out.
Once done, remove from the oven and let cool for an hour before you take it out of the pan.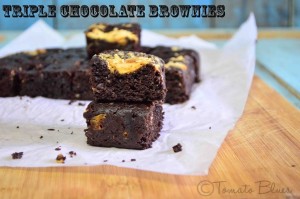 After it cools down, slice up into squares and start gobbling.
This goes to this month s
Baked With Love
and my entry for this month s blog hop week with Avant Garde Cookies
Radhika,
Jayanthi
,
Kavi
,
Priya
,
Priya Mahadevan
and
Roshni