Its hush hush week again here at
Avant Garde Cookies
meaning we pair up and shoot each other with some terrific secret ingredients to cook up. This time i was paired with the
Ebullient Roshni
who in turn gave me the ebullient Nutella to work with. Now the reason why i call it ebullient is because it has the ability to put a smile on my face. There are probably a million nutella recipes on the web. But i am still not over my strawberry fetish and so i decided to combine the both. Whats more, its almost christmas and we all need a muffin or two to cheer us up and put us all back into the mood of carols and mistletoe.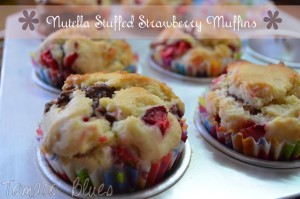 Sometime back, i happened to overhear a discussion amidst a bunch of college kids. There were discussing the Mayan calendar and the world s end. You know what i told them? Why are they even discussing this morbid topic when there is Nutella, chocolates and Strawberries in the world. Let the world takes its own course. And let us all take the course of pink strawberries and nutty deep dark brown Nutella. What say?

Recipe For Nutella Stuffed Strawberry Muffins
(Muffins with fresh strawberries and nutella)
Prep Time: 20 mins
Cook Time: 15 to 20 mins
Baking Temperature: 180 C
Makes 6 large muffins
What You Need?
All Purpose Flour 1.5 cups
Sugar 1/2 cup powdered
Oil 1/4 cup
Yogurt 1/3 cup whisked well
Baking powder 2 tsp
Vanilla extract 1 tsp
Egg 1 large
Fresh strawberries chopped 1 cup
Nutella 3 tbsp
Salt 1/2 tsp
How To Make It?
Preheat oven to 180 C.
Line your muffin pans.
In a large mixing bowl, combine the flour, salt, sugar and baking powder and mix well.
In another bowl, add oil, yogurt, vanilla and the egg and whisk until well incorporated.
Now, add the dry mixture to the wet mixture and fold gently.
Once well incorporated and you cant see any white flour anywhere, tip in the strawberries. You will have a thick batter at this point but dont worry. I did panic but my muffins were super spongy and soft.
Now, gently fold in the strawberries to the mixture at this point.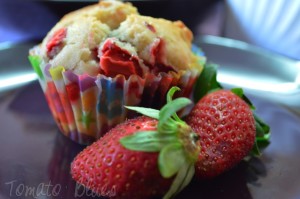 Once done, add about 1.5 tbsp of the batter in each muffin cup.
Now, add about half a tbsp of nutella over the batter. Repeat for all the cups.
Cover the nutella layer with the remaining batter.
Bake in a preheated oven for about 15 to 20 mins or until muffins turn golden brown. Oven timings vary.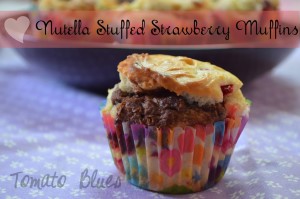 Once done, cool completely before serving.
P.S I wanted my muffins to have a crown so i added more batter and baked just 6 of these. But the batter can yield 9 muffins.
And the batter is thick and when i say real thick but there s no need for the panic button.