I ve been gone for a long time now. I know that i ve not been a star blogger these few weeks. Too many things on my plate and then there s the scorching heat which makes any chore to be done in the kitchen a daunting task. Added to all the mayhem was the AC which failed us dutifully. Which only made us crankier than ever. Sleepless, sweaty as pigs and scorning was how we were this weekend. I couldnt stand that status much. I mean, crankiness and sweating are not my best friends and i dont appreciate the situation if it goes on for a long time. So this time around, i decided that i ll try and better the situation a little. And that s why these brownies got made in my kitchen. Despite the fact that the AC did not work. And the fridge was acting up.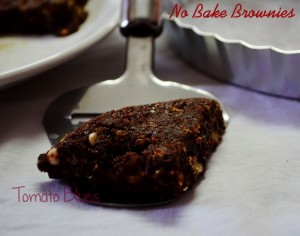 I know that a lot of things on this blog has been on a standstill. FBTE and Cook Book Tuesdays havent been happening much. I ve been ignoring the kitchen for a long time now. And that includes my book shelf too. I decided to make a comeback today with these brownies. I hope these brownies work as my good luck charm in the coming week. I hope i will be able to do a few posts in the coming days. And the next post s extra extra special. Its a guest post. A very special guest and a simple post. But then the guest s who that matters. So stay tuned for the next post too. And if you are bored like me or if you feel that you simply cant stand the heat, then make these brownies, cut them up and down them in as many goes as possible alongside a glass of chilled milk. Believe me, then, your day will look way better.

Prep Time: Under 20 mins


Cook Time: Nil


Makes a 9″ brownie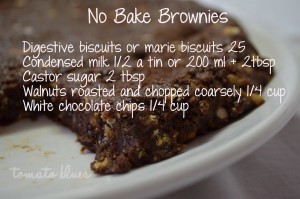 ( These brownies require atleast 3 hours of setting time in the fridge. You can add any nuts of your choice. You can even try a combination of nuts. Make sure you crush your biscuits coarsely for a beautiful texture in the brownies.You can use granulated sugar too.)


What You Need?
Digestive biscuits 20 to 25
Condensed milk 1/2 tin or 200 ml
Castor sugar 2 tbsp
White chocolate chips 1/4 cup
Unsweetened Cocoa powder 3 tbsp
Walnuts roasted and chopped coarsely 1/4 cup
How To Make It?
Crush the biscuits into a coarse powder using a rolling pin. Make the whole job less messy by placing the biscuits in a zip pouch and then rolling the pin over it. Do not use a processor to do this as you will land up with a fine biscuit powder and that s simply not the brownie way.
Now, add the cocoa, sugar, nuts, chocolate chips and combine the mixture well.
Add the condensed milk to this mixture and start mixing. The mixture will be very thick and will not make it a delightful experience. But cheer yourself up by licking the batter now and then continue to mix anyways.
Now, line a pie dish 9″ in size with butter paper or parchment paper if you are one of those fancy bees.
Transfer the biscuit mixture to the pie dish and cover the pie dish with cling wrap.
Now, start evening out the mixture using your hands making sure the mixture is evenly spread on the dish.
Leave it in the fridge to set for atleast 3 to 4 hours.
Once done, remove the brownie from the pie dish and chop into squares.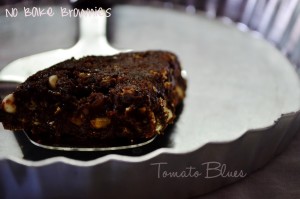 What are you waiting for? Start gobbling them brownies and dont forget to get a glass of milk to go with them.