I m a fanatic. About bananas. Having said that, its a shame that i dint eat a
banoffee
until i was in 3rd year college. So shameful for a
banana
lover. I must probably wish that the earth opens up and swallows me. Dont mind the drama, ok? For, i really am crazy about bananas and anything that has a banana in it.
I quite dint bother much about banoffee or much rather making it until last year. You know, how it is here in the blogging circuit, dont you? One person spots something utterly delicious and that instantly becomes viral. Well, i dint hop on the bandwagon of people who were whipping up
banoffees
. But i did crave making one.
Some how, every time i decide i would definitely make one, i would run out of one thing or the other, either the bananas or dulce de leche or whipped cream!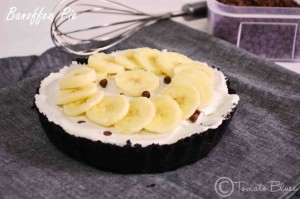 Coming to dulce de leche, i should probably bang my head thrice on the nearest wall. I had such clean pictures of it and then i go and bin them! Before that, if you all are wondering what dulce de leche is, its nothing but some heavenly caramel sauce that can be materialised with a tin of condensed milk. Accident, of course. But still, no dulce de leche pictures. You will have to wait for that recipe. But you can always make this with store bought dulce de leche. Or simply add some caramel sauce. No one is going to know!
The fabulous part about a banoffee is that the crust is no bake and no cook. You simply buy a packet of biscuits, crush them, mix them with butter and you almost have a crust. Only a step left and you will have that crust! So it s pie that simply justifies " as easy as a pie". Its also a pie that you can make at short notice or make ahead for a party. It can easily be doubled and tripled. So, there! I m giving you all one helluva dessert recipe. Smile for me, please.
Recipe For Banoffee Pie
( An easy no cook no bake dessert made with bananas, cream and dulce de leche)
Prep Time: 10 mins for the crust to set
1 hour for the rest
Cook Time: Nil
Makes one 5″ pie
Allergy Info: Eggless
Ingredients
For The No Bake Crust
Oreo biscuits 1 packet
Unsalted butter 1/4 c melted
For The Pie
No bake pie crust 1 recipe
Dulce de leche 3 tbsp
Ripe bananas 2 sliced
Whipped cream 1/3 c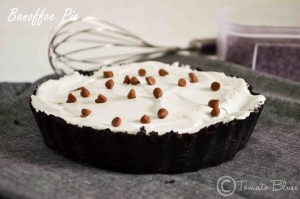 Directions
Oreo comes with cream in the centre. So, remove the cream from the biscuits. And dont forget to lick them all up in the process.
Now, place the biscuits in a zip loc bag and using a rolling pin, crumble them into a slightly coarse powder.I find this step a very relaxing thing to do especially if you are angry or annoyed. Just take it all out on the Ziploc.
Once you are done, transfer the powder to a bowl.
Add the melted butter to this and using a whisk, mix well.
Grease a 5″ pie dish well with butter. I used a springform pie dish. I recommend this because it makes taking out the pie later much easier.
Scoop all the biscuit mixture into the pie dish and using your finger tips spread them evenly on the base first and going around the sides eventually. Make sure you spread it evenly or your pie may crumble at a later stage.
Now, leave this crust in the fridge for 10 mins to set.
Once set, bring it out and smear the dulce de leche on the base evenly.
Now reserve a few slices of the banana and place the rest on the dulce de leche layer evenly.
Scoop all the whipped cream on the top of the bananas and using a spatula, even it out.
Arrange the remaining banana slices on the top of the cream layer in any way you fancy.
Leave it to set in the fridge for an hour.
Gently coax the base out of the mould to unmould the pie.
Slice and serve immediately.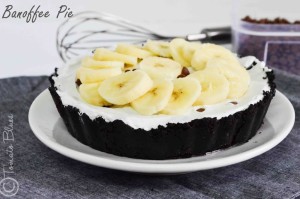 This is my pie for Avant Garde Cookies Week 1 this month. Check out some piey adventures at Radhika, Jayanthi ,Kavi, Priya, Priya Mahadevan and Roshni space too!!
PS. It is important that you grease the pie dish generously or your pie wont budge. There s also a risk of crumbling the crust when you dont grease well.
You can use any thing as a topping other than bananas. Chocolate chips or sprinkles, maybe? But no other fruit.
You may also use digestive biscuits instead of Oreo.
For the whipped cream, i use Blue Bird Whipping Cream powder.