Whenever i make chaats at home, a sense of nostalgia welcomes me warmly. Most of my college days were blissfully spent in tucking into a newspaper cone full of pineapple chaat or some tikki puris or nippat chaat. I dont even know whether these exist outside the periphery of Bangalore. I still feel my eyes welling up with tears when i reminisce of those days i spent lurking in the corner of our college library and rushing out to grab a bit of this and that when the stomach churned with hunger. I am a stickler for cleanliness but then there was this one tikki puri wala whom i exempted. He used to whip up newspaper cone after cone of deliciousness in a matter of minutes. And whats more, almost all of what he made was on the healthier side too. May it be his crunchy cucumber masala or congress or this nippat masala, there was no beating that guy. This recipe is just a recreation of those memories.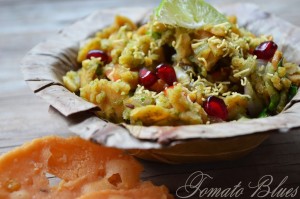 Now that amma is here, its usually only her and me in the evenings. While most of the evenings are spent reciting kandha sashti kavasam or screaming at the kids until my throat almost becomes hoarse, an evening of quiet visits us very rarely and this was just one of it. This recipe was made in a whim. Oh did i tell you how, everytime i decide to make chaat at home, i run out of one or more ingredients? But this time, fortunately, i had everything and so this got made in like what 5 mins? Real quick huh? Make this for the kids some day and wow them.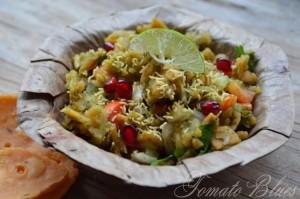 Recipe for Thattai Or Nippat Chaat
( A quick snack made with thattai murkku and an assortment of chutneys)
Prep Time: Under 10 mins
Cook Time: Nil
Serves 2
What You Need?
Thattai murukku 8 broken into tiny bits
Onion 1 medium chopped finely
Tomato 1 medium chopped finely
Carrot grated 1 tbsp
Cucumber 2 tbsp chopped finely
Pomegranate pearls 1/8 cup
Nylon sev 2 tbsp
Lemon juice 1 tbsp
Meeta chutney 2 tbsp
Pudina chutney 1 tbsp(Read The Recipe here)
Chaat masala 1/4 tsp
Salt to taste
How To Make It?
Place all the ingredients except the pomegranate pearls, sev and lemon juice in a large mixing bowl.
Mix well.
Add the lemon juice and combine well once again.
Garnish with sev, pomegranate pearls and chopped coriander.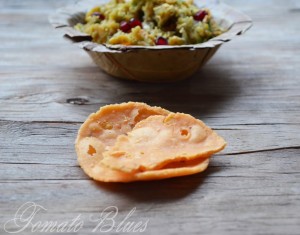 Serve with a cup of hot chaai.