This recipe is the outcome of my baseless addictions to cookery shows on TV. While not every recipe made on TV can hook me, some can make me feel very compulsive and passionate about it. This vadai made me feel that way. Intense, passionate and longing to go. That s how strongly i can feel about cooking.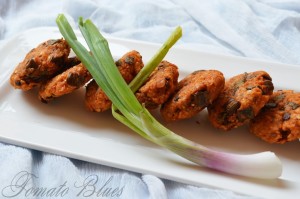 While the usual paruppu vadai is made with bengal gram dal, this vadai recipe uses 4 types of lentils making it protein rich albeit the DEEP FRIED tag. Deep fried once in a while is ok. Once in a while is once in 2 months at my place.Well, the beauty of the recipe is that the flavors are all different and once you take a nibble, they hit you from all directions. This recipe is loosely adapted from a cookery show that i happened to watch every week religiously.Anyway the point is i made this vadai and it was a great hit. So give it a shot when you are looking for protein and flavor in one package.
Recipe For Naalu Paruppu Vadai
( Deep fried fritters made with 4 types of lentils and spring onions)
Prep Time: Under 2 hours
Cook Time: 30 mins
Yields around 10 vadas
What You Need?
Bengal gram dal or chana dal 3 tbsp
Red gram dhal or toor dal 3 tbsp
Urad dal or bengal gram dal 1 tbsp
Moong Dal or yellow lentils 1 tbsp
Ginger 1 " bit
Dry red chilies 10
Spring onions 4 chopped finely
Cumin seeds 1/2 tsp
Hing a large pinch
Salt to taste
Oil to deep fry
How To Make It?
Soak the dals together for about 1 hour in 3 cups water.
Once done, drain the water completely and set aside.
In a blender, place the soaked dal and the other ingredients except the oil and grind to a coarse paste.
Check for seasoning at this stage and add salt if required.
Heat oil in a pan.
In the meanwhile, divide the dough into small rounds and flatten them a little.
Check if the oil is hot enough by dropping a lil of the vada batter into the oil. If the batter comes up immediately, it means the vada is done.
Start frying the flattened discs by dropping them in the hot oil in batches of 3 or 4.
Fry them on medium low until golden brown.
If you fry them on high, then you will get vadas that are cooked on the outside but uncooked on the inside.
Once done, drain them on a kitchen towel.
Serve hot with rice,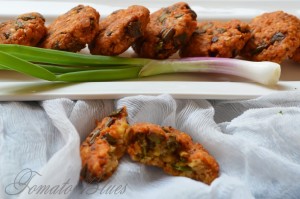 Sending this to My Legume Love Affair 52 hosted by Sra this month
for Susan and Lets Cook Protein Rich Foods at Radhi s Tickling Palates