Now, what can I say about this wonderfully flavorsome fruit, Muskmelon, that s literally tasteless. Believe me, the taste is a total disappointment after that enticing fragrance that one gets to enjoy in a musk melon. May be that s why its called musk melon. And that s why not many people enjoy it too. But that is no reason to not love muskmelon juice.
Atleast, I was not introduced to Musk melon until I reached college. Bengaluru, being a paradise, is host to so many fruits around the year and one such fruit was Musk Melon. I remember relishing huge chunks of this fruit with an equally huge bowl of vanilla ice cream. And then there was musk melon juice.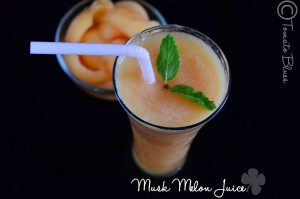 Bengaluru is very popular for its juice centers that swarm the city. Reasonably priced, these juices comes as a relief to hostellers like me and for people who also like drinking healthy fruit juices instead of some carbonated fizz.  And my favorite pick in any juice stall would be Musk melon juice or butter fruit shake. Butter fruit is nothing but avocado. And both of them took both the tasteless fruits to another level.
As for musk melon juice, its not even a recipe. Heck! Its just a way of using musk melon deliciously. And I feel all delicious ways must be ventured with a lot of people.
Recipe For Muskmelon Juice
( Muskmelon juiced with sugar)
Prep Time: 10 mins
Cook Time: Nil
Makes 2 tall glasses
Level: easy
Source: Inspired by Juice Stalls across Bengaluru
Muskmelon 2 cups cubed
Cold water ½ cup
Sugar 1/3 cup
Ice cubes to serve
Mint leaves to garnish
Directions
In a blender, place the melon, sugar and water and blend to a smooth puree
Top with ice cubes, add a mint leaf and serve cold.