I really dont remember when my fetish for mushrooms began. Although the cooking mushroom mania began only recently. While Mr.P views mushrooms as a member of the Agaricus family, his views end there. They do not appeal to his palette much and so my mania is actually short lived. I literally have to resort to unauthentic cooking ways to include mushroom in my meal. Like cooking mushrooms only on those days when Mr.P is not around for a meal.  Which was the situation a few days for nine whole days.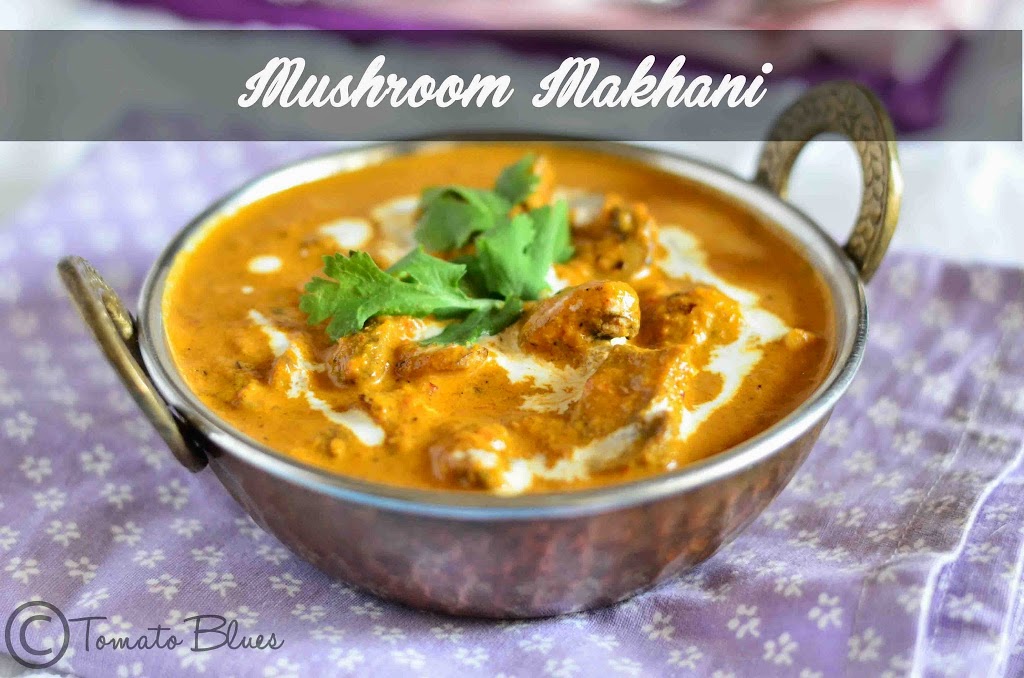 Now, i m not like the average indian woman who rejoices at the prospect of not cooking and ordering meals. You see, being normal has never been a lifestyle option for me. I ve always been abnormal. While every sensible soul in the world loves ice creams, I ( see the i in the upper case?) can only eat one ice cream and that too Banana Split. When the whole world resorts to munching on a bag of chips when they watch TV, i like downing platefuls of fruit. I ve been this way since God knows how long! Mind you. Dont term me a Health Freak. Health has nothing to do with me. Though  Freak agrees  well. Anyway, the point was while i did enjoy the listlessness and my then current Sloth position, the charm dint last long and i soon scurried back to the kitchen and picked up the ladle dutifully.
          And then i did what i usually do. Blew a whole load of money on a truck load of groceries and veggies that i will probably only consume by the end of this year. Well it got consumed thankfully. Lets just decently ignore that part, shall we? The point is along with all those groceries came a nice bag of mushrooms. In fact two bags and that got me to thinking and then cooking this mushroom makhani recipe which i sent along to one of my new yet best friends and she loved it and then personally recommended that i share the recipe with you all. And excuse the pictures. I did not have the crotchet to click away and so they are a wee bit poorly.
Recipe For Mushroom Makhani
( Learn to make mushroom makhani gravy- a decadent side for flatbreads with mushrooms and cream)
Prep Time: Under 10 mins
Cook Time: 20 mins
Serves 3 
Allergy Info: Soy and Gluten free
Course: Accompaniment, Sides
Cuisine: North Indian
Ingredients
Mushrooms 1.5 cups cleaned and quartered
Peas 1 cup cleaned and cooked
Kasuri methi 2 tbsp crushed
Fresh cream  4 tbsp
Cumin seeds 1 tsp
Butter 1 tbsp
Oil 1 tbsp
Sugar 1/2 tsp
Salt to taste
Coriander leaves 2 tbsp chopped finely for garnish
Spice Powders:
Kitchen king masala 1 tsp
Red chili powder 1 tsp
Garam Masala 1/2 tsp
Gravy:
Tomato 2 large chopped finely
Onion 1 large chopped finely
Garlic cloves 4
Ginger 1/2″ bit grated
Cashews 10
Dry red chilies 1
Fennel seeds 1/2 tsp
Oil 2 tsp
Directions
Heat oil in a pan.
Add the fennel seeds and dry red chilies.
Saute for 30 secs.
Add the onions and garlic cloves next and saute till onions turn a golden brown.
Now, add the cashews and ginger and saute for a min.
Toss in the tomatoes and saute till mushy and oil separates from the mixture.
Once done, let it cool down completely.
After cooling, blend the mixture to a smooth puree in a blender adding little water.
Heat the butter and oil in the same pan. We dont want to lose all that flavor here.
Add the mushrooms and peas and saute till mushrooms wilt.
At this stage, add the ground paste and mix well.
Simmer till oil separates again. Take about 3 to 4 mins
Add salt and sugar and mix well.
Simmer again for 2 mins. If you find the mixture turning very thick, add a little water. Wont hurt anything.
Now, add the crushed kasuri methi and mix well.
Lastly, add the cream and mix.
Simmer for a minute and switch off the flame.
Garnish with chopped coriander leaves.
Serve hot with rotis or any flatbread of your choice.