HOW TO MAKE MUSHROOM DUM BIRIYANI?
Mushroom Dum Biriyani-  Delicious soft chunks of button mushrooms marinated and slow cooked with long grained rice.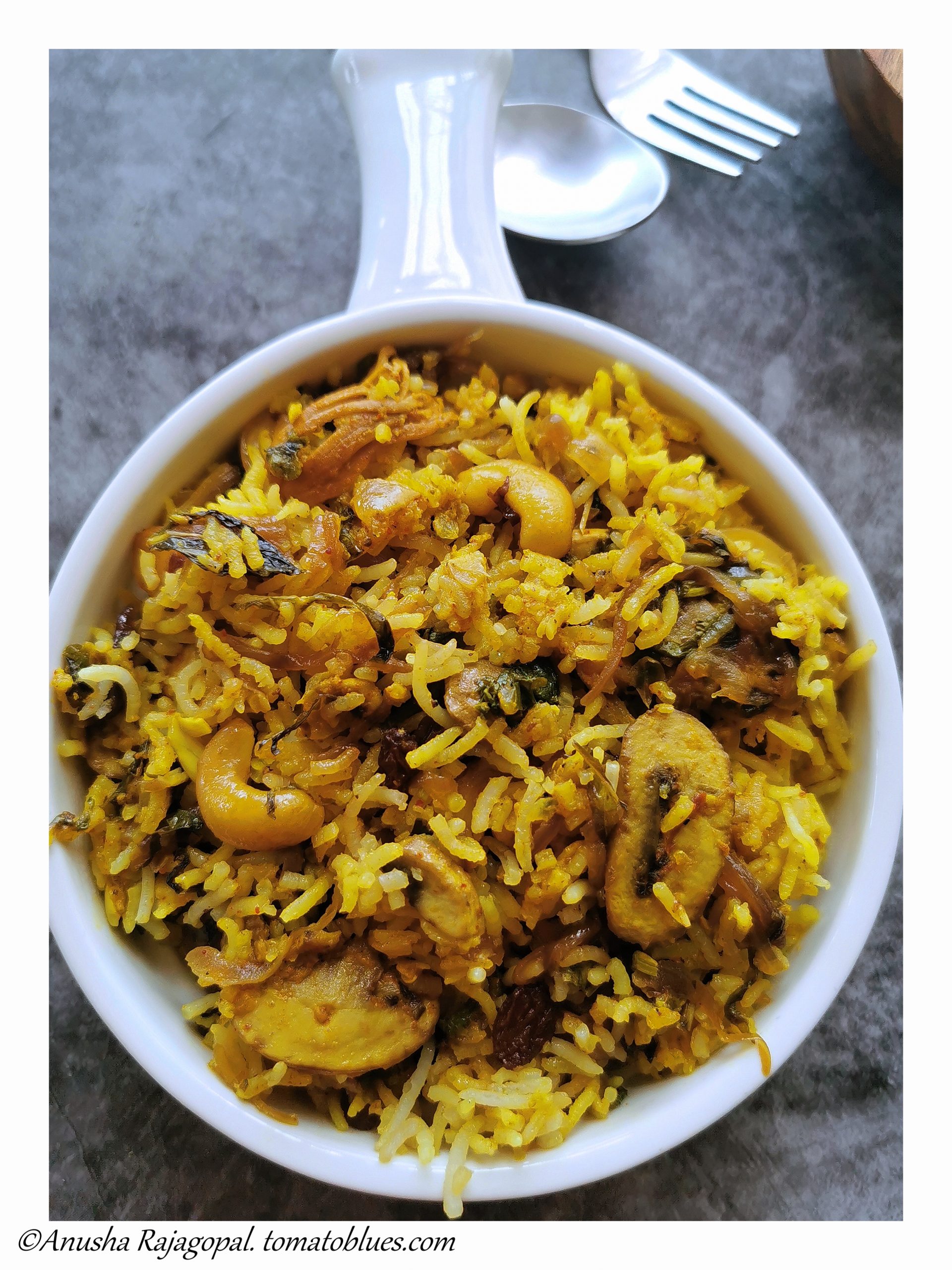 Mushroom Dum Biriyani is a delicious vegetarian biriyani that uses Indian spices like cardamom, mace and bay leaf for flavors and white button mushrooms in a marinade. Let us now see how to make this flavor packed Mushroom Dum Biriyani.
Elements of a good Biriyani include good quality rice, spices and meat or vegetables.
What rice can be used for making this Biriyani?
When you are slow cooking your Biriyani, Basmati rice works best because it has a flavor of its own.
These subtle flavors add a great taste to the Biriyani when done. So a good quality Basmati rice is recommended for making this Biriyani.
What are the spices used in this Mushroom Dum Biriyani Recipe?
I have used mace, bay leaf, cinnamon sticks, cloves and star anise for making the gravy along with spice powders like garam masala, red chili powder and coriander powder.
What is Dum cooking?
Dum cooking is nothing but slow cooking on low heat. In this Dum Biriyani, we use an iron tawa to do dum cooking. The heat of this tawa is what helps slow cooking the rice and other elements to perfection.
Caramelising onions:
Slice your onions thinly for caramelising them. The sweet and crunchy onions give a great flavor to not just this biriyani but any dum biriyani.
I have pan fried my onions in this recipe but you can also deep fry them in one cup of neutral flavored vegetable oil until crispy.
Why Mint and Coriander?
Both mint and coriander not only lend beautiful flavors to a biriyani but also help in better digestion. But make sure you dont use more mint than the quantity mentioned in the ingredients list.
What are the best accompaniments for Biriyani?
This is a very tricky thing to answer. Some like biriyani with raita and some with lemon pickle. And some enjoy their biriyani with dal or some paneer gravy. You can enjoy this biriyani with raita, dal or any gravy of your choice. Do check out the recipes for Mixed vegetable raita, and Dhaba style Dal Tadka .
This onion tomato gravy also pairs well with Biriyani.
Also check out our recipes for Veg Dum Biriyani, A simple restaurant style peas pulao and a fantastic vegetable pulao.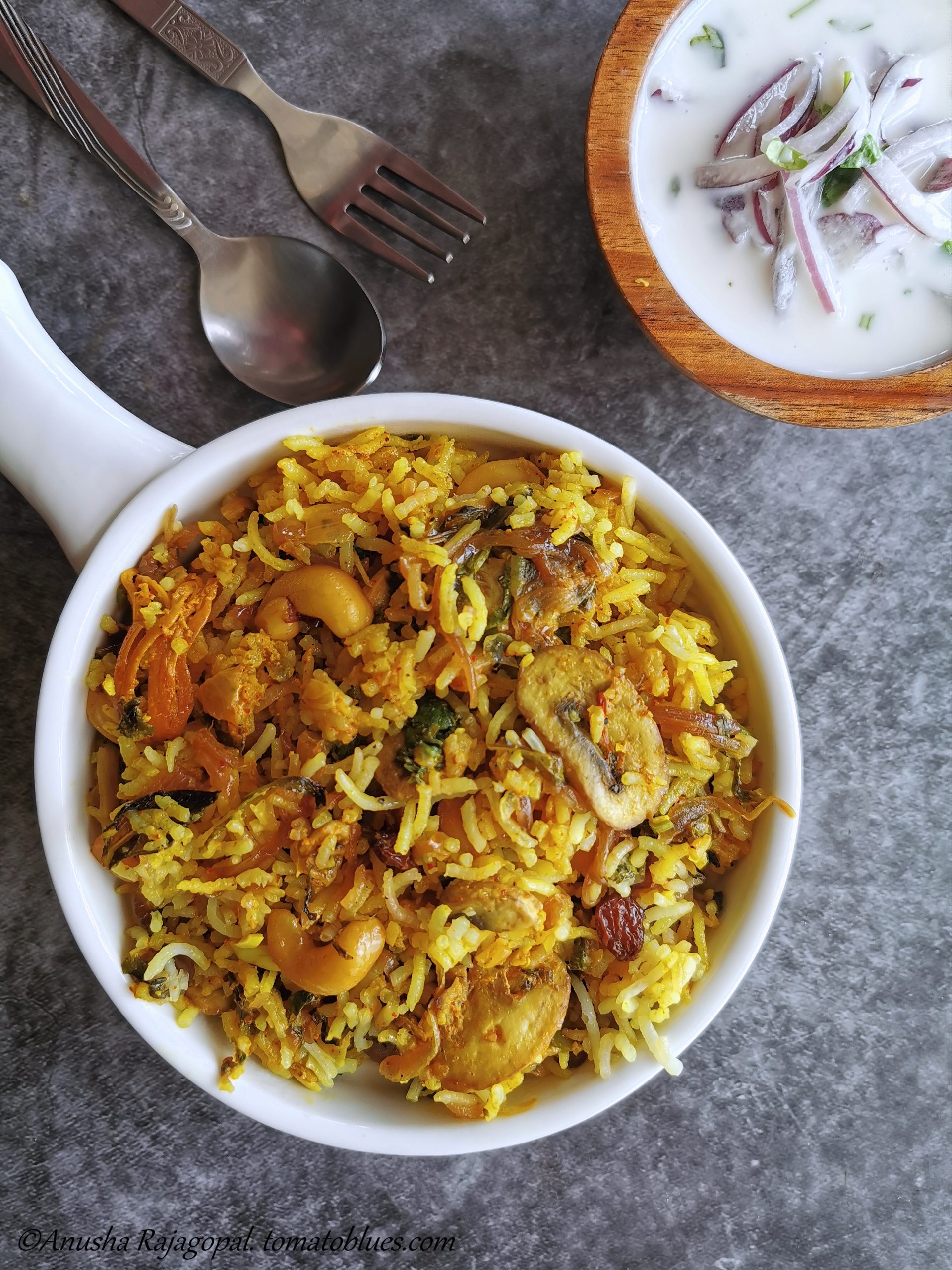 Here s a video on how to make some delicious Mushroom Dum Biriyani. I have broken down the various elements of this biriyani into parts for easier understanding of beginner cooks. 
Please do susbcribe to our channel and press the bell button for new videos every week!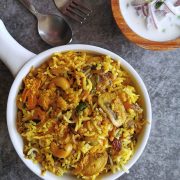 Print Recipe
Mushroom Dum Biriyani
Mushroom Dum Biriyani- Chunky pieces of white button mushrooms marinated and slow cooked along with spices and basmati rice
Ingredients
1

cup

Basmati Rice

4

cups

water

1

piece

bay leaf

2

pieces

green cardamom

2

2

pieces

cloves

Salt to taste
For The Marinade
1/2

c

smooth whisked yogurt

220

g

chopped white button mushrooms

1

tsp

coriander powder

1

tsp

red chili powder

1

tsp

Garam masala

1

tsp

turmeric powder

Salt to taste

1

tsp

Screwpine water ( Pandan leaf extract)

(Kewra Pani in Hindi)

5

cloves

peeled garlic

3

numbers

green chili

1

tbsp

chopped ginger
For Caramelised Onions
3

largish

red onions

1

tbsp

Oil

1

tsp

sugar

1

tsp

salt
For The Herbs Layer
2

tbsp

finely chopped mint leaves

2

tbsp

finely chopped coriander leaves
For The Mushroom Gravy
1

recipe

marinated mushrooms

1

medium

red onion chopped finely

10

numbers

mint leaves chopped finely

1

tbsp

oil

(any neutral flavored oil)

1

tbsp

ghee

(clarified butter)

1

piece

bay leaf

1

piece

mace

1

piece

cinnamon stick

(1 inch stick)

2

pieces

cloves

1

piece

star anise
For The Nuts Layer
1

tsp

ghee

12

pieces

cashews broken

2

tbsp

raisins
Instructions
Making the marinade
Pound the ginger, green chili and garlic to a paste in a mortar and pestle.

Combine yogurt, the pounded green chili-ginger-garlic mixture, red chili powder, coriander powder, garam masala, salt, turmeric powder and screwpine water in a bowl. Whisk well.

Add sliced mushrooms to this and toss well, making sure they are well coated with the yogurt mixture.

Cover and let sit in the fridge for 20 mins. Do not leave for longer because mushrooms release water.
Cooking the rice
Wash the rice under running water till water runs clear. Drain the water.

Add 4 c water to this and soak for 20 mins.

After 20 mins, drain the water used for soaking the rice and set the rice aside.

Combine the rice, 4 to 5 c of water, 1 bay leaf, 2 green cardamoms, 1 clove and salt in a deep pan.

Cook the rice till its 80% done. The rice should be done but have a crunch.

Drain the rice in a colander.

Discard the spices and set aside the rice.
Making the saffron infused milk
Heat 3 tbsp milk in a pan.

When its hot, add 4 to 5 strands of saffron and set aside.
Caramelising the onions
Heat a tbsp of oil in a pan.

Add sliced onions and toss well. Cook on low medium flame till onions turn pink.

Add 1 tsp salt and sugar at this stage. Mix well

Continue to fry the onions till golden brown. Takes 7 to 8 mins
Frying the nuts and raisins.
Heat 1 tsp ghee and add the cashews. Turn heat to medium.

Fry them till they begin to turn golden.

At this stage, add the raisins and toss well. Wait for them to plump up.

Drain the cashew nuts and raisins and set aside.
Making the mushroom gravy
Heat a pan with 1 tbsp ghee and 1 tbsp oil.

Add 1 bay leaf, 1 mace, 2 green cardamoms,1 star anise, 1 cinnamon stick and 2 cloves. Wait for them to pop.

Once they pop, add chopped onions and mint leaves. Saute for 3 mins on medium flame until they onions are soft and pink.

Now add the marinated mushrooms and mix well.

Cook this mixture on medium flame, stirring often, until oil floats on the surface. Mushrooms will first release water. As and when we cook, the water will begin to reduce and the gravy will thicken. This process takes 10 mins. Adjust salt at this stage if required.
Layering the biriyani
Grease a heavy bottomed pressure pan with 1 tsp ghee.

Add 1/2 the cooked rice and spread to an even layer.

Next add 1/2 the mushroom gravy and spread to an even layer over the rice.

Now, add 1/2 the caramelised onions and spread evenly to a thin layer.

Now, sprinkle 1/2 of the finely chopped mint and coriander leaves over the onions evenly.

Next, add 1/2 the cashews and raisins and spread.

Now, drizzle 1/2 of the saffron infused milk in and around the biriyani.

Now repeat the layering process in the same way with the remaining portions of rice, gravy etc.
Cooking under dum
Heat an iron pan for 3 to 4 mins on low flame.

Cover the pressure pan with a piece of foil. Close the pan with the lid fitted with the gasket.

Now put the pressure pan on the heated tawa. Place a heavy object on the pan.

Continue to cook on lowest flame for 15 mins.
Mixing the layers
Once done, open the lid and peel off the foil.

Now, mix the layers up gently with a wooden ladle and fluff with a fork. Take care not to break the rice grains.

Serve hot with onion raita on the side.
Video
For Instant Pot & Air Fryer Recipes
Instant Pot timings may vary based on your geographic location. Air fryer settings and timings may vary based on the capacity and the model of the Air fryer.
Disclaimer
Nutrition values are provided here as a courtesy and are only a rough guide. Please consult a health care provider if you have any concerns.