I dont have much to say about this sandwich except that it is one mean sandwich. You eat it and you will feel guilty as hell later. Its loaded with cheese and mayo and its certainly not for those watching the waist line. At least not on a regular basis. But the downside to this sandwich is that, once you make it, you crave for it again and again and eventually end up making it twice or thrice in a row. That s what i did.
Mr.P hates mushrooms with a passion. He hates cheese too. So i rarely get to make such sandwiches at home. When i do get such an opportunity, i grab it quickly. I did get one such chance the last week, when it was just me for lunch. So, i put together these sandwiches which were totally delightful. Whoever said chocolate is decadence? Let them eat these mushroom cheese sandwiches first!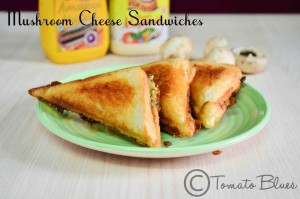 ( Grilled sandwiches with mushroom and cheese filling)
Prep Time: 10 mins
Cook Time: 20 mins
Makes 2 sandwiches
Ingredients
Bread slices 4 ( feel free to use whole wheat or multigrain bread)
Butter 2 tbsp
Mozarella cheese 4 tbsp grated
For The Filling:
Mushrooms 10 to 15 chopped finely
Onion 1 small chopped finely
Garam masala powder 1/2 tsp
Red chili powder 1/2 tsp
Coriander powder 1/2 tsp
Oil 1 tbsp
Salt to taste
For The Spread
Mayonnaise 3 tbsp
Coriander leaves 1 tbsp chopped finely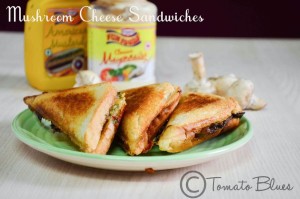 Directions
Heat a pan with 1 tbsp oil.
Add onions and fry till transparent.
Now add all spice powders and saute for 30 secs.
Tip in the mushrooms next and fry till wilted completely. Takes about 2 to 3 mins
Add salt and mix well.
Set aside.
There, your filling is done.
Combine mayo and coriander leaves in a bowl.
Take a bread slice and apply 1 to 1.5 tbsp of spread generously.
Now, divide the filling into two and place one portion over the bread slice and spread evenly.
Sprinkle half of the mozarella cheese evenly over the filling.
Close with another slice of bread.
Repeat with the remaining filling and two slices.
Butter the bread generously (ahem…..)
Grill in a sandwich maker or use a girdle and cook till cheese has completely melted and the bread slices have turned a golden brown.
Serve hot with tomato ketchup.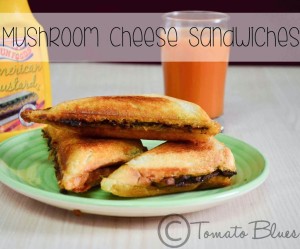 P.S. This is not a lunch box sandwich. It tends to lose the crunch once it cools down.
You can also add a bell pepper to the filling.
Cream cheese or hung curd can also be used instead of mayo.
Feel free to decrease or increase the amount of cheese used.
Other sandwiches that you may want to try from here