How To Make Murungai Keerai Soup?
Murungai Keerai Soup- A nutritious soup with the goodness of drumstick leaves and coconut milk. GF. Vegan. Paleo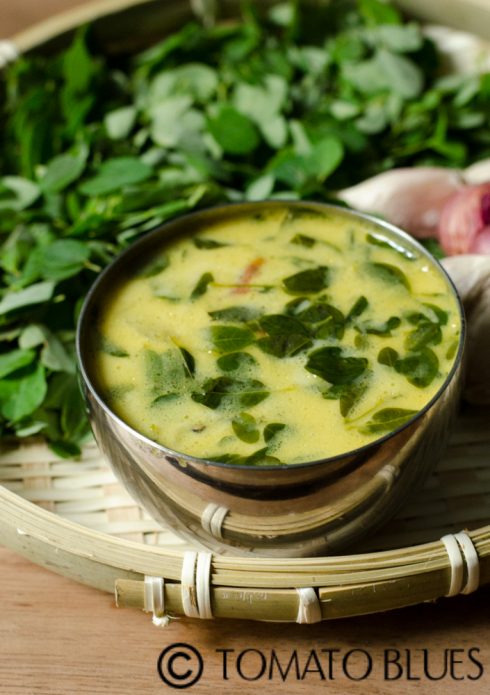 Murungai Keerai Soup is not what you might have expected in Summer. After all, the title reads soup, doesnt it ? Well, there is a good reason why i chose to share this murungai keerai soup recipe now. This soup is more a medicine than a soup in a very general sense. The ingredients that go into the making of this soup have a specific nutritive value and healing properties which will help us during the hot summers.
Adding coconut milk to soup:
The authentic version of this murungai keerai soup involves adding freshly extracted coconut milk.  Coconut milk is the true essence of this soup. Apart from imparting a delicate flavor, it also cools down our bodies and heals stomach and mouth ulcers. To extract fresh coconut milk, combine 2 c tightly packed freshly grated coconut and a cup of warm water in a blender and grind to a paste. Run this through a sieve and collect the milk. This s the first milk. Repeat the same process once more by combining the grated coconut with warm water, grinding and running it through a sieve. This s the second milk. And this s what is used in this murungai keerai soup.
Is there a shortcut to this coconut milk extraction process?
Yes! I used canned thin coconut milk. Its very easy to find fresh pasteurised coconut milk in Singapore. I have used this only for making this soup. If you dont have access to thin coconut milk, then combine 1/2 c thick coconut milk with 1 to 2 c water and use it in the soup. Using coconut cream is not recommended in this recipe.
This soup is also vegan and gluten free. You can check all our Vegan recipes by clicking here
Check out our other recipes using coconut milk:
https://tomatoblues.com/2017/01/squash-soup-asian-flavors.html
https://tomatoblues.com/2017/01/sri-lankan-vegetable-stew-recipe.html
https://tomatoblues.com/2013/04/potato-stew-recipe-easy-side-dish-recipes.html
You can check out how to make a slow cooker moringa leaves soup by clicking here- Slow Cooker Moringa Leaves Soup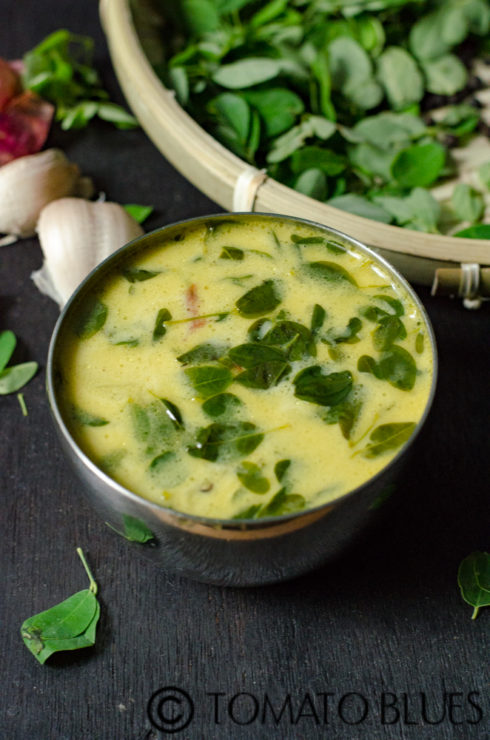 The moringa leaves used in this soup is rich in iron and helps one to relax. Shallots in general are eaten with porridges during summer for a cooling effect. This  soup is tempered using sesame oil or nalla ennai for added nutrition. And finally the cumin and pepper corns aid in digestion which makes this soup a wholesome dish that is totally appropriate for Summer. And the good news is if you have the leaves picked and sorted, then this soup takes just 15 mins to put together.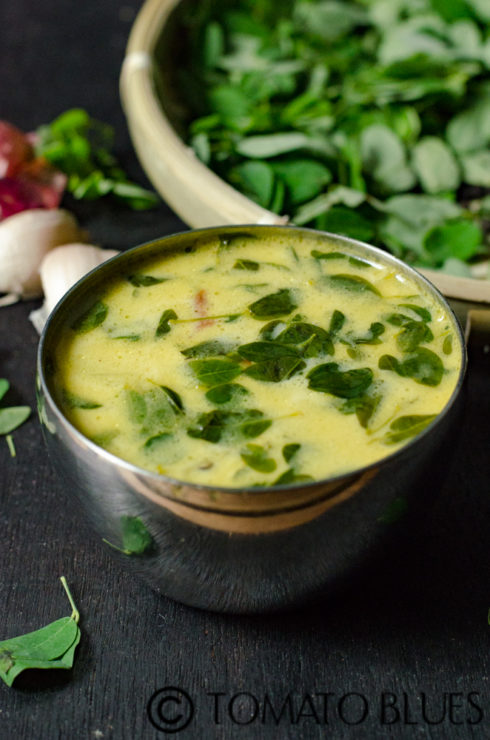 Recipe For Murungai Keerai Soup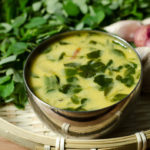 Print Recipe
Murungai Keerai Soup
A nutritious and light soup with Murungai keerai aka moringa leaves and canned coconut milk. This soup comes together in about 15 mins if you have the fresh moringa leaves sorted.
Ingredients
1

cup

Murungai Keerai

cleaned and tightly packed

4

numbers

Shallots

peeled and minced

2

numbers

Garlic cloves

crushed lightly

1

small

Tomato

chopped finely

1

number

Green chili

1

tsp

Cumin seeds

10

numbers

Pepper corns

crushed

1

cup

Thin coconut milk

I used canned light coconut milk here

1/2

tsp

Turmeric powder

To taste

Salt

1

tbsp

Sesame Oil/ Nalla Ennai

Cold pressed coconut oil will also work
Instructions
Heat a pan with the sesame oil.

Add the shallots, green chili and garlic and fry till light brown.

Tip in the tomatoes and turmeric next and fry till tomatoes turn mushy.

Add the drumstick leaves and fry till wilted.

Now, add salt and 1/2 c of water and mix well.

To this add the thin coconut milk and simmer on low heat for about 3 mins.

Once done, sprinkle the cumin and pepper and mix well
For Instant Pot & Air Fryer Recipes
Instant Pot timings may vary based on your geographic location. Air fryer settings and timings may vary based on the capacity and the model of the Air fryer.
Disclaimer
Nutrition values are provided here as a courtesy and are only a rough guide. Please consult a health care provider if you have any concerns.