This is called mullu murukku because of its shape. One more of those lentil based fried snacks that i cant resist.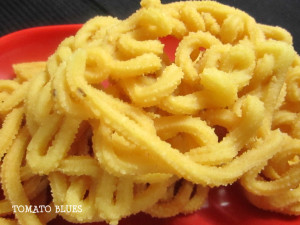 Prep Time: Under 15 mins
Cook Time: Under 45 mins
Yields 30 to 40 medium size murukkus
What you need?
Rice flour 4 cups
Dalia flour( split roasted chick pea or pottu kadalai flour) 1 cup
Butter 3 tbsp melted ( no, you cant use ghee, only butter)
Sesame seeds white ones 1 tsp
Cumin seeds 1 tsp
Hing 3/4 tsp
Salt as needed
Oil for frying
How to make it?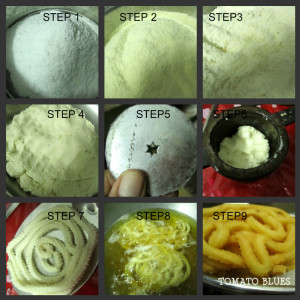 Step 1: Sieve the rice flour first.
Step 2: Sieve the chick pea flour next.
Step 3: In a large mixing bowl, combine the flours and all the other ingredients.
Step 4: Knead into a dough that is soft. The dough should not have any cracks.
Step 5:Insert the mullu murukku mould the one that has one small star in it into the murukku press.
Step 6: Fill the press with dough upto 3/4 th of the press.
Step 7: Draw the murukku on a greased ladle just like you will for thenkuzhal. Heat oil in a kadai. Drop a lil dough into the oil to see if it s hot enough. If it immediately rises to the top, then its in the right temperature.
Step 8: Drop the thenkuzhals with the help of the ladle into the heated up oil. The oil will bubble up noisily.
Step 9: Fry till the isshh noise subsides on a medium flame. Then turn the murukku and fry till light brown.
Transfer to a colander to drain the oil. Store in an air tight container after it becomes completely cool.
Stays fresh for a week