Shorba. Now what s a shorba? Its nothing but soup and comes from the Arabic word Chorba. Now chorba finds a way into many tables across the globe- Romania, Russia and some parts of Central Europe and Asia. ( Source: Wiki) I have been treated to some of the best shorbas ( vegetarian versions) while in Bangalore. This
moong dal shorba
is my version of a hearty shorba that s vegan and healthy. Its filling and at the same time, can be enjoyed with some steamed hot rice too. Add some freshly baked croutons and the shorba reaches new heights. That s what i did anyway.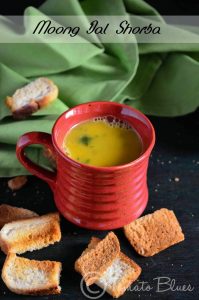 Recipe For Moong Dal Shorba
( Lentils and veggies stewed into a thin soup. Serves as an appetiser.)

Prep Time: 10 mins
Cook Time: 30 mins
Serves 2
Allergy Info: Vegan
Ingredients
Moong dal 1/2 c
Turmeric powder 1/2 tsp
Onion 1 chopped finely
Tomato 1 chopped finely
Carrot 1 peeled and cubed
Beans 5 chopped finely
Garlic 3 to 4 cloves
Green chilies 2 to 3
Oil 2 tsp
Jeera 1 tsp
Hing a small pinch
Salt to taste
For Garnish
Coriander leaves 2 tbsp chopped finely
Lemon juice from 1/2 a lemon
Directions
In a small pressure cooker, heat oil and crackle cumin seeds.
Now add green chili, onion and garlic and fry till light brown.
Add tomato, hing, turmeric and all veggies and mix well.
Saute for 2 mins.
Add salt.
Add 2 cups of water and pressure cook for 5 to 6 whistles.
Once done, using an immersion blender blend the dal mixture to a smooth puree.
Add about 2 cups water and bring the mixture to a boil.
Garnish with coriander leaves.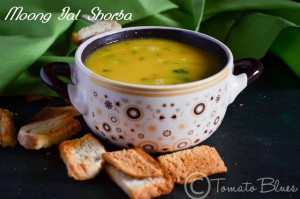 Squeeze lemon juice just before serving and serve immediately with croutons.