My amma makes many types of payasam. She makes some in a jiffy. Some she takes a while. Some she saves for those special days. And this she makes for those days when i fast the whole day or when i have a mouth ulcer. Moong dal is believed to have healing powers that will ease mouth ulcers and alos reduce the effect of acid formation that occurs in the stomach after a day without food or water. Quick and easy to prepare. This however is not made on auspicious days.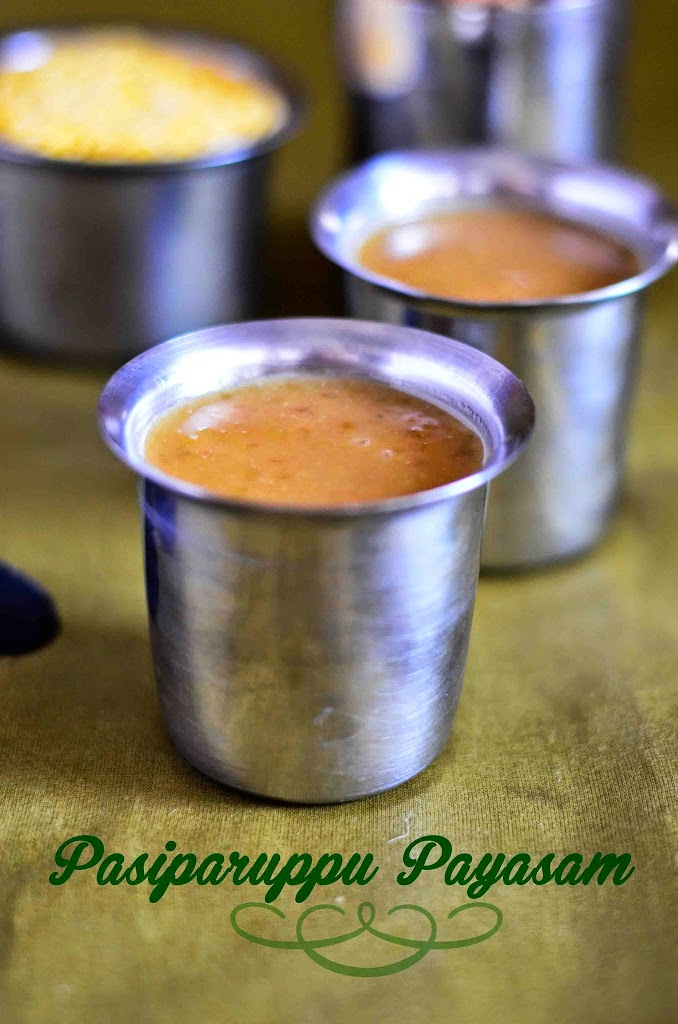 Recipe For Pasi Paruppu Payasam 
( Learn to make an easy pudding with mung lentils and jaggery)
Prep Time: 5 mins
Cook time: Under 30 mins
Source: Amma
Serves: 2 to 3
Cuisine: South Indian
Course: Dessert

Ingredients
Moong dal 1/4 cup and 1 tbsp
Milk 1 cup
Jaggery 1/2 cup powdered
For Garnish
Ghee 3 tbsp
Cashews broken 2 tbsp
Raisins 1 tbsp
Cardamom powdered 1/4 tsp
Directions
Saute the moong dal in ghee until aromatic. It burns quickly so be careful and do it on low flame. Takes about 5 mins.
Pressure cook the moong dal with 1 cup of water for 5 to 6 whistles.
Once done, mash the dal well and add the jaggery while it is hot. You can adjust the sweetness by adding less or more jaggery.
Mix the jaggery and the dal well. Add the milk to the mixture and combine well. Add the cardamom powder.
Simmer on a medium flame by stirring at frequent intervals for about 5 mins.
Saute the cashews in ghee first until they become light brown. Remove the cashews from the ghee and add the raisins to the ghee.
Saute the raisins in ghee until they puff up. Dont add them both together because raisins burn fast and dont taste well when over sauteed.
Add cashews and raisins with the ghee to the kheer and mix well.
Serve hot.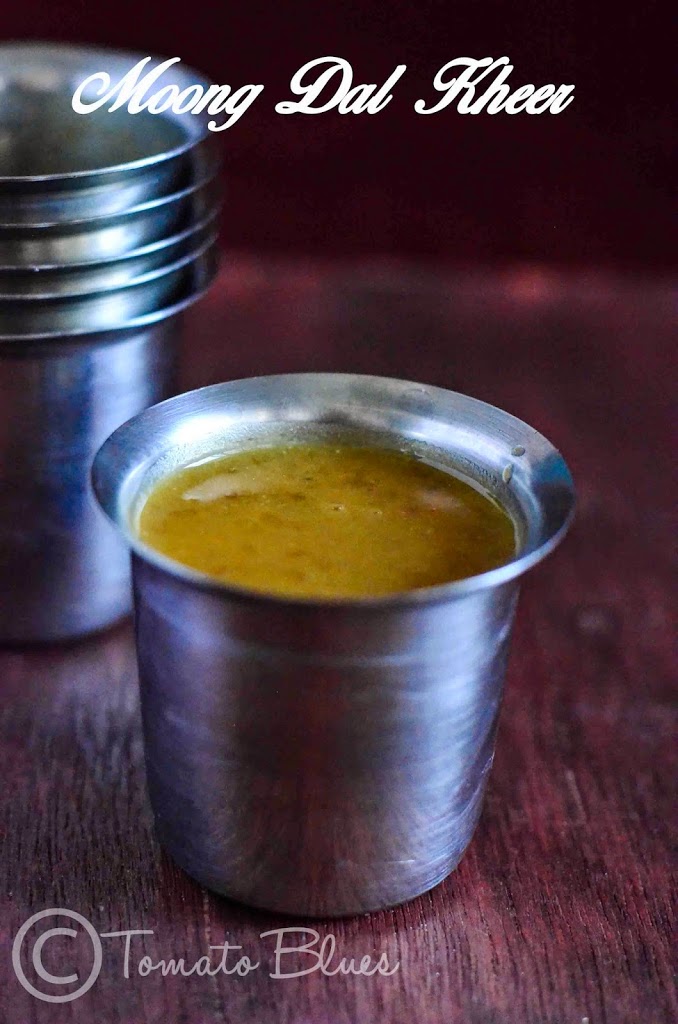 You can even garnish with tiny bits of coconut. I dont like it that way and so i did not opt that.