When 2013 kicked in, i vowed certain things to myself. I resolved to break out of my routine and cook things that i normally wouldnt. That plan included a cookie, a cake, two breads and one indian traditional sweet every month. But that dint happen last month. Well, the bread thing happened anyway but the rest dint. I felt terribly guilty for making that vow and for failing terribly in keeping up my promise. Well, you know what i did?
I painted. To finish the guilt trip. To kiss the demon good bye and have some fun. I painted for the sake of painting and i was quite satisfied with the results. I raved and raved about my colorful canvases incessantly. And then the guilt kicked in again. Well, what was i expecting? Anyway, i woke up to reality and decided to do something about it. I decided to make something ridiculously simple yet sinfully delicious and healthy. And that s when the moong dal came into picture. And then the protein. And then that traditional indian clause. I put together everything and came up with this moong dal ladoo.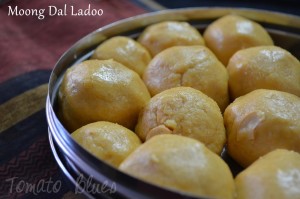 Recipe for Moong Dal Ladoo
( Ladoos with roasted moong dal)

Prep Time: 10 mins
Cook Time: 10 to 15 mins

Ingredients

Moong dal 1 cup
Sugar 1 cup
Ghee 1/2 cup
Cardamom 1 pod
Cashews 7 to 8 chopped coarsely

Directions

In a kadai, dry roast the moong dal until brown. When i say brown, a lil more than golden brown. Do this on medium flame and it takes about 10 mins. Dont you let your wander or you will burn the dal quick.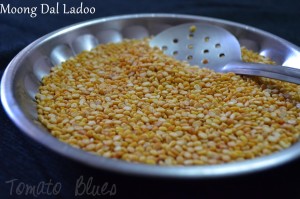 Let it cool completely and powder the roasted moong dal in a mixer as finely as you can. I did this in batches. You mixie may heat up if you continuously grind it. So make sure you do it in 30 sec intervals.
Now, powder the sugar along with the cardamom seeds.
Place the powdered moong dal and sugar in a large mixing bowl and combine well.
Melt the half cup ghee and add the chopped cashews. Wait till the cashews become slightly brown.
Once done, add this melted ghee to the moong dal sugar mixture.
Using a spatula, combine this mixture well until the ghee is incorporated well into the dry mixture.
Let it cool a bit. But not completely. The mixture must be warm enough for you to handle.
While the mixture is warm, take portions of the mixture, place it in your palm and shape gently into balls.
Repeat for the entire mixture.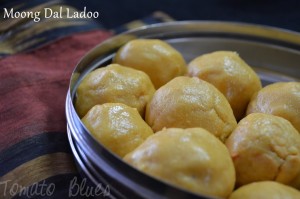 Once done, store in a dry air tight container and enjoy.
This month, we are thinking of protein power at Avant Garde Cookies. Radhika, Jayanthi,Kavi, Priya, Priya Mahadevan, Roshni and Veena are being proteinicious this week. Check their posts too.