Considering that i m very fond of baking, i feel i ve done injustice to the marble cake. You know, if it had a life, then it would probably threaten me at gun point. I ve been baking for the past 2 years. Oh yeah.. i did dabble in baking back in college. Which was always pandemonium and disaster. That s a different story. But somehow, in the past 2 years, it was never the era or an ocassion for the marble cake. I know what many of you all are thinking. I mean what a loser i am. I know..i know. Anyway, i finally did get around to baking the swirly cute marble cake day before yesterday. And it was a runaway success. I made the cake in the morning and it was gone before the evening even set in. If you want me to be a lil technical, then i can say the plate or rather the cake pan was clean during lunch. A dutiful thanks to Mr.P. Mind you, just dutiful and nothing more than that. I dont believe in thanking husbands. I only believe in making marble cakes for them to attain that effect.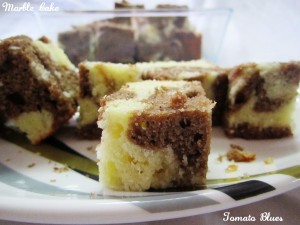 Okie now, that i made the cake, i ve been having weird dreams all night long. I mean i ve been dreaming of cakes with pink ribbons engraved in them. I even saw a cake in the shape of an owl. Does someone know if its good omen to see cakes in dreams. I did google and dint get great answers. Oh! i do such baseless web loitering at times. That s like indulgence to me. Like only the last week, i was reading an article on names that ve been copyrighted. Ha… in true spirits of an inactive advocate. I mean now, i ve reached the point where i dont advocate law but i do advocate food. How fancy is that!! I wish we had food laws. But again that s wishful thinking. Back to the marble cake now. I ve seen some fantastic marble cakes in my life. For real and for virtual. Cant say i ve been lucky to eat all of them but looking would suffice for me. It still suffices for me to look and wonder what would have gone into making the cake.
Putting this cake together is as easy as a pie. No sweat cake is probably how the cake can be called in case someone wants to change the name. It s one of those recipes where you neednt keep track of anything from the eggs to the flour. Very little detail and a great cake. Now that s what i would call a trophy recipe. I mean seriously, arent we past the era of trophy wives? We should think more on cakes and bakes. Now, for the recipe. I mean finally… well i needed to ramble some 🙂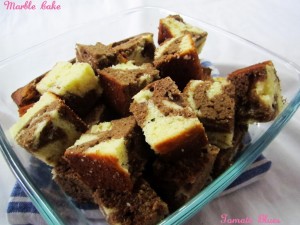 ( I did not use a loaf pan. I had the audacity to use a square cake pan which was like 9″X9″ and what i had was a cake which had risen and cracked in the middle. That s what happens to cakes which are baked in too large pans. You get worse cakes when you bake them in too small ones too!! So please use a loaf pan or use a smaller pan any shape but smaller. You can experiment with colors and flavors for the marble effect. Try a dash of mint with a shade of green or probably some fragrant rose with the lovely pink instead of the cocoa. I m going to try anyway. In case you have sour cream, use that volume by volume for the yogurt. The original recipe calls for sour cream but i experimented with yogurt. Kept my fingers crossed all along the baking but it worked like a charm. Feel free to use any yogurt, greek, low fat. just about any version.)

Prep Time: Under 20 mins


Cook Time: 38 to 40 mins


Makes one 9″X5″ inch loaf


Source:Adapted from Martha Stewart S Marble Cake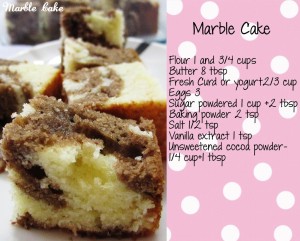 What You Need?
Flour 1 and 3/4 cups
Butter 8 tbsp
Fresh Curd or yogurt 2/3 cup
Eggs 3
Sugar powdered 1 cup + 2 tbsp
Baking powder 2 tsp
Salt 1/2 tsp
Vanilla extract 1 tsp
Unsweetened cocoa powder 1/4 cup+1 tbsp
Butter for greasing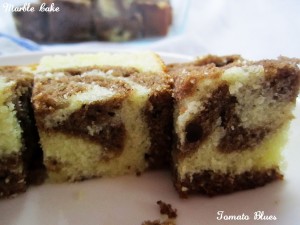 How To Make It?
Preheat the oven to 180 C.
Take a mixing bowl and place all the dry ingredients except the sugar and cocoa. Combine well.
In another mixing bowl,cream the sugar and butter until light and fluffy. Takes about 2 to 3 mins on high speed in an electric mixer.
Add the eggs one by one to the butter and whisk just until combined.
Add the vanilla and whisk for about 3 mins.
Now,mix in the flour and yogurt alternatively, beginning and ending with the flour.Do this by dividing the cake flour equally.
At this stage, you will have some flour or the batter around the bowl.
Scrape down and then whisk the batter for about 2 mins until well combined and free of lumps, scraping the batter if required at the same time.
Now divide the batter into 2/3 and 1/3 proportions.
Depending on your preferences, add the cocoa to either of the divided batter. In case you want more cocoa, add it to the larger portion or otherwise.
Combine well using the whisk.
Now is the fun part.
Grease your cake pan well.
Start adding the batter by the tablespoon or a ladle( who would know if you do it with a ladle or a tbsp?)
Alternate with the two batters until you ve finished up with the whole lot.
Using a knife, draw a cross through the middle of the cake pan.
Dont overdo this or you will land up with a not very marble cake.
Once done, drop the cake tin on the counter top gently once or twice.
Bake in a preheated oven at 180 C for 35 to 40 mins or until a skewer inserted comes out clean.
Remove from the oven and let it cool in the pan for about 10 mins.
Invert and slice the cake as you desire.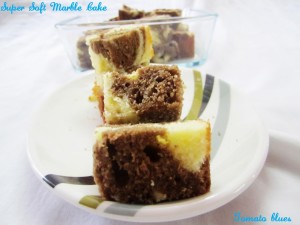 And voila!! you have a marble cake all ready to be gobbled up with a glass of chilled milk. That s what i did anyway.
Sending this to Bake fest hosted by Sumee forVardhini