I love chinese. You say c of chinese and my eyes will light up. I m a person who has eaten a zillion steamed rice and jade sauce for lunch while i was in college. I can see all those rolling eyes 🙂 I m crazy about eating chinese food. And then i discovered that my blog my food blog did not even have one chinese recipe. I mean how shameless can that be? I ve gobbled plate after plate of fried rice and manchurian all these years and the recipe is not on my blog!! That s when i woke up. Somehow, i m very provoked to pick up that bag of mushrooms in the refrigerator aisle at the supermarket. Hubby hates it but still i feel a compelling desire to pick it up as though some one s passing me a trophy. Then i come home and fret realising maybe for the nth time that Hubby hates them. I bought the trophy this time too when i went to supermarket. I bought some baby corns too so i dint fret that much huh… Plus i had a nice flowery cauliflower. This trio always spells chinese to me. Indo chinese rather. What ever that comes out of these vegetable is only and only divine. So was this mixed veggie manchurian.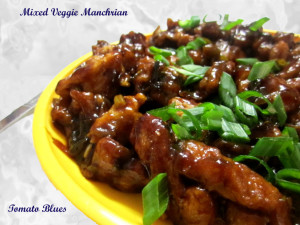 Prep Time: Under 20 mins
Cook Time: Under 30 mins
Serves 3
What you need?
Now dont be alarmed looking at the ingredient list. Trust me you wont even realise when what got tossed in.
Cauliflower florets cleaned and parboiled 1and 1/2 cups
Mushrooms washed and quartered 10 to 15
Baby corn 10 to 12 slit length wise
For Coating
Maida 1 cup
Cornflour 2 tbsp
Ginger garlic paste 1 tsp
Red chili powder 1 tsp
White pepper powder 1 tsp
Oil 1 tbsp vegetable or sesame oil
Salt to taste
Water for mixing the batter say about 1 and 1/2 cups
For Deep Frying
Oil 2 to 3 cups
For the Sauce:
Tomato ketchup 1/2 cup
Chili garlic sauce or chili sauce 2 tbsp
Soy sauce 2 tbsp
Garlic cloves 6 minced finely
Ginger 1/2inch bit crushed well
Spring onions 3 to 4 stalks chopped finely
Onion 1 medium chopped finely
Green chilies 3 chopped finely
Sugar 1 tsp
Ajinomotto 1/4tsp
Green bell pepper 1 medium chopped finely
Corn flour 1 tbsp dissolved completely in 1/2 cup water
Salt to taste
Sesame oil 2 tbsp
For Garnish
Spring Onions 1 tbsp chopped finely
How to make it?
Whenever i want to post a step by step pic, my camera chooses to ditch me royally. It died i mean its battery died just when i was making this. Duh!
In a large mixing bowl, place all the ingredients for coating the veggies. Add water and start mixing the batter to the consistency of dosa batter. It should not be too runny. Adjust salt and water accordingly.
Add all the veggies to this batter and mix well. Keep aside.
Now, heat a pan with the sesame oil.
Add the garlic, green chilies, ginger, spring onions and onions and saute till the onions turn a light brown.
Now, add the bell peppers and saute till the skin wilts.
Add all the sauces next and combine well. Cook for about 2 mins on medium flame. You can mix all the sauces together and toss them in.
Now, add the sugar and ajinomotto and mix well.
Add the cornflour mixture. The cornflour would have settled down if you had let it rest sometime. So give it a nice stir before adding to the mixture.
Add salt. Be careful about the salt as all the sauces contain a lil salt.
Now, simmer till the sauce thickens. Keep aside.
Heat a kadai with oil.
Drop the coated veggies in the oil once the oil is as hot as it would be for making pooris.
Fry them in medium flame till they are golden brown.
Drain them on a kitchen towel.
Add them to the sauce before serving and combine well. Serve immediately garnished with onion rings and spring onions. If the sauce turns cold while you fry the veggies, heat up the sauce once again before you add the fried veggies.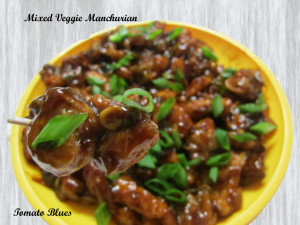 Relish it with your favourite pulao or parathas or fried rice.
We had it with Subz polo. Sounds new? Stay tuned for the recipe!!