When i was about 7 or 8 years old, my mom used to make poori and kuruma at home on sundays. It s a tradition carried forward from my grandmom's place. My granny used to religiously make poori and potato masal on sundays for tiffin. My mom used to follow that. Then, i really dont know when the habit broke. I guess it did after we became health freaks. But i used to remember that green yummy kuruma my mom used to make. The aroma that used to waft through the house. The relish of freshly ground ginger, cilantro and garlic. So, when i started cooking, i asked my mom, " Amma, you remember the kuruma that you used to make? For poori?" And she promptly replied to my chagrin," What kuruma, kanna?? " So, i gave up my desire for this kuruma until i came across Mrs. Vedavalli Venkatachary s book How to Cook? Thanks to my FIL. He gifted it to me immediately after marriage when i dint know what was jeera and saunf. And i had this dream recipe in her book.
It tastes divine when you break off a piece of the steaming hot poori and dunk it into this kuruma and put it into your mouth. Hmmm,,,, i m drooling.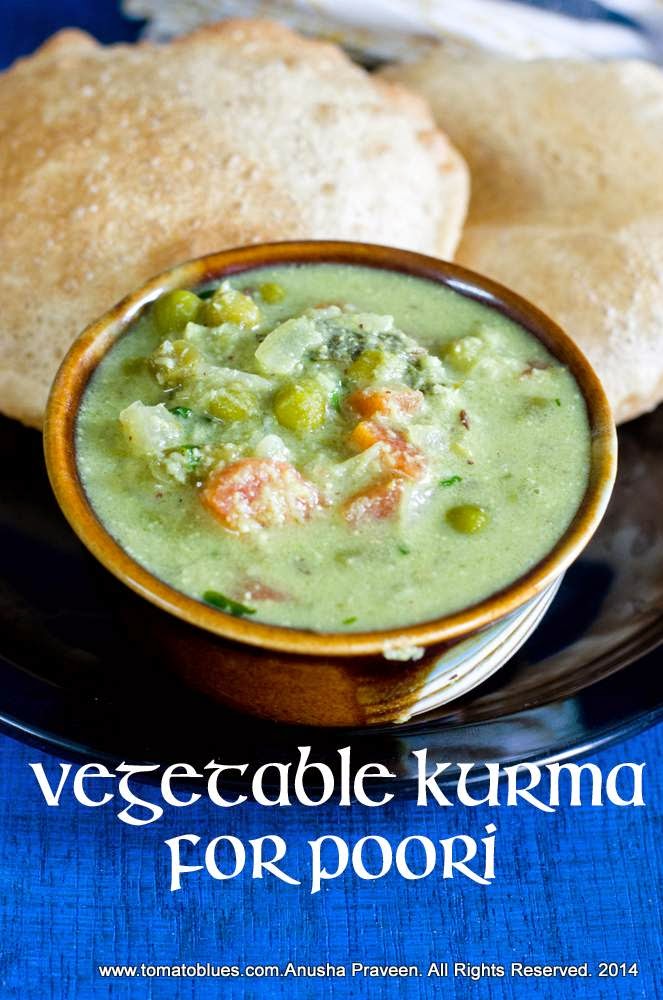 Recipe For Mixed Vegetable Kuruma
( Learn how to make Mixed Vegetable Kurma, a delectable vegetarian stew with assorted veggies and spices)
Prep Time: Under 15 mins
Cook Time: Under 20 mins
Source: Adapted from Mrs Vedavalli Venkatachalam s book How To Cook?
Serves 2
Allergy Info: Vegan, Gluten free, Soy free, Nut free

Ingredients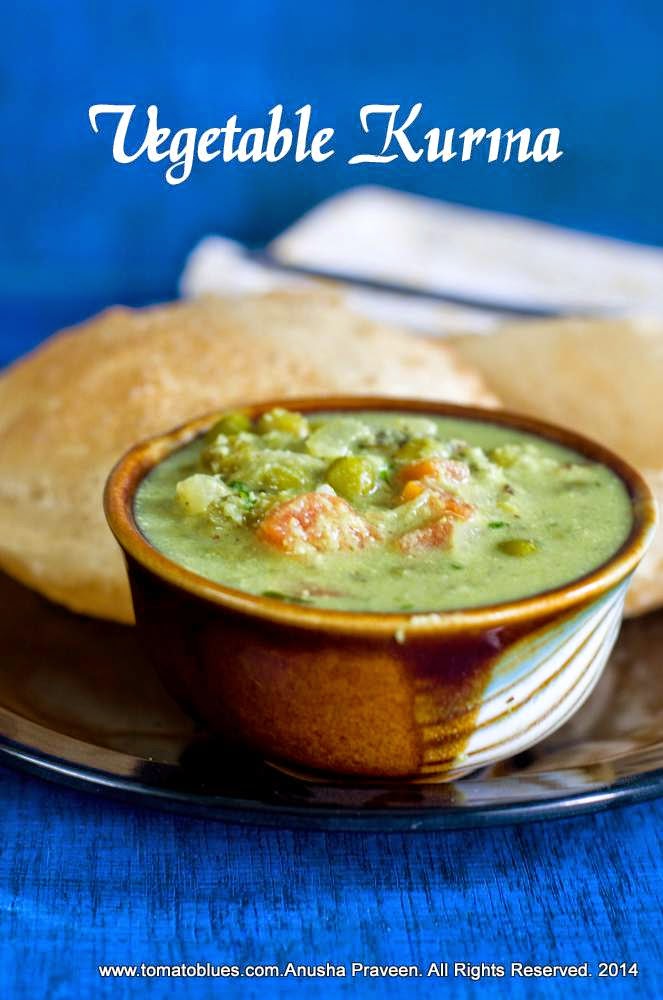 Mixed veggies:
Potato 1 medium chopped into cubes
Carrot 1 big one chopped into cubes,
Beans 10 no.s chopped finely
Cauliflower florets 10 to 12
Peas fresh or frozen 1/4 cup
Onion 1 big chopped finely
Water 1 cup
Cinnamon 1″ piece
Cloves 2
Cumin seeds 1/2 tsp
Oil 3 tbsp
Salt as needed
Turmeric powder a small pinch to bring out the beautiful light green texture
For grinding to a paste:
Cilantro a small bunch
Ginger a small bit
Garlic 3 cloves
Poppy seeds 1/2 tsp
Coconut grated 2 tbsp
Green chilies 5
Saunf 1 tsp
Split chickpea (pottu kadalai) 1 tsp
Directions
Grind together all the ingredients for grinding in a mixer to a fine paste.
In a kadai, heat oil. Add cumin seeds and wait for it to splutter. Next, add the cinnamon and cloves.
Now, add the onions and saute till pink.
Now, add the veggies one by one . Start with the cauliflowers and end with the peas.
After this, add the ground paste and salt and combine well.
Add water to the mixture, mix well and cook on a medium flame for 7 to 9 mins.
Serve hot with pooris or even rotis. My husband likes it even with rice.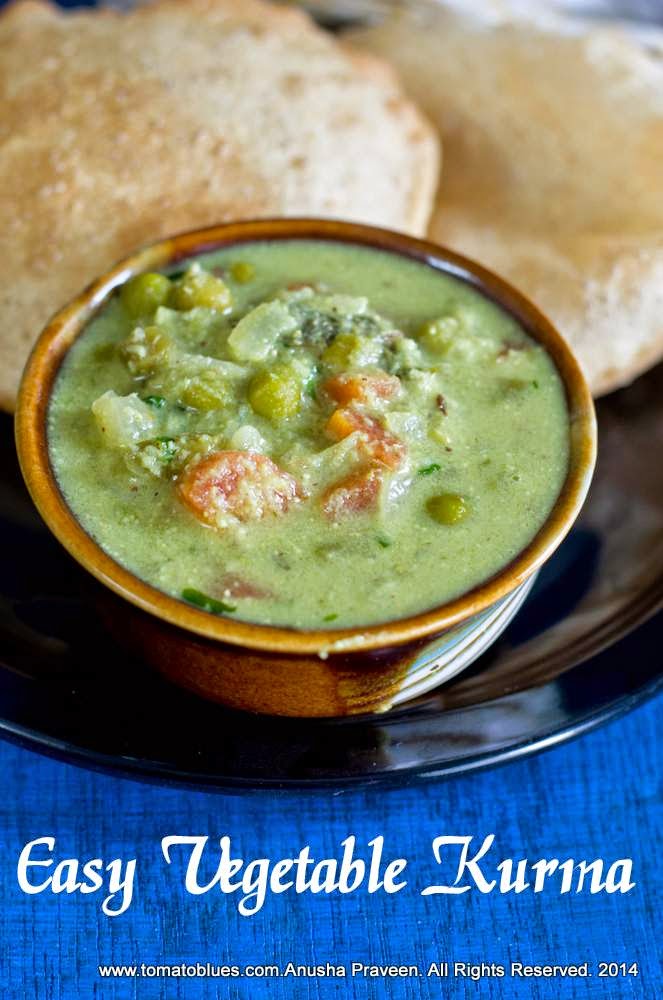 Note: The kuruma thickens if refrigerated. So add a little water and bring to a boil before serving if refrigerated.