Of all the things that have happened to mankind, only five are the best. In the sense, our life would be empty in indescribable words, had these five things not happened to us. Well, what are the five? Music, art, love, cheese and butter. Yes. You heard me right. I mean, can you imagine a world without cheese or butter. The first three would have changed your life phenomenally some time or the other. But even though cheese and butter do not cause such pronounced revolutions in our lives, a life sans the two would be cruel. Dont you all agree? And that s why i make sure cheese and butter make an appearance in my table at least once a week.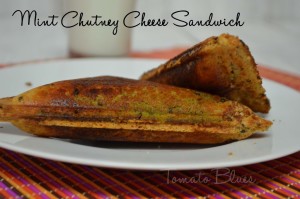 So this week, when i thought it was time that the duo shook hands with my tummy, i decided it shall be a sandwich that brings the three together. Cheese, buttah and my tummy. I some how constantly fall in love with that combination. They came together packed together between slices of bread, constantly shoving aside the mint chutney so that they get my attention. You see the mint chutney was also doing a fair job in tickling my tummy and tongue. So it was quite difficult to conclude which one is the lesser evil. All in all. It was a good breakfast that got washed down with a glass of cold milk. Burp….. Wanna see how i made my sandwich? Read on.
Recipe For Mint Chutney Cheese Sandwich
( Sandwiches with mint chutney and cheese filling)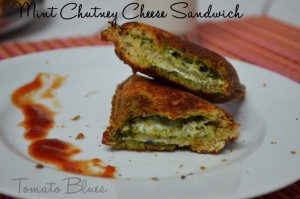 Ingredients
Multi grain bread 6 slices ( Feel free to use any bread that floats your boat)
Cheese slices 2
Butter 2 tbsp for grilling
Directions
Spread the mint chutney on one bread slices generously on one side.
Cut the cheese slice diagonally and place one half on one bread slice.
Cover with another bread slice and on top of this apply the chutney again.
Now, place the remaining cheese slice on this and cover with the third slice.
Repeat the same for the next 3 slices.
Apply butter on both the sides of the sandwich and grill in a sandwich maker or toast them until the cheese melts on a heated tawa.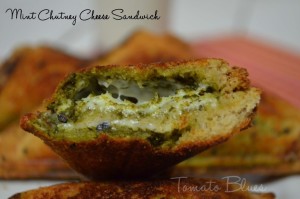 Serve hot with ketchup.