Honestly, i am so not a thali person. Now, if you all are wondering what this thali is, it s nothing but meals replete with so many curries and dals served on a huge platter in most Indian restaurants. Its for the hearty, the brave and the hungry. I dont fit any of those bills. Whenever we visit a resaturant, Mr. P orders for a thali if it sounds appealing to him. As for me, i m sure to order something from the a la carte menu to pick at. The sight of a thali makes my tummy full. Which is why, i have never, ever made a thali at home. Even though the regular lunch spread can make a small decent thali. You know, with cups that you can actually count and finish eating from.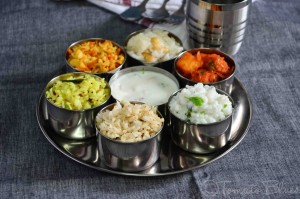 Starting from top left, Kalkandu Sadam, Carrot Rice, Capsicum Lemon Rice, Coconut Rice, Curd Rice And Chili Idli. Raita In The Middle
Like i mentioned before, our Cookies group is celebrating the anniversary this month. While we all made cakes and cookies for week 1 and week 2 respectively, we did the bravo thing for week 3. Yes, you guessed right. We all decided to put together a thali meal for week 3. I m proud to say that this thali is my first on the blog and surprisingly, i enjoyed putting it together very much. Because we are only two poor souls living under this roof, i decided to keep it simple and make a mini meal. Now, if you ask me what a mini meal is, i d say it is for the fast and the frantic. People who want to eat on the go. People who dont have the time to sit down to eat a proper lunch and yet they wouldnt want to eat granola bars for lunch. Its for those kinds. I usually make the regular sambar, curry and rasam platter for lunch. That s why i picked this mini meal idea. Something that i can eat and Mr.P can enjoy too. While the menu may look extensive and time consuming, its truly not. I made all of it in an hour flat. Its just that it requires some kind of organised cooking. But it really is a treat to indulge in. Either a relaxed lunch or a Sunday brunch, this mini meal works wonders.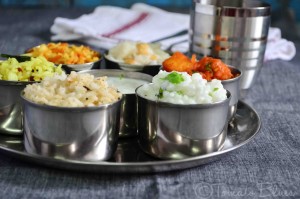 Mini Meals- A Lunch Thali Idea
( A platter of flavored rice and one starter)

Prep Time: 20 mins
Cook Time: 30 mins
Makes 1 mini meal
What It Has?
Carrot rice1 serving Recipe Here
Curd rice1 serving Recipe Here
Kalkandu Sadam 1 serving
Capsicum lemon rice 1 serving
Coconut Rice 1 serving
Chili idli 1 serving Recipe Here
Onion Raita 1 serving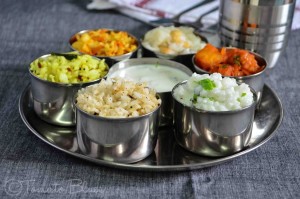 I have posted the recipes for carrot rice, curd rice and chili idli. I shall post the recipe for kalkandu sadam, capsicum lemon rice and coconut rice in the coming weeks.