Microwave roasted pepper cashews is an easy snack that can be whipped up in under 5 mins. It s a great treat to munch on while you watch a game of cricket or football. Why, you can even serve it with some hot tea or steaming cuppa coffee. However you do it, these pepper spiced cashews are difficult to resist making and eating.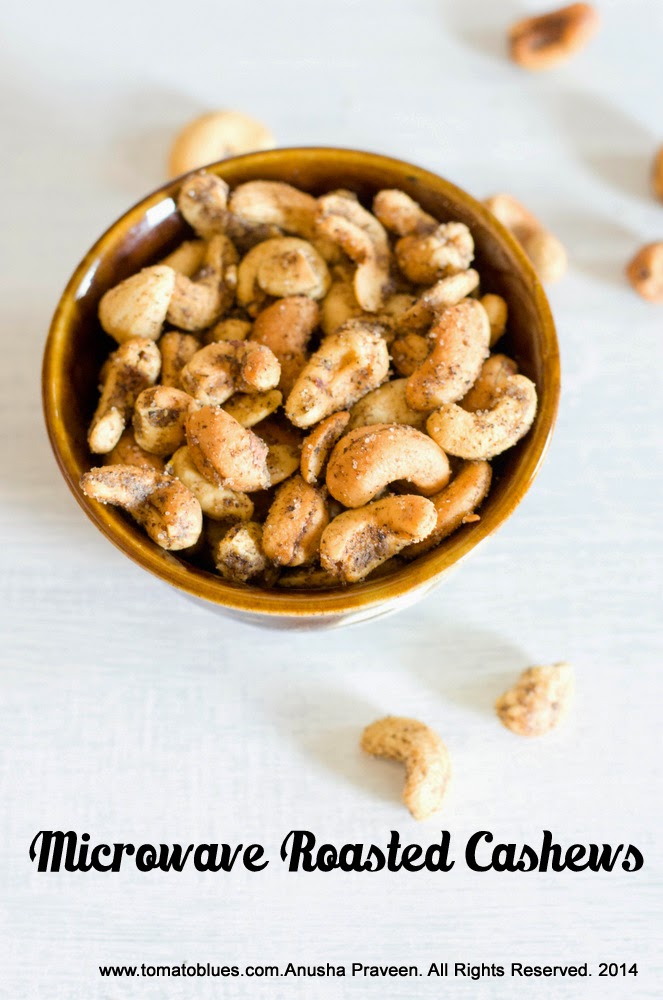 Ever since i discovered that roasting or toasting nuts in the microwave is a breeze, i have been finding excuses to do just that- more toasting and roasting. I love the way my peanuts toast up perfectly with that nutty aroma for my peanut chutney. And  these 
microwave masala peanuts
 gave me even more reason to love my microwave. But then, these pepper cashews turned out to be a revelation of sorts. I m a huge cashew addict. Lets just say i have been guilty of raiding Amma's shelves more than once as a kid and emptying her stock of cashews and raisins. I loved eating them together. The sweetish sour raisins and the crunchy cashews mixed in the mouth sang to my taste buds. When i grew up, my dad got me hooked to eating pepper roasted cashews. But i have always been wary of the store bought ones because i know that they are deep fried in ghee and that simply doesnt sit well with me. Which is why these pepper cashews roasted in the microwave is the perfect snack for me.While i m at the recipe, let me also mention
Food Panda
, a food delivery website. These guys have come up with a charity program which will contribute to the  
mid day meal scheme 
here in India. Check the website for more details. And now, read the recipe to know why you will also love these pepper cashews.
Recipe For Microwave Pepper Cashews
( Learn how to make pepper flavored roasted cashews in the microwave)
Prep Time: 10 mins
Cook Time: 5 mins
Yields 1 c of roasted cashews
Allergy Info: Soy free, Gluten free, Vegan Option Included
Course: Snack, Starter
Cuisine: Indian 
Ingredients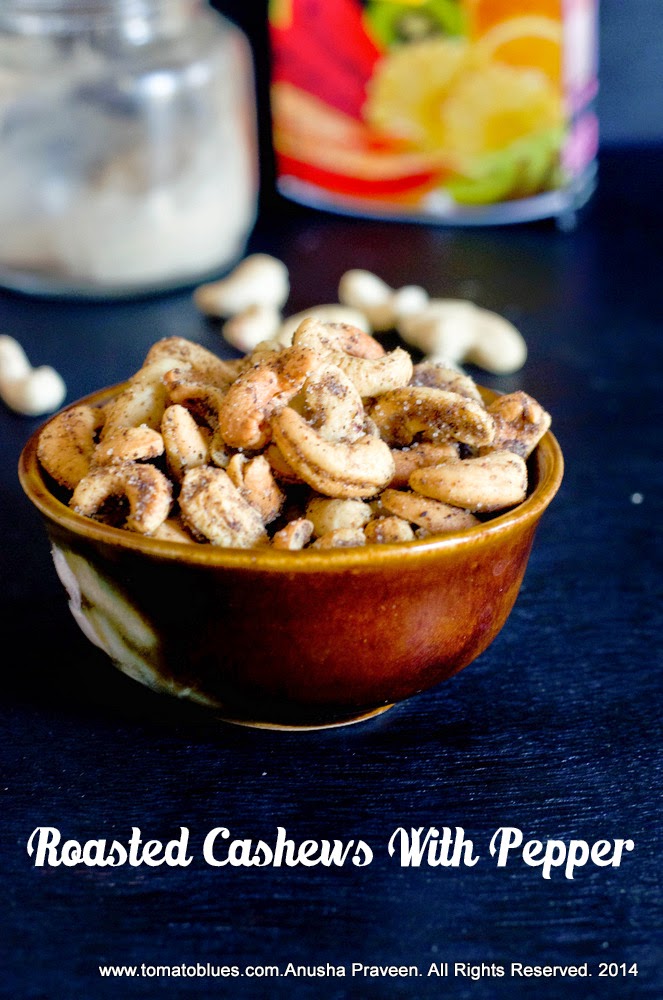 Whole cashews 1 c
Pepper powder 1 tsp
Chaat masala 1 tsp( see notes)
Salt to taste
Ghee/ Clarified butter 1 tbsp ( see notes)
Notes:
Adding chaat masala is optional but recommended.
You can also make roasted cashews by adding other spice powders like garam masala and cayenne pepper.
Substitute clarified butter with coconut oil or olive oil for a unique flavor and vegan version
Oven temperature and timings may vary.
Directions
In a microwave safe bowl, melt the ghee on high in the microwave for 30 secs.
Once done, remove and place the cashews in the bowl and toss them well in such a way that the ghee coats the nuts evenly.
Now, sprinkle pepper powder, salt and chaat masala on the cashews and mix well.
Spread the cashews on a microwave safe bowl evenly making sure they dont overlap.
Microwave on high for 1 min.
Later, remove and turn them gently but carefully.
Again microwave on high for 45 secs more. This may take even a minute depending upon your temperature settings. I did it on 900W.
Remove the plate once again and turn the nuts over carefully.
Again return to the microwave and microwave on high for another 45 secs to 1 min.
Once done, let cool completely.
Serve immediately or transfer to airtight containers to enjoy later.