I m not a sweet toothed person. But like they always say, opposite poles attract, Mr.P loves sweets. In any form that is. And he likes them home made. Imagine my horror when he said that he preferred home made mysore pak and halwa. For starters, the very idea of eating sweets is a put off to me. Making it has always been a mighty task. The precision and concentration that Indian sweets call for is tremendous and i simply dont have it in me. Well. I ve come a long way from there now. I can proudly say i know a thing or two about Indian sweet meat making. But its the easy ones that attract me even today. If you ask me to choose between rava kesari and mysore pak, i ll definitely pick kesari. Quick, simple and oh! yeah vegan too. I shall post that recipe soon. In the meanwhile, i found one more such breeze of a sweet to make from my friend
Jayanthi
s blog.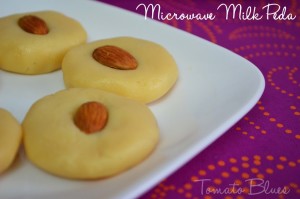 Now, what can i tell about Jay? I m dumbstruck when it comes to her photography. And then the choice of recipes that one finds at her space is nothing less than a plethora. She seems to have taken full advantage of living abroad when it comes to cooking food from around the world. Such is the diversity of her blog s recipe index. What more should i say? Her blog bears testimony to her penchant for food. So, hop on over to her space, try a few recipes and kick up a storm in the kitchen! In the meanwhile, let me tell you all about her super quick super delicious milk peda.
Recipe For Microwave Milk Peda
( Indian milk fudge)
Prep Time: 25 mins
Cook Time: 5 mins
Yields 21 medium pedas
Source: Sizzling Veggies
Ingredients
Condensed milk 1 can or 400 g
Milk powder 1.75 cups
Unsalted Butter 60 g
Cardamom powder a large pinch
Saffron 4 strands
Roasted almonds for garnish
Directions
In a microwave safe bowl, heat butter, cardamom and saffron for a min on high.
Now, add the condensed milk and milk powder and mix well.
Microwave on high for a min.
Take out and stir well.
Repeat the stirring after every 1 min of microwaving for 3 more times. The microwave temperature may vary. But you will know the fudge is ready when it bubbles up, comes together and becomes thicker to stir. This took me 4 mins on microwave with stirring in between 1 min.
Once done, let it cool completely.
After cooling, grease your hands with ghee and shape them as you please.
Gently press an almond on top.
Transfer to an air tight container and enjoy!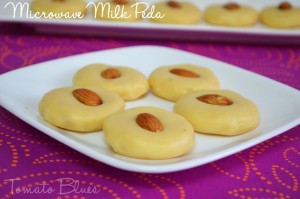 The peda becomes hard when refrigerated. Just put it out for a while before you serve and you are good to go!