It has been a while since i posted some curries. Easy to make that is. After all, you cant make restaurant style food everyday at home. I have to tell you all something now that i ve started on restaurant food anyway. The other day, Mr.P and i visited a new restaurant. After much deliberation on where to go and what to eat, we had zeroed in on this one with practically a lot of difficulty. Anyway. We found the place nice. Great ambience. Great music. Heck! We even had a maitre'D.Plus the service crew was flashing bright smiles. Nothing could have gone wrong at all. Until the menu appeared. When the very handsome and cherubic waiter presented the menu, i was like a cat which had swollen a canary. Its in my making you know.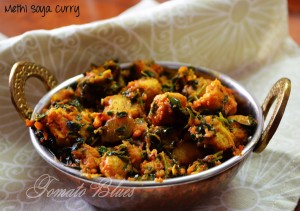 I look forward to seeing a hotel s menu just so that i can learn new dishes, grill the poor waiter guy about what goes into what and all that. So, it was that familiar feeling kicking in. But then, when i opened the menu, i felt like a deflated meringue. I mean everything seemed familiar. And at the back of my head was a voice which said "you can make this at home" So i just decided not to complicate the dinner further and looked up at Mr.P. Mr.P now gave me a sheepish smile and told me very succinctly, "You know you should stop making everything at home." That kinda summarised the entire menu for me. From that night till today, i ve not made a single gourmet dish with the exception of that
tomato and corn pie
. Luckily for me, there are no good pies available in Baroda. So no fear of overdoing them. Well, this curry is just one of those attempts in making finger licking good old home food which only has love and comfort written all over it.
Recipe For Methi Soya Curry
( Learn how to make Methi soya curry, a medley with fenugreek leaves and textured veg protein)
Prep Time: 10 mins
Cook Time: 25 mins
Serves 2
Allergy Info: Vegan, Gluten free
Course: Accompaniment
Cuisine: Indian
Ingredients
Soya chunks or textured vegetable protein 1 cup
Methi or fenugreek leaves 3/4 cup chopped finely
Oil 2 tbsp
Salt to taste
Cumin seeds 1 tsp
Tomato Puree 3/4 cup or 2 medium tomatoes pureed
To Be Ground To A Paste:
Onion 1 large
Garlic cloves 3
Ginger 1/2″ bit
Green chili 1
Spice Powders:
Red chilli powder 1/2 tsp
Coriander cumin powder 1/2 tsp
Punjabi garam masala 1/2 tsp
Turmeric powder 1/2 tsp
Directions
Bring 4 cups of water to boil in a large pan.
Add some salt and the soya chunks and cook them for about 5 mins.
Drain, let cool and squeeze all excess water out.Keep aside.
In a pan, heat the oil. Add cumin seeds.
Once they splutter, add the ground onion paste, bring down the flame to the lowest and saute till the paste turns a light brown.
At this stage, add the spice powders and saute for about 30 secs.
Now, add the methi leaves and saute till they wilt.
Add the tomato puree next and cook till oil separates.
Now,add the soya chunks along with salt and cook for about 6 to 7 mins.
After this, if you want a semi dry curry, then you can remove it off the flame. In case you desire a gravy like curry, then add about 1/4 cup of water and bring the whole mixture to a boil.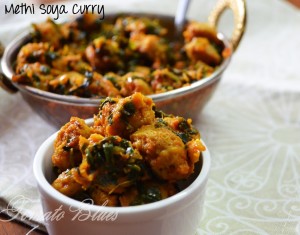 Serve hot with phulkas or rotis or rice.