There are some days when you feel threatened to go to the kitchen. Its like you dont want to heat that wok but still you have to do it. Well, thats how i felt when i got back from home and thats cos i had been living out of a suitcase for over a week. And the rain back home only dampened my mood. When i got back, there was only a cranky version of me who dint want to do anything other than sleep and watch tom and jerry. Yes! i still do and roll on the flour with laughter at Tom s vain attempts and Jerry s beguile ways. On one such day, i decided i ll just make a simple lunch. I had a bunch of methi ready to be used in my fridge and so methi rice.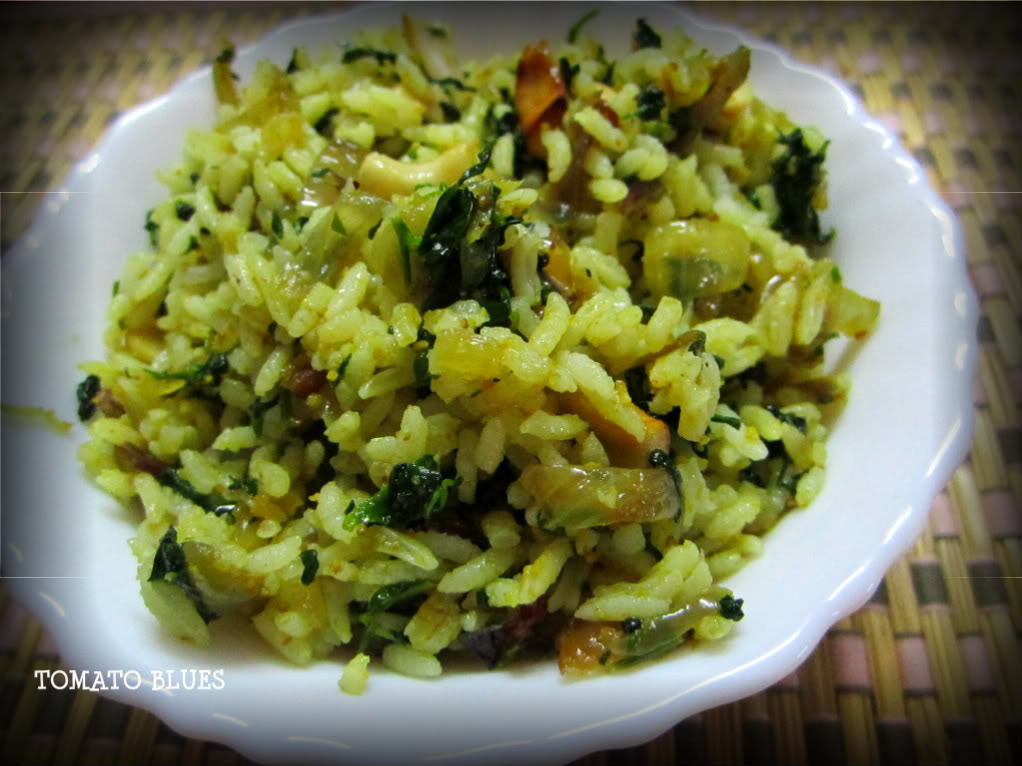 Prep Time: Under 10 mins
Cook Time : Under 20 mins
Source: Sulochana Dhodamma. Yeah!! Only she comes up with such recipes. I used to scorn at them when i was a kid but landed up making it . Serves me right!!
Serves 2


What you need?
Methi leaves or fenugreek leaves chopped finely 1 1/4 cups
Onion 1 large chopped finely
Dry chillies 2
Cooked Rice 2 cups
Vaangi bath powder
For Tempering:
Oil 1 tbsp
Ghee 1 tbsp
Mustard seeds 1 tsp
Urad dal 1 tsp
Turmeric powder a pinch
For Garnish:
Cashews fried golden brown in ghee 8 to 10
How to make it?
Cook the rice if you have not yet. Set aside.
Heat a kadai with oil and ghee. Add mustard seeds. Once they splutter, add the urad dal and dry chillies.
Add hing and turmeric powder.
Next, add the onions and fry till they are pink and transparent.
Now, add the methi leaves and saute them till they shrivel up. takes 2 mins.
Now, add the vangi bath powder and combine well.
Add salt and the rice and mix well with the methi mixture.
Garnish with cashews and serve with any raitha. We had it with raddish raitha.