HOW TO MAKE METHI PULAO?
Methi Pulao- A light and flavorful dish with rice and fenugreek greens. Also learn how to make Methi bitter free.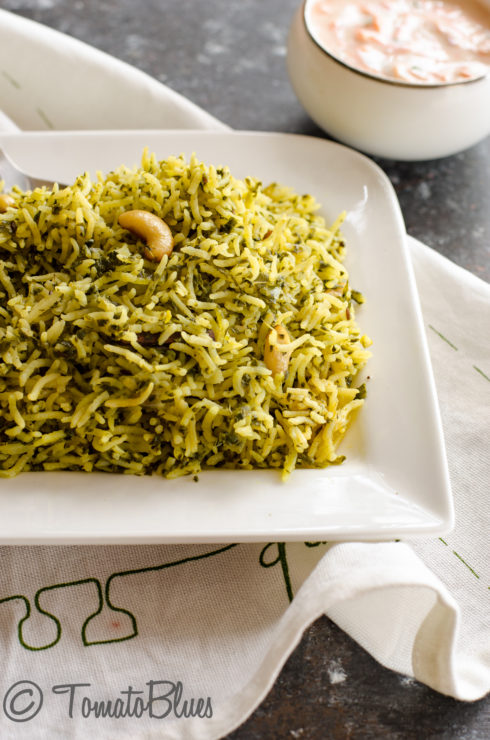 Methi Pulao is a fantastic way to include Fenugreek greens in your diet. This gluten free rice dish is chock full of nutrients and does not need much to complement it other than some chips and cooling raita.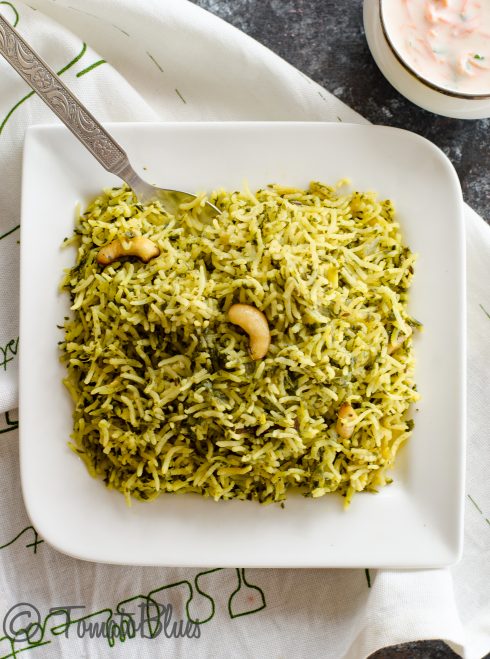 If i have to pick a favorite greens, then it has to be fenugreek greens first. They are flavorful, elevate the dish to the next level and nutrient dense. They are also diabetic friendly. But yes, cleaning them is a pain.
I make methi pulao whenever i find them fresh. What puts off many people from Methi is the bitter taste. To get rid of the bitterness effectively, clean, wash, chop finely and soak them in salted water for 30 mins. Then squeeze them dry with your hands and proceed to use.
If you are looking for more methi recipes, then check out recipes for methi dal, methi malai matar and methi thepla.
This is a small video on making Methi Pulao. This was shared on Instagram too. For more such one min videos, please follow me on Instagram.
https://www.instagram.com/p/Budc0bsBdeU/

Recipe For Methi Pulao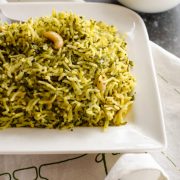 Print Recipe
Methi Pulao Recipe| TIPS TO MAKE BITTER FREE METHI
Methi Pulao- a fragrant rice made with fresh fenugreek greens and mild spices. Pairs well with a raita and chips by the side.
Ingredients
Basmati Rice 1 c washed till water runs clear and soaked in 2 c water for 20 mins

Onion 3/4c chopped finely

Garlic 2 cloves chopped finely

Ginger 1/2inch piece chopped finely

Green chili 2 chopped finely

Methi leaves cleaned and picked 300g chopped finely

Coriander powder

red chili powder, garam masala 3/4 tsp each

Turmeric powder 1/2 tsp

Salt to taste

Bay leaf

cloves, star anise, Cardamom 1 each

cinnamon stick 1/2inch piece

Cumin seeds 1 tsp

Ghee or oil 1 tbsp

Cashews a few broken
Instructions
Chop the onion, garlic, green chili and ginger finely. Alternatively, chop them all together in a chopper.

Wash the methi leaves and let it drain thoroughly in a colander.

Immerse this in salted water for 20 mins. Once done, drain and squeeze thoroughly. Set aside

Heat a pan with oil or ghee.

Add all whole spices and once they begin to crackle, add the onion, ginger, garlic, green chili and mix well.

Saute till onions begin to brown.

Now add all spice powders and mix well.

Immediately, add the methi leaves and mix well.

Add salt at this stage.

Mix and let it cook till the methi is wilted.

Drain the soaked rice and add it to the pan.

Mix well. Add 2 cups of water.

Now, you can either transfer this to an electric rice cooker and cook till done and continue to cook in the pan till water is absorbed and rice is tender and fluffy.

Once done, roast the cashews in some oil or ghee and add to the pulao.

Fluff gently with a fork and serve hot.
For Instant Pot & Air Fryer Recipes
Instant Pot timings may vary based on your geographic location. Air fryer settings and timings may vary based on the capacity and the model of the Air fryer.
Disclaimer
Nutrition values are provided here as a courtesy and are only a rough guide. Please consult a health care provider if you have any concerns.