I was a very picky kid who always thought not twice but a zillion times before putting that ominous piece of spinach in my mouth. I had a problem eating anything green beginning with spinach and ending in pistachios. My hatred went very far until i began college. Everyone knows that good food can create a lot of magic in life. But let me tell you, bad food, food that you cant imagine eating unless its hot, can change you into a new leaf. Five years of living in hostels and eating rice that had soda added to it and veggies which never had the right crunch or a wonderful flavor converted me to a person who simply is in awe of the food that mom makes. Now, i really dont care what mom makes. As long as mom makes the food, i can eat. No matter what. Well, those tough times also has influenced a lot of my culinary choices. I make it a point to include greens in my menu atleast 3 times a week. An overdose for a person who hated green. Dont you agree? I make everything with spinach, curry, subzi, lentil stew, yoghurt stew, dumplings deep fried. You name it and i ll make it with greens. And fenugreek was another story totally. Mom never made fenugreek at home. Now, dont ask why cos i have never asked her. Guess that s the way some things are at some homes. But we had every other possible green leafy veggie at home. Even the very detested night shade berry leaves were a regular on our table. So when i came to Gujarat, i was surprised to find that only 2 to 3 varieties of greens were available year round here. And among them, fenugreek. I discovered the charisma of fenugreek when i began adding kasuri methi to my gravies. The finishing touch of kasuri methi made all of my gravies simply exotic and almost restaurant like. So, me wondered, if a small pinch of dried fenugreek leaves could make such a mammoth difference, then fresh leaves will transform the very profile of my gravy. So the story of methi mutter malai paneer begins.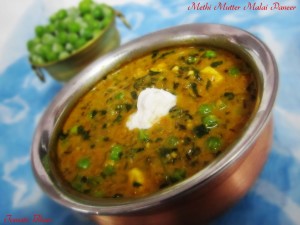 Prep Time: Under 30 mins


Cook Time: Under 20 mins


Serves 2 to3


What you need?
For The Gravy:
Fenugreek leaves 1 cup
Fresh green peas or frozen peas 1 cup
Onion 1 large chopped finely
Paneer a few cubes
Cumin seeds 1 tsp
Milk 3/4 cup
Tomatoes 2 medium pureed
Fresh cream 2 tbsp
Sugar 1/2 tsp scant
Salt to taste
Oil 3 tbsp
To be ground into a paste:
Onion 1 medium
Ginger 1/2 " bit
Garlic cloves 3
Green chili 1
Cashews 1 tbsp broken
Poppy seeds 1 tbsp
To be roasted lightly and powdered
Cumin seeds 1 tsp
Cloves 2
Cinnamon 1/2″ bit
Pepper corns 3
Cardamom 2
Spice powders:
Turmeric powder 1/2 tsp
Kitchen king masala 1 tsp
For Garnish:
A small dollop of cream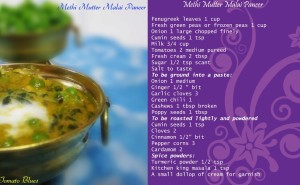 ( This s a slightly sweet gravy. You can reduce the amount of milk if you like your curries a little spicy. I added paneer to this because i had some left over in the fridge and wanted to use it up.Alternatively, you can also add tofu in place of paneer. You can avoid them and make this into just methi mutter malai. You can even omit the cream if you want a healthy low fat version. Increase the soaking time of fenugreek leaves if you dont like the bitter taste.)
How to make it?
Soak the fenugreek leaves in water along with 1/2 tsp salt for 15 mins.
Dry roast the ingredients to be powdered. Let it cool. Once cooled, powder them and keep aside.
Now, grind the ingredients to be ground to a paste without adding water. The paste must be smooth. Keep aside.
Squeeze the fenugreek leaves dry and set aside.
In a kadai, heat 1 tbsp oil and add cumin seeds. Once they crackle, add the fenugreek leaves and saute for about 4 to 5 min. Set aside.
Add the remaining oil and heat it up. Now add the chopped onions and saute till light brown.
Add the ground paste, turmeric powder and kitchen king masala next and combine well on a low flame.
Now, saute the mixture till it leaves the sides of the kadai.
Add the tomato puree next and saute till oil separates.
Now, add the fenugreek leaves, fresh green peas, milk, cream, salt, sugar and a cup of water and cook for about 10 mins.
Fry the paneer cubes in a skillet until golden brown on both sides and add to the mixture.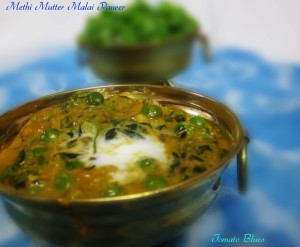 Garnish with a dollop of cream before serving and serve hot with
Garlic Kulchas
.
This goes to Gimme Green, Lets Cook Greens, Bon Vivant Savoury And EP Series Cilantro/ Cumin