Couscous was something that i learnt about after i began my blog. No. Wait. Not even then. It was only last year that i learnt about its health benefits, of which i m not entirely sure. What i m actually sure of is that i love couscous. Its filling and its easy to make. You can add just about anything to it and it instantly transforms into something delicious. I call that embarrassingly effortless. But, hey! that s ok once in a while. This s my first couscous recipe on the blog. And rest assured, you can look forward to some more!
Recipe For Masala Couscous
( Couscous flavored with garam masala and veggies)
Prep Time: 10 mins
Cook Time: 20 mins
Serves 2 generously
Level: Intermediate
Ingredients
Couscous 1/2 c
Water 1 c
Onion 1 med chopped finely
Tomato 1 med chopped finely
Capsicum 1 medium chopped finely
Soya chunks 5 to 6 (optional)
Mushrooms 5 to 6 chopped finely
Ginger garlic paste 1 tsp
Garam masala 1/2 tsp
Red chili powder 1/2 tsp
Cumin coriander powder 1/2 tsp
Turmeric powder 1/4 tsp
Cumin seeds 1 tsp
Oil 1 tbsp
Salt to taste
Cilantro for garnish
Lemon wedges to serve.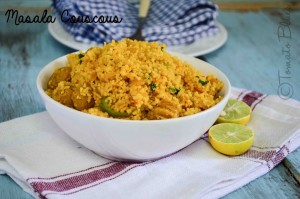 Directions
Cook the soya chunks as per package instructions. Squeeze water and set aside.
Bring water to a boil.
Once done, place the couscous in a bowl and pour the boiling water over it and cover. Set aside.
In a pan, heat oil and add the cumin.
Once it crackles, add the onions and saute till light brown.
Add ginger garlic paste next and saute for 30 secs.
Add all the spice powders and the turmeric next. Saute for 30 secs more.
Now, add the capsicum and saute for a min.
Tip in the tomatoes next.
Cook the tomatoes till mushy on a low flame. Add mushrooms next and continue to saute on medium low flame.
While you do this, check on the couscous. The couscous would have absorbed the water and become fluffy and light. Gently fluff with a fork.
Once the tomatoes are done, add the soya chunks if using.
Saute for a min more.
Now, add the couscous and salt and mix well.
Cook on medium flame until the mixture loses some more of its moisture. It shouldnt be too dry nor too wet. Something like poha.
Once done, garnish with coriander leaves.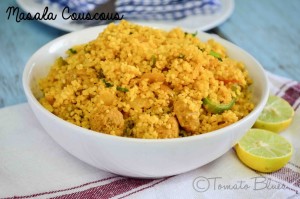 Serve hot with lemon wedges.