Making your own bread at home is probably the most rewarding experience for a person who loves cooking. The butterflies that flutter in the stomach while you wait to see if the yeast proofs right can never be compared to any other kind of butterflies in the stomach episodes. Its taken me 7 times to proof my yeast right. Yes you read right 7 times!!If you are going to ask me why go to all that trouble then that s one more reason for you to try your habd at bread making. It was simply beautiful to see the dough rise up and rise once more before i shaped it and baked it to cute little buns. This is my first yeast based recipe and i m soon gonna write a post on this finicky little friend i ve made in the recent past. Thinking who?? the yeast fella of course 🙂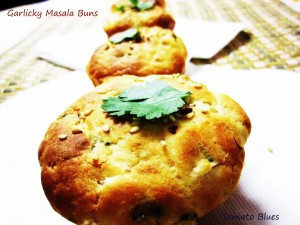 Recipe For Masala Buns
( Learn how to make easy no knead masala buns)
Prep Time: 20 mins for prepping the dough
                   45 mins for the first raise
                   30 mins for the second raise
Cooking Time: Under 20 mins
Yields 12 small buns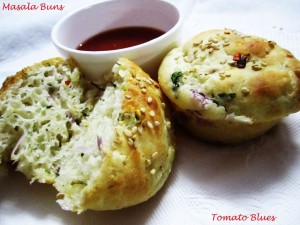 What you need?
All purpose flour 2 and 1/4 cups
Fresh Yoghurt 4 tbsp
Garlic pods 6 minced finely
Active dry yeast 2 and 1/4 tsp
Salt 3/4 tsp
Sugar powdered 1 tbsp
Olive oil 2 tbsp
Onions 1 large chopped finely
Green chilies 2 minced finely
Fresh Cilantro 3 tbsp chopped finely
Luke warm water 1 cup
Chili flakes 1 tsp for the batter and some for topping ( see variations for other ideas)
Sesame seeds for topping
How to make it?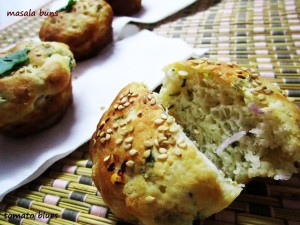 In a bowl, place the yeast and sugar and combine well with the warm water. Keep covered for 10 mins until frothy on the top. Keep in a warm place and rest assured it will work like a charm!!
Now, in a large mixing bowl ( a bowl in which you can easily find out if the dough has doubled. Avoid using spherical bowls and try and use a cylindrical bowl for easy measurements of the rise), place all the dry ingredients and combine using a hand whisk until well incorporated.
At this stage, make a well in the centre of the flour mixture and add the yoghurt, oil and the yeast mixture in this order.
Start mixing the dough with a wooden ladle until well incorporated and without lumps.
You will have a very stick mixture by this time.
If the weather is cold, then preheat your oven at 180 degrees for 5 mins. If the weather is hot or warm you can leave it covered in a warm place. The oven method can be used in all weather conditions.
Then leave the dough inside but remember to switch off the oven.
Takes 45 mins for the first rise. 
In the meanwhile, grease your muffin pans with butter generously and keep aside.
After the dough has doubled, take it out and give it a nice stir.
It will come back to its almost original quantity level.
Once you have stirred the dough well, grease your hands with oil cos you will have very sticky dough even at this point. Good things in life take a lil mess you see
Now fill the muffin pans halfway and allow it to raise the second time. Once the dough rises, top up the dough with chili flakes and sesame seeds.
Once the dough has risen and doubled in the muffin pans ( takes about 30 mins again), preheat your oven at 205 degrees.
Bake the buns for 12 to 14 mins until the top has a golden brown crust.
Once done, remove and let cool on a cooling rack.
Then slowly tap them out on a clean dry kitchen counter.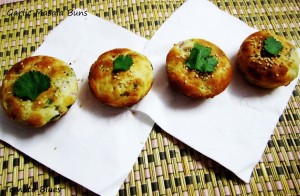 There you go you have those mini beauties with you!!
An afternoon well spent dont you agree??
You can have it with chili garlic sauce or even eat with a hot bowl of soup like we did.
Variations: You can add a few cheese shreds along with some mixed herbs for a more exotic flavour. You can use mozarella or gouda cheese for a lovely texture and flavour!!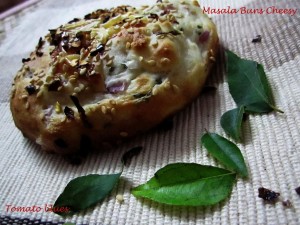 This is from that leftover batter that i had and i ve made the cheesy version with this. I devoured it whole and also regretted the fact that it dint last forever.
Now, this goes off to Bake Fest Guest Hosted By Me for Vardhini ,
Yeast Spotting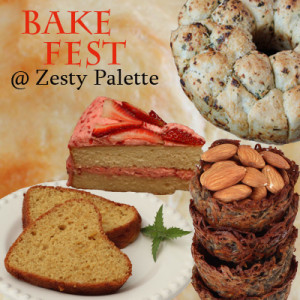 Note: You dont get a very nice brown colour in the buns so dont try and overbake them.
If you are using a 6 muffin pan then you will have some batter left. You can either bake them the second time, or make them into cheesy buns like i did or store them in the fridge and bake later.
I had to pry my buns out a lil with a fork cos i hadnt greased my pan well. So be very generous while you grease.
The buns last well for about 2 days.