When i first began blogging, i was just an unseasoned eager beaver, wanting to tell the world about some good Indian food. Not that i dint enjoy other cuisines. But there s something so ethereal about some curd rice and pickle that i can simply not live on other cuisines. While the curd rice is ubiquitous at all meals, other dishes from around the world sneak into my dinner table every now and then.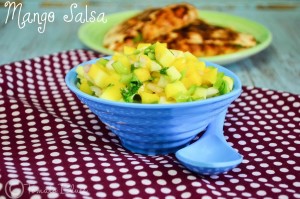 The more i read, the more i got hooked onto new cuisines and new ways of eating a fruit or vegetable. As much as i like masaledar curries and piping hot steamed rice, i am also a big sucker for fresh vegetables and fruits in the form of a smoothie or salad. And my new found love, salsa. Not so long ago, salsa was either swaying your hips to a peppy number or some tomatoes and peppers in a tangy dressing. And then salsa too evolved. It evolved so much that it was at once, fashionable to make a stone fruit salsa. I call it the food in vogue syndrome. Well.Gladly, salsa dint consume me even then, Actually, salsa became an obsession only now. Like in the past few weeks. First, i made this watermelon salsa. And now, i found my soul salsa in this mango salsa. And no, i have not made tomato salsa. Not yet. Maybe its too soon for that. (wink wink)
Recipe For Mango Salsa
( easy salsa with fresh ripe mangoes)
Prep Time: 10 mins
Cook Time: Nil
Source: My kitchen notes
Serves 2
Level: Easy
Ingredients
Mango 1 large ripe and firm, peeled and cubed
Onion 1 small chopped finely
Green bell pepper 1 small chopped finely
Serrano chili 1 minced
Cilantro 2 tbsp chopped finely
Juice of 1 small lemon ( 2 tsp lemon juice)
Salt to taste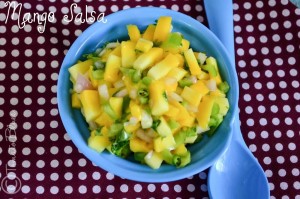 Directions
In a mixing bowl, place all the ingredients and toss well.
Chill for an hour.
Serve along side some tacos or quesadillas.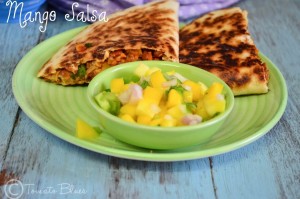 One such recipe coming soon! In the meanwhile, enjoy making this salsa and lick that bowl clean!