How To Make Mango Passion Fruit Iced Tea With Fresh Mangoes and Passion Fruit?
Mango Passion Fruit Iced Tea is made from freshly brewed tea, mango pulp and passion fruit pulp. Summer Recipes. Vegan.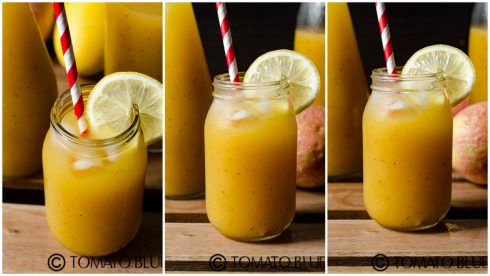 Mango Passion Fruit Iced Tea is a delicious and healthy way to enjoy a tall glass of iced tea without the worries of added sugar and such. It is the season of mangoes, no secret there! But passion fruit is another story. I first had a taste of passion fruit when i was honeymooning. And it was instant passion fruit love. But i never had the fortune to eat them after that until i moved to Singapore. Passion fruit is as ubiquitous in Singapore as an apple is, anywhere else in the world. While we like enjoying the fruit as it is, i decided to make this refreshing mango passion fruit iced tea on a whim.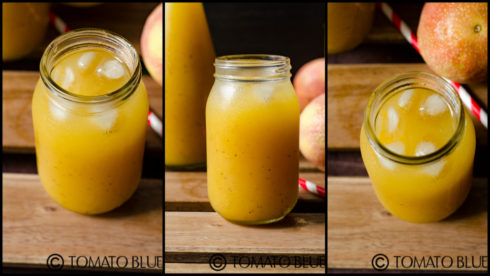 We are tea addicts here in the Praveen household. We love tea in all its forms ranging from the everyday Indian masala chai to the Oolong and the white tea. So, i stock up different flavors of tea in my pantry but green tea is always a staple. It is what i reach for when i m extremely sleepy or when i really need to perk myself up on a morning. This mango passion fruit iced tea uses freshly brewed green tea that is chilled and then made into a delicious iced tea replete with mango and passion fruit flavors. I have not used any sweetener in this mango passion fruit iced tea because the mango as such was sweet. In case, the mangoes you use are not that sweet, use any sweetener of your choice. Most passion fruit tea recipes use passion fruit flavor tea bags but this mango passion fruit iced tea uses fresh passion fruit pulp. So, how does this passion fruit taste? Well, it tastes tart and sweet and pairs really well with tropical fruits such as mango and pineapple. I also make passion fruit curd. I hope i share the recipe for that too soon.If you do not have access to fresh passion fruit, you can skip it and make only mango iced tea which also tastes equally delicious. If you love iced tea, then do check out how to make lemony iced tea
Recipe For Mango Passion Fruit Iced Tea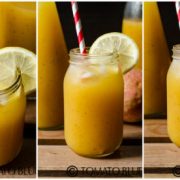 Print Recipe
Mango Passion Fruit Iced Tea
Mango Passion Fruit Iced Tea is a delicious and sugar free thirst quencher made with fresh mango puree and passion fruit puree
Ingredients
Mango 1/2 c cubed

Passion fruit pulp from 2 passion fruits

Green tea bags 4 -5

Water 2 cups

Ice cubes to serve

Lemon wedges to serve
Instructions
Heat the water till it begins to boil.

Place the tea bags in the water and let it brew for about 10 mins.

After 10 mins, discard the bags and let the tea cool completely.

Once cool, place mango cubes and passion fruit pulp in a blender with about 1/4 c of water and blend to a smooth puree

Combine this puree along with the brewed and cooled tea and let chill in the fridge for 6 to 7 hours.

Once cold, serve chilled over ice cubes.
Notes
1. I have used Japanese Sencha blend green tea for this recipe. But any green tea will work well. In case you dont have tea bags but you have loose tealeaves, then add 1 tbsp of green tea leaves to the amount of water mentioned.
For Instant Pot & Air Fryer Recipes
Instant Pot timings may vary based on your geographic location. Air fryer settings and timings may vary based on the capacity and the model of the Air fryer.
Disclaimer
Nutrition values are provided here as a courtesy and are only a rough guide. Please consult a health care provider if you have any concerns.