Its Summer. And this calls for some rice creamy and eggless Mango ice cream. Which only officially translates to one thing- mangoes are here and they are here to reign for some time now. While i m not a particularly huge fan of mangoes ( OK! Dont roll your eyes or give me that piercing look) I do love making desserts with mangoes. There is nothing to beat the fragrance and flavor of ripe mangoes. Many people believe that alphonso mangoes are the best around the world but i beg to differ. While you live in India, you come across so many varieties of mangoes that you simply cant bet on one! I am a person who strongly believes in local produce. So, on my last trip to the farmers market, i picked up a few Badami mangoes that are grown locally here. Needless to say, they didnt disappoint me. They were juicy, sweet and simply yum. In a nutshell, they were perfect to churn up some ice cream.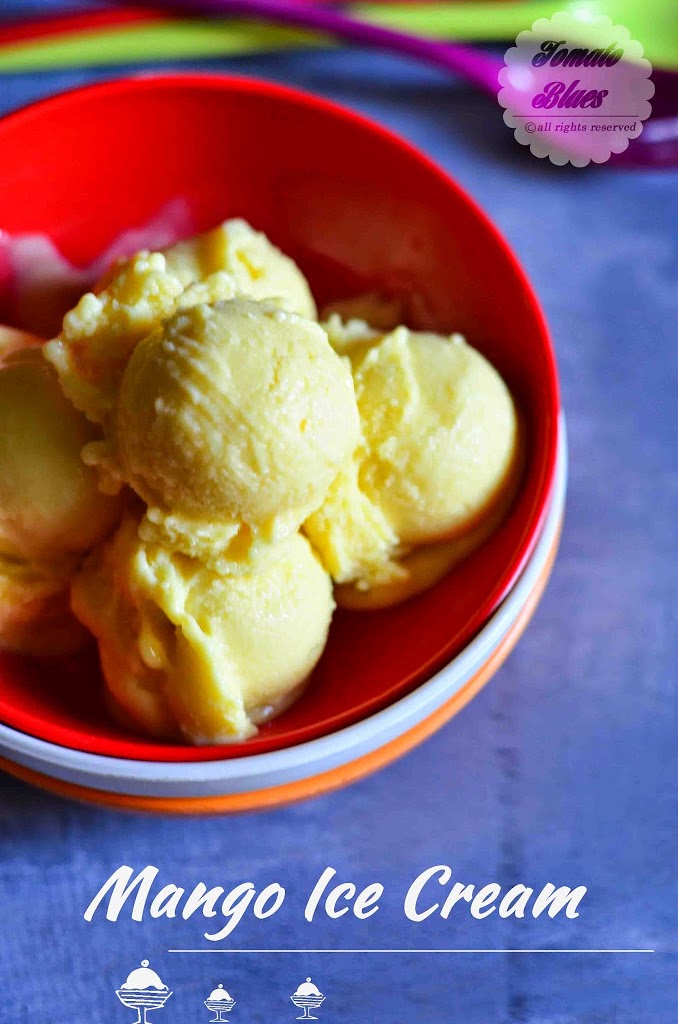 The internet has many recipes for mango ice cream and they come in all kinds. With eggs, without eggs, cream, heavy cream and what not. Some recipes even use coconut milk and i m sure i ll try that sometime too. In the meanwhile, my eggless mango ice cream is a simple fuss free recipe that uses ingredients easily lying around in your pantry. While the recipe itself is a no brainer and no cook recipe, the only hard part is to remember to blend the ice cream in the right time intervals. As i said, i used the local mangoes available here but feel free to use any kind that pleases you. In case you dont find fresh mangoes, use tinned pulp that s available. Please refer notes for any clarifications and substitutions.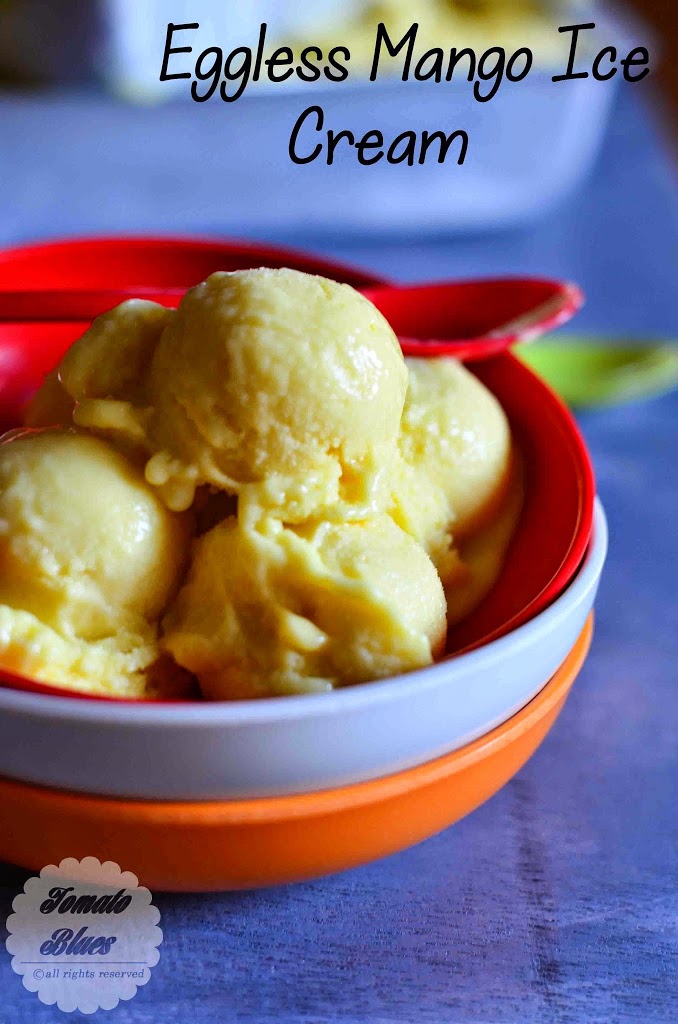 Recipe For Mango Ice Cream
( Learn to make mango ice cream without an ice cream maker from the scratch.)

Prep Time: 15 mins + 1 hour + 30 mins
Cook Time: Nil
Makes 1 L of ice cream
Allergy Info: Egg free, Nut free, Gluten free and Soy free
Course: Dessert
Cuisine: International

Ingredients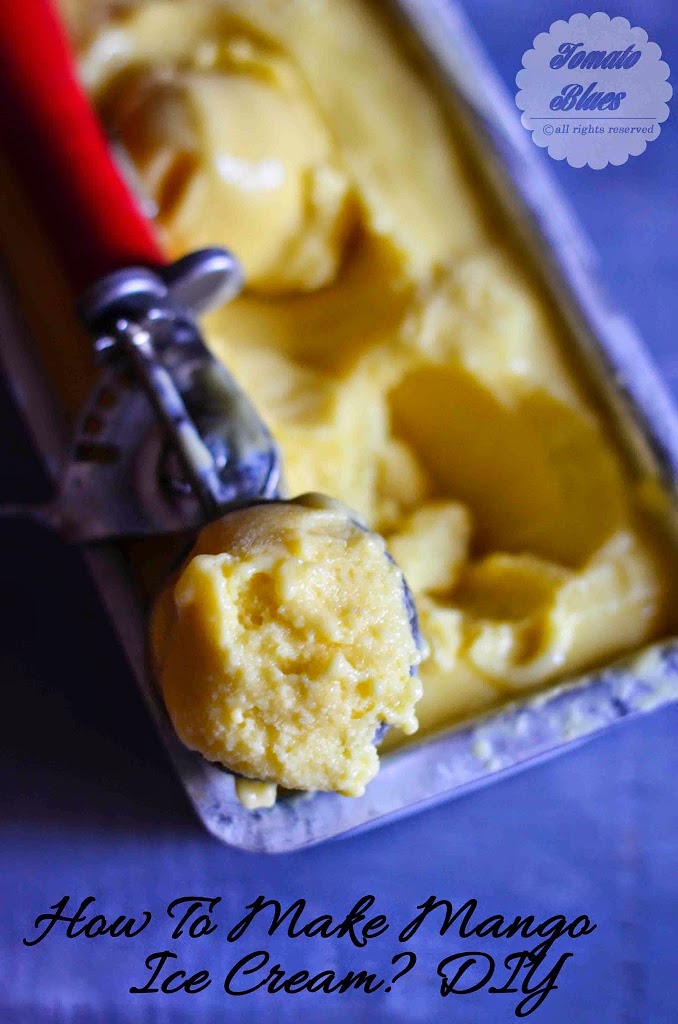 Mangoes 2 large peeled and cubed ( refer notes)
Condensed milk 200 ml
Cold milk 2 cups
Sugar 1/3 c
Vanilla extract 1 tsp
Lemon juice 1 tsp
Notes
1. You must have approx 2 cups when cubed.
2. The amount of sugar mentioned here was just right for us. Feel free to adjust.
3. The lemon juice gives a nice spike to the ice cream but skip it if your mangoes are a tad sour.
4. The color of my ice cream here is a pale yellow because i dint use any artificial coloring.
Directions
In a blender, combine mangoes, sugar and vanilla and blend to a puree.
Add condensed milk next and blend again.
Follow with milk and lemon juice and blend to a smooth puree.
Pour into a freezer safe container and freeze till slushy.
Once slushy, rake the mixture with a fork.
Divide the mixture into three of four batches.
Blend each batch in a blender until smooth.
Pour back again into the container.
Freeze till set.
Repeat the blending process.
Freeze till ready to serve.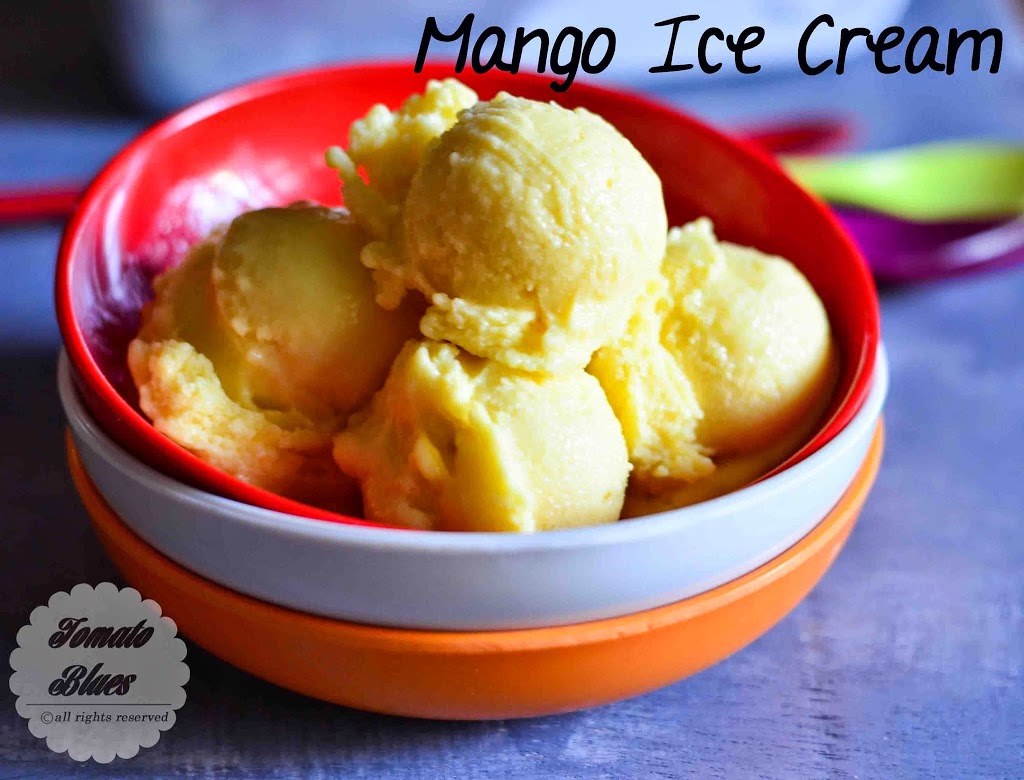 Scoop and serve chilled.