HOW TO MAKE MANGO CHAMOMILE TEA?
MANGO CHAMOMILE TEA- A REFRESHING TEA WITH BURSTS OF MANGO FLAVOR AND THE CALMING BENEFITS OF CHAMOMILE.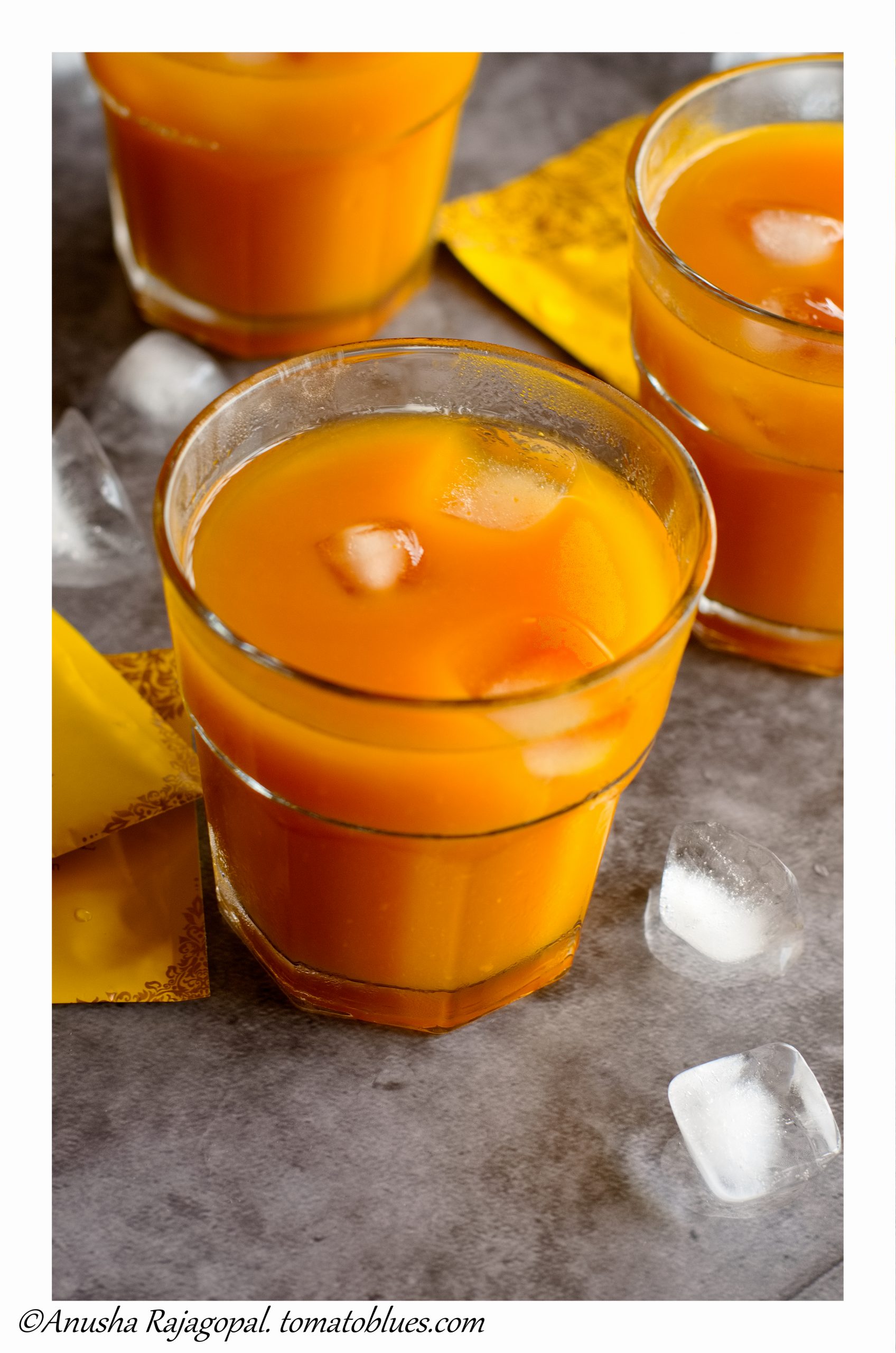 This is the season of mangoes. And mango finds its way to our table in all possible. I m a tea lover and enjoy all kinds of tea. And this Mango Chamomile tea is my favorite. When i first came to Singapore, i tried the Heaven and Earth version of this. And i was hooked. I have ever since been a huge fan of this combination. This tea is a very simple brew that you can brew in a few minutes.
This mango tea laced with chamomile is a fantastic non alcoholic party beverage option too. You can make this in advance and let it chill in the fridge for 3 to 4 days. While i do enjoy some chilled iced tea, my sleep cycle becomes messed when i sip on it during the evenings. And that s where Chamomile tea is a blessing.
So, do you know that there are so many benefits in Chamomile tea?
Chamomile is a flower. Dried chamomile flowers are used in brewing this subtly flavored tea. Chamomile is a excellent remedy for Period cramps. It also helps in getting better sleep and is the perfect night cap. I have been drinking this chamomile tea for about a year now and my sleep quality has improved greatly.
Chamomile is also very beneficial in reducing stress and relieving muscle cramps. You can read more about the benefits of chamomile tea here.
If you are a teaddict like me, then check out our other teas –
Now, lets talk some Mango Chamomile Tea.
What mangoes to use for this refreshing Mango tea laced with chamomile?
Pretty much any mango will work for this tea. But make sure they are ripe and fresh. I have used the Alphonso mangoes to make this Mango chamomile herbal Tea. I have also tried this tea with Thai Rainbow mangoes, Badami mangoes and even Brazilian mangoes. All of this work well. The deep golden yellow in this tea is because of the Alphonso mangoes i used.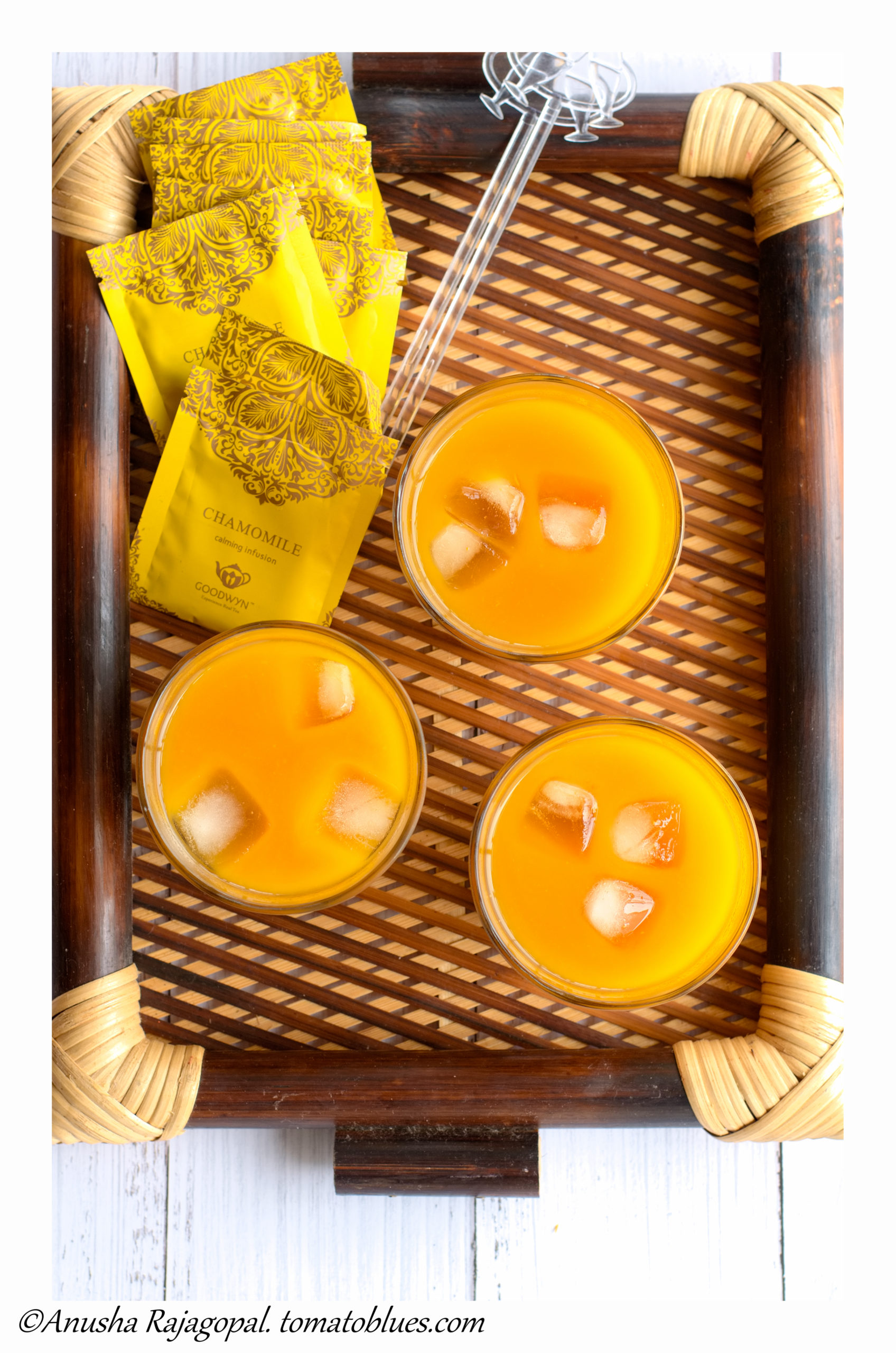 What about sweeteners?
If your mangoes are sweet, then no sweeteners are needed in this refreshing tea. But even if your mangoes aren't sweet, this tea doesn't need any sweetener because of the subtle yet soothing flavors. We dont want this to be cloyingly sweet. However, if you feel that sweeteners must be added, you can try adding maple syrup or agave. But this recipe is free from refined sugars.
What flavors come together in this soothing non alcoholic summer drink?
I have used herbs like lemon grass and basil to give a deeper flavor to this. You can experiment with more herbs or even ginger or galangal.
How to serve this?
This tastes best when served chilled and topped with some ice cubes. If you are an out and out mango lover like me, then you can even add some cubes of fresh cut mango before serving.
P.S. this is not a sponsored post and i do not endorse any brands used in this recipe.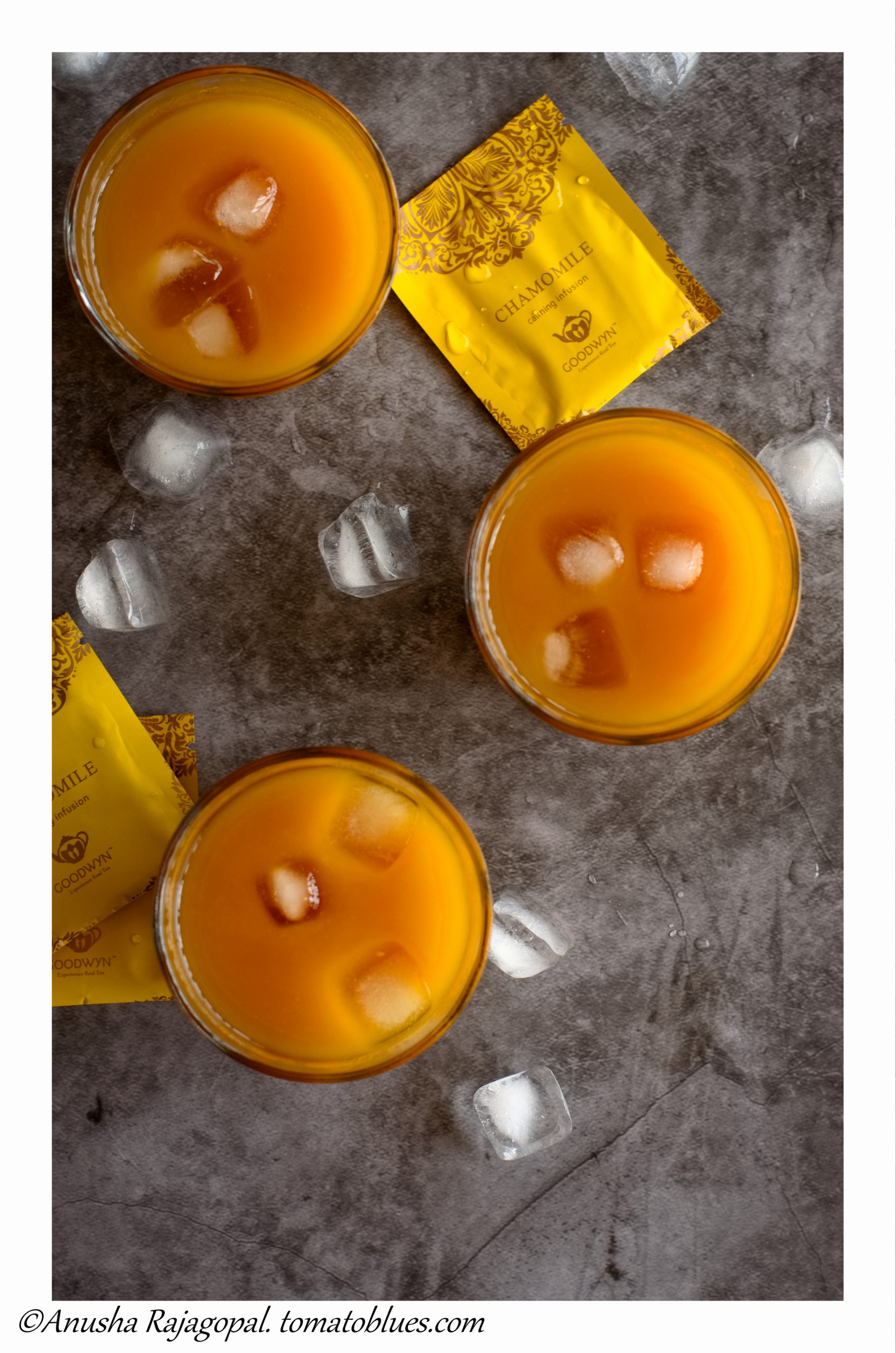 Shall we now check how to brew some Mango and Chamomile Iced Tea?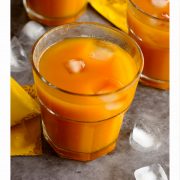 Print Recipe
Mango Chamomile Tea
A soothing and calming tea with fresh mangoes and chamomile flavors laced with herbs.
Ingredients
2

small

Mangoes

Alphonso mangoes are used here.

5

bags

Chamomile Tea

Goodwyn Chamomile tea has been used here. Feel free to use any brand of chamomile. If using loosely packed dried chamomile flowers, then 2 tbsp of these flowers will work well here.

1

tbsp

grated ginger

1

tbsp

finely chopped and crushed lemon grass

4

leaves

Sweet Basil

This is optional but highly recommended

2

tbsp

freshly squeezed lemon juice

1.25

Liters

Water
Instructions
Wash, peel and chop the mangoes.

Add the mangoes to a blender and blend to a smooth paste. Set aside

Combine 250 ml water, ginger, lemon grass and basil in a sauce pan. Bring to a boil.

Add the chamomile tea to this boiled hot water and let it steep for 30 mins.

Let the brewed tea cool completely. Now strain the tea.

Add the pureed mango and lemon juice to the cooled tea. Mix well.

Add the remaining water. Mix thoroughly.

Let chill in the fridge for 4 hours

Serve chilled with ice cubes on top.
For Instant Pot & Air Fryer Recipes
Instant Pot timings may vary based on your geographic location. Air fryer settings and timings may vary based on the capacity and the model of the Air fryer.
Disclaimer
Nutrition values are provided here as a courtesy and are only a rough guide. Please consult a health care provider if you have any concerns.