I am not an authentic south indian for no reasons. The fact that i was born and brought up in one of the most hospitable cities in Tamil Nadu apart, i love tamil food. Or should i say anything that has the tag South Indian. This is mainly because most of the recipes from South India are versatile. Most of them being add a little of this and a little of that. But mind you each dish is a challenge for to achieve perfection in each is a mighty task. I ve seen people cooking just eyeballing ingredients. Why only the other day i was watching Menu Rani Chellam Aunty making these yummy maa laadus. Even though she told us the precise measurement and everything, making a south indian dessert is so unlike baking.It does not call for standard cup sizes and spoons. Its more like make it as it suits your palette. I got inspired by her and the last week of
The Avant Garde Cookies
where we picked authentic tamil cuisine was the perfect excuse to make these super delicious loaded with protein laadus.They are easy to make. People will definitely think you are some Julia Child of the south or something when you make these and serve them. Oh! believe me will ya all?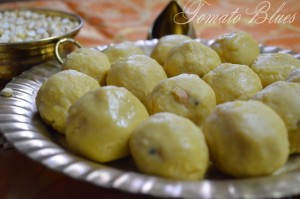 Cook Time: Nil
Makes 24 to 30 laadus
( I am not an expert when it comes to the circle shape. I cant make perfectly round laadus but do you care as long as they are yummy in the tummy? These laadus when eaten in excess will give an upset stomach. They are traditionally made for gokulashtami. Addition of cashews optionally. Melted warm ghee works best for shaping the laadus. Be careful when you add the ghee and mix the flour. I burnt my hands so learn from my careless self and save yourself from those burns.200 g of dharia yields about 2 cups of flour after sieving.)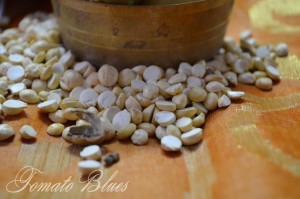 What You Need?
Roasted channa dal or dharia or pori kadalai 200 g
Powdered sugar 1.75 cups
Ghee 3/4 cup
Cashews 12 to 15 broken
Cardamom powder 1 tsp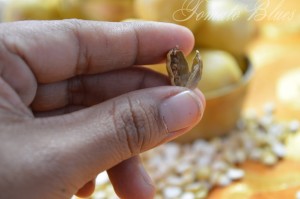 How To Make It?
Place the dal in a blender little by little and blend to a fine powder. Make this in two batches and sieve. You must have 2 cups of flour at the end of the sieving.
In a large mixing bowl,add the channa dal flour, powdered sugar and cardamom powder and combine well using a whisk.
Now, melt the ghee and you must have about 1 cup of melted ghee. If not add a little more and if you are worrying about the flab, close your eyes!
Once the ghee is melted completely, add the broken cashews and wait until just light brown.
Let the ghee become warm a little so that you can handle the heat.
Now, make a well in the middle of the flour and pour the ghee along with the cashews.
Using a whisk, gently but quickly combine the entire mixture so that it resembles bread crumbs.
Now, start making small balls out of them.
Let them cool completely before you store them.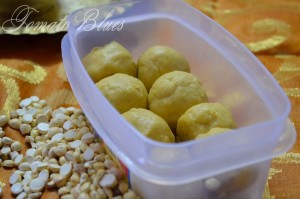 Once cool, store them in dry air tight containers and enjoy them!