Lychee Lemonade Recipe With Coconut Water And Basil Seeds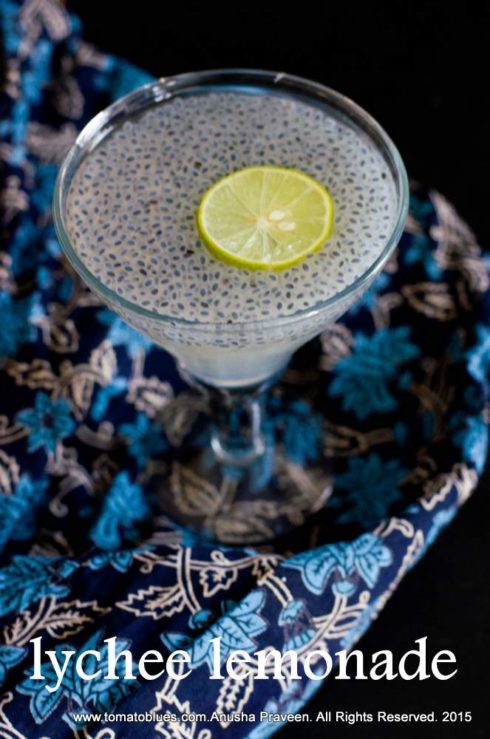 This lychee lemonade recipe with coconut water and basil seeds is the perfect thirst quencher for summers. The last time i visited my regular fruit seller, i noticed that the Lychee season was in full swing. Like always, i could not do anything but pick a big box of these tropical delights. Did you all know that Lychee is a fruit that is related to Longan and Rambutan and that it originated in China? Well, coming back to the box of Lychees, i fell sick after that. I came down with a fever and a sore throat so bad that it would put any crow to shame lest i open my mouth. A few days after i had sprung back to my feet, i opened the box and found that i had no desire to eat them as they were. And suddenly, a conversation about lychee lemonade came to my mind. I have come across recipes of this lychee lemonade that uses readily available Lychee juice. But i wanted to make it fresh and that is exactly what i did. Before i share my recipe, let me tell you all one thing. This lychee lemonade tastes like a regular lemonade if you drink it immediately after making. The real flavors of the fruit can be relished only the next day. So i suggest making this ahead and chilling it before serving so that the fruit's tropical flavors can be enjoyed to the fullest.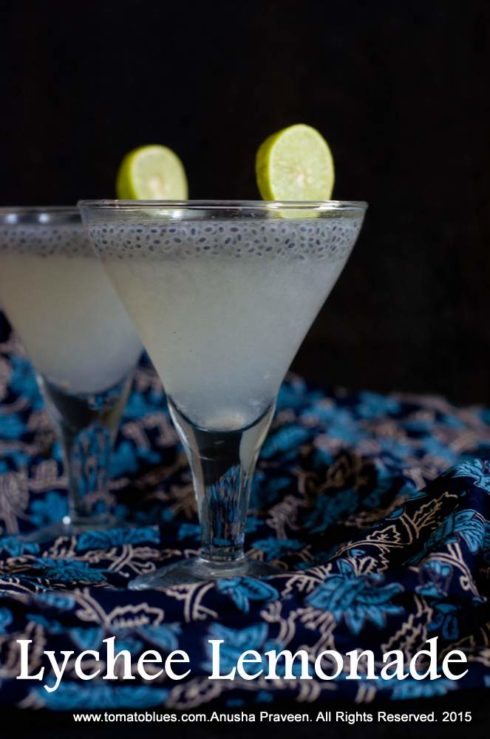 We get plenty of coconut water in India. But in case you dont find fresh tender coconut water, use the regular ones without any flavors available in tetra packs these days. The basil seeds lend a nice crunch to the lemonade while providing its nutritional benefits too. For best results, bloom the basil seeds an hour before adding to the lemonade. Add the bloomed seeds just before serving. In case you dont have access to fresh Lychee, make do with readily available lychee juice. However, you will be compromising on the taste to a certain extent.
Lychee Lemonade Recipe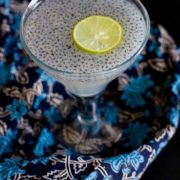 Print Recipe
Lychee Lemonade Recipe
A refreshing lemonade with fresh lychee, basil seeds and coconut water. Vegan. Gluten free.
Ingredients
Lychee fruit 10 to 12

Basil seeds 2 tbsp

Fresh tender coconut water 2 c

Caster sugar 2 tbsp

Lemon juice 4 tbsp

Cold water 1/4 c plus 1/4 c

Ice cubes to serve
Instructions
Remove the peel of the Lychee.

Make a small vertical cut along the flesh of the fruit and slit open to remove the seed.

Place the fruit along with the sugar and 1/4 c of water in a blender.

Blend to a smooth puree.

Strain the puree to discard any pulp.

To this add the coconut water and lemon juice.

Mix well.

Chill in the fridge for at least 10 hours.

An hour before serving, soak the basil seeds in 1/2 of water.

Once they bloom, add this to the lemonade.

Mix well.

Serve over ice.
Notes
You can use readily available Lychee juice if you dont have access to fresh fruit. But you may require less or no sugar as the juice will already be sweetened.
If you dont have caster sugar, powder regular sugar and use.
For Instant Pot & Air Fryer Recipes
Instant Pot timings may vary based on your geographic location. Air fryer settings and timings may vary based on the capacity and the model of the Air fryer.
Disclaimer
Nutrition values are provided here as a courtesy and are only a rough guide. Please consult a health care provider if you have any concerns.