Let me be very honest with you. I m not very fond of bottle gourd. Period. I see no way in which that veggie can be delicious. Such is my dislike for that veggie. But you know, its not me if i dont walk that distance to make sure that anything despised is made palatable. This lauki ka kofta is that extra mile i walked to make sure i ate my lauki. Its sunday and i am sitting and whiling away time royally. I am contemplating whether i should do the dishes first or pick up the dried clothes. The dining table is cluttered with my many odd bowls and spoons from that heavy south indian lunch we had today. And all i can think of is i ve not posted anything yet for the day. And surprisingly, i can only think of lauki ka kofta. The pictures are not very hunky dory but the recipe is a champ. I shot them pics just when my stomach was growling with hunger. So excuse the bad pictures.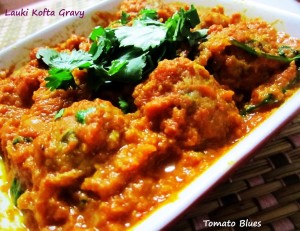 Recipe For Lauki Ka Kofta
( Learn how to make lauki ka kofta in a mild gravy, an easy side dish with bottle gourds)
Prep Time: Under 20 mins
Cook Time: Under 30 mins
Serves 2 to 3
What you need?
For the koftas:
Lauki peeled and grated 2 cups
Salt to taste
Chickpea flour 1/2 cup
Red chilli powder 1/2 tsp
Aamchur powder 1/2 tsp
Green chillies 1 chopped finely
For the gravy:
Onion 1 large
Ginger 1 inch piece
Garlic 3 cloves
Tomatoes 3 ripe ones pureed
Dry red chillies 2
Green chilies 1 (optional)
Salt to taste
Oil 2 tbsp
Spice powders for the gravy:
Red chili powder 1/2 tsp
Coriander powder 1 tsp
Turmeric powder 1/2 tsp
Garam masala powder 1/2 tsp
For Garnish:
Cilantro chopped finely 2 tbsp
How to make it?
Mix salt with the lauki and keep aside for twenty minutes.
Squeeze out the excess water from the lauki.
In a large mixing bowl, mix all the ingredients for the kofta and combine well without adding any water. Bottle gourd has a lot of water in it so be very careful.
Make a dough out of it and make small balls out of it.
Line a baking tray with aluminium foil and preheat the oven to 205 C.
Smear oil on the foil and place the koftas in it.
Bake for 20 mins.
While the kofta is baking, make the gravy.
Grind together the onion, garlic, ginger and green chillies without adding water.
Heat oil in kadai and dry red chillies. Add the onion paste and saute until light brown.
Add all the spice powders and saute again for a min.
Now, add the tomato puree and saute till oil separates.
Add salt and about 1 cup water.
Let it simmer closed for about 5 mins. Keep aside.
Once the koftas are baked, drop them in the gravy just before serving and garnish with cilantro.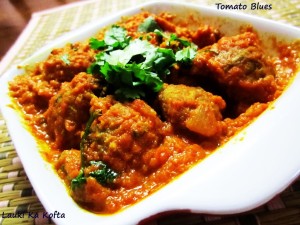 Serve hot with naans or chapathis.
Off this goes to Sangee s Show Me Your HITS
P.S You can alternately deep fry the koftas in oil until golden brown too.
The koftas absorb the water as they soak in the gravy. My picture was taken when it had soaked up all the gravy but it turned out to be heavenly !! 🙂