My first memories of eating Kuzhi Paniyaram dates back about 15 years. Somewhere around the time i had acquired a taste for hot spicy food. Until then, i was a chicken when it came to eating spicy food. Yeah, weird that but true too. Then my palate began wanting more of spice without any prelude. From then on. i have hated eating bland food with a passion. I love my food super spicy and enjoy eating the heat so much that the tears from my eyes dont bother me one bit. But, oh wait! this post is not with an intention to scare you. I ve toned down on the spice front in the past few years and i must say, apart from the occasional craving to eat a plate of chili loaded something, i make sure the heat levels from the chilies in my every day cooking is normal. At least normal for an average spice loving human.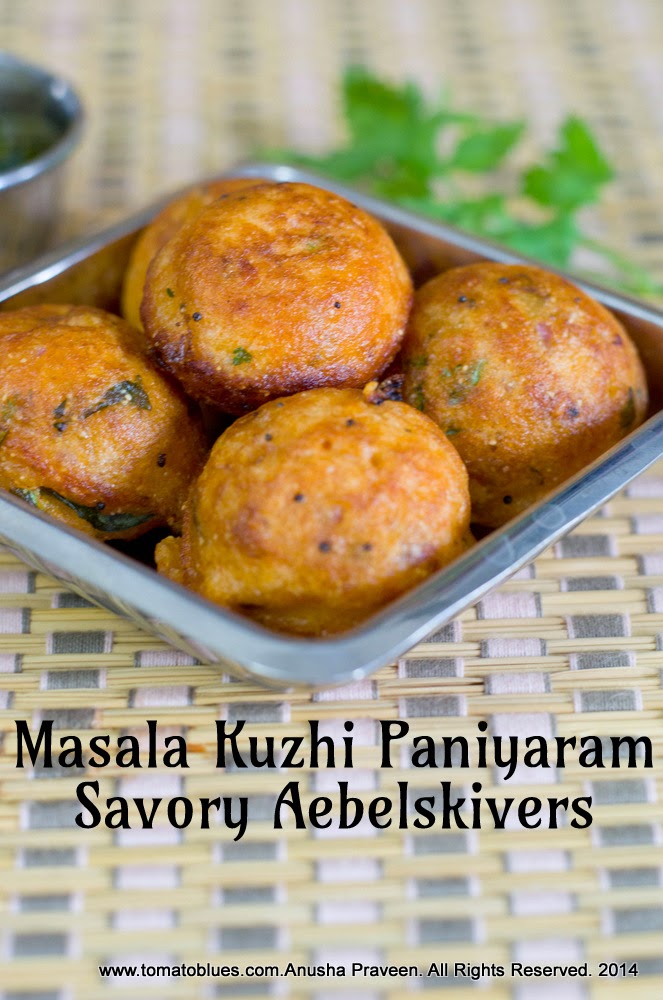 Well, coming back to kuzhi paniyaram, these are nothing but savory aebelskivers made with leftover
dosa batter and some veggies. But i dont add veggies here. I love my paniyarams with lots of onions and curry leaves. The first time, i made paniyarams, they turned out to be soft for me. I like them with a crispy outer and soft inside. So, i have made a few changes here and there since then and now, there s a standard combination of things that i add to my paniyaram batter. I must say, i ve been very successful here as my paniyarams are just the way i like them to be these days- crispy outer layer and soft inside. Plus this is a wonderful way to use up all that sour dosa batter that s been lying in the fridge and that no one wants. Do read the notes for some more tips on tweaking the paniyaram and taking it to the next level.
Recipe For Kuzhi Paniyaram
( Learn how to make Masala Kuzhi Paniyaram, savory aebelskivers made with leftover dosa batter and also known as aape or phaddu or paddu)
Prep Time: 20 mins
Cook Time: 20 mins
Yields about 15 paniyarams
Allergy Info: Vegan, Soy free
Course: Breakfast, Brunch, Snack
Cuisine:Indian ( Chettinad)
Serving Suggestions: Onion Tomato Chutney, Chettinad Style Tomato Chutney, Roasted Garlic and Coconut Chutney

Ingredients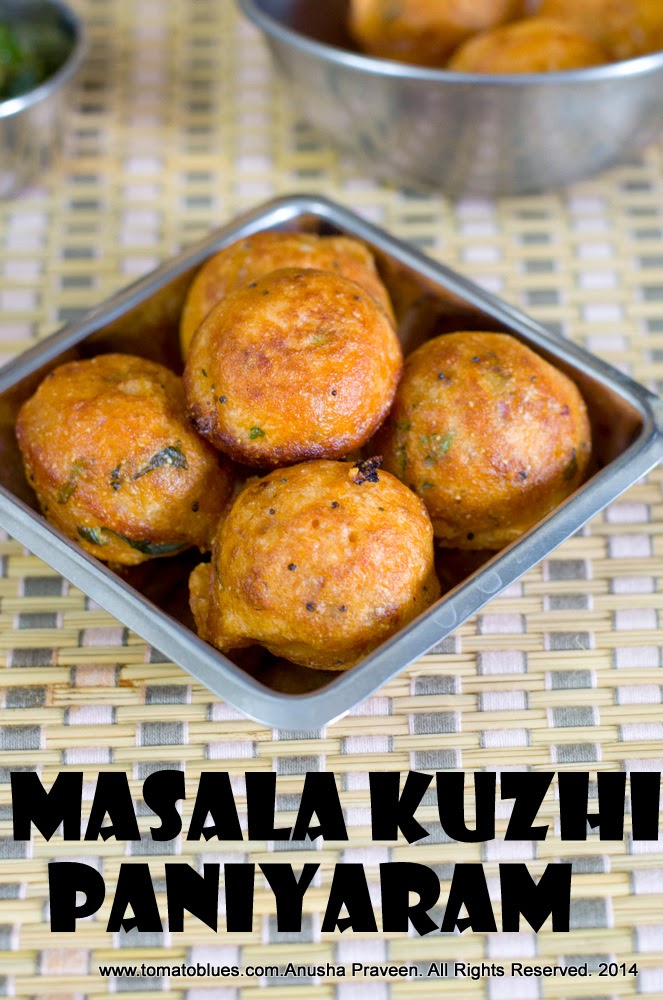 Dosa batter 2 cups
Rice flour 2 tbsp
Rava/ Semolina 1.5 tbsp
Corn flour 1 tbsp
Chilly powder 2 tsp
Onion 2 medium chopped finely
Curry leaves a sprig chopped finely
Coriander leaves 3 tbsp chopped finely
Freshly grated ginger 1 tsp
For tempering:
Mustard seeds 1 tsp
Channa dal 1 and half tbsp
Urad dal 1 tsp
Hing 1/2 tsp
Oil 1 tsp
For the paniyarams:
Paniyaram mould
Oil 1 tsp per paniyaram
Note:
1. If you want to make this as a kids treat, add veggies like grated carrots, cabbage and bell peppers to make it colorful. You can even add grated cheese.
2. For an extra crunch , add a few broken cashews fried in oil to the batter and make paniyarams.
3. Skip the semolina and hing for a gluten free version but you wont get very crispy paniyarams then
Directions
In a mixing bowl, combine the batter, corn flour, rava, rice flour and chili powder and let sit for about 3 mins.
To this add chopped onions, curry leaves and coriander and mix well.
Temper the batter by sauteeing the channa dal, urad dal and mustard seeds with hing and mix the batter again.
Now, place the paniyaram mould on the stove, pour a tsp of oil into each portion. Wait for small bubbles to form in the oil.
Ladle the batter with a small ladle into the mould.
Cook on a medium flame for 3 mins.
Then turn over each paniyaram to the other side using a fork.
Cook on medium flame for another 2 mins.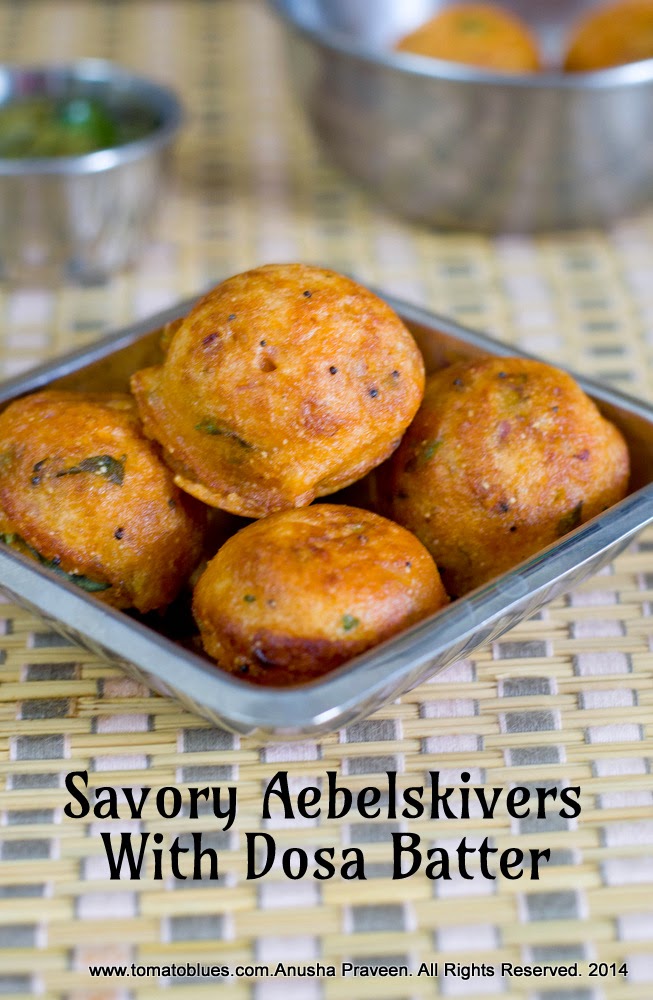 Serve hot.