For a couple that eats pulao every other day, this blog stands unjustified. I make so many types of pulao but i really have no clue as to why i ve not bothered clicking a picture and sharing that bowl of awesomeness with you all. I mean, how dumb can i get?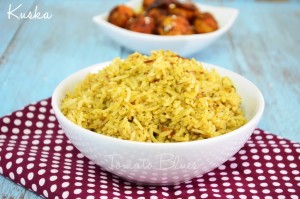 Looks like i can get dumber. Because, if you really take a look at my alphabetical recipe index, you will find that, while there are more than ten recipes of lunchbox rices, there are not even 4 or 5 pulao or biriyani recipes. You see, the excitement that comes along with a biriyani or a pulao is so immense that i find it very hard to not dig in as soon as it s cooked. The ditto applies to Mr.P too. Anyway, i made this really easy flavorsome Kuska last week. And needless to say, it was gobbled down to its last grain. It was a filling meal by itself which tasted divine with a bowl of mixed raita. And i did have the brains to click a few pictures. So, here s bringing to you all, the easy, the divine and the finally photographed Kuska recipe!
Recipe For Kuska
( Basmati rice flavored with indian spices)
Prep Time: 1 hour to soak the rice
15 mins for the rest
Cook Time: 20 mins
Source: A monthly tamil magazine
Level: Intermediate
Serves 2 generously
Ingredients
Basmati rice 1 cup
Water 1 cup
Tomatoes 2 medium chopped finely
Onion 1 large chopped finely
Ginger garlic paste 1 tsp
Green chilies 3 to 4
Mint leaves 10 to 12
Cilantro 1 small bunch
Coconut milk ( not too thin and not too thick) 1 cup
Cloves 2
Cinnamon 1″ piece
Green cardamom 1
Bay leaf 1
Oil 1 tbsp
Ghee 1 tbsp
Salt to taste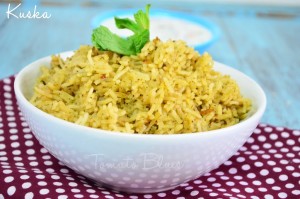 Directions
Soak the basmati rice in 2 cups of water for an hour.
Towards the end of an hour, prep all your veggies.
Heat a pan with oil and add green chilies and saute till puffed up and white.
Now, add the onions and saute till light brown.
Add the ginger garlic paste next and saute for 30 secs.
Now, add the mint leaves, cilantro and chopped tomatoes and cook till tomatoes turn completely mushy and oil starts separating.
Once done, add salt, mix well and let cool completely.
When cooled, grind to a smooth paste in a blender.
Heat ghee in a pan.
Add the bay leaf, cardamom, cloves and cinnamon.
Let them brown a bit.
Now,add the ground paste and cook on medium flame for about 2 to 3 mins.
Drain the water from the rice and add to the paste.
Add 1 cup of coconut milk and 1 cup of water. Mix gently. I used 1/2 c of canned coconut milk and diluted it with 1/2 cup of water.
Cook until the rice is fluffy and tender. Alternatively, you may transfer this to a heavy bottomed pressure cooker and cook for 1 whistle or cook the rice in an electric rice cooker. An electric rice cooker works best for me!
Once the rice is done,fluff gently with a fork.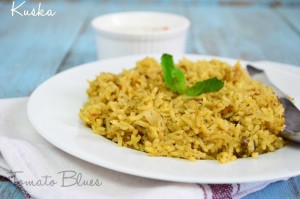 Serve hot accompanied with a curry of your choice or some raita.
Among other things, Your Kitchen In Spring Event giveaway has been won by Roshni Chandrasekar who blogs at Arusuvai Kurippu. Congrats Roshni!!