I m thanking my stars for making this bread much before. Had i planned to bake this beauty called
Khaliat Nahal
later, i d not have seen much success. For it seems, the place where i live is going to be blessed with torrents of rain for the next few weeks. Rain that darkens room and makes you just crave for a warm bowl of soup. That bad! And so humid that you simply cant put a decent ball of dough together. You just want to add something or the other into a pan, mix, put it on the table and call it food.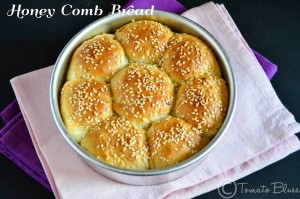 Now, coming back to Khaliat Nahal. For me, the name itself sounds exotic enough. It translates into bee hives in Arabic because the buns are baked in such a fashion. Small balls placed close to one another. They then swell up when they bake and when you pull the tin out, you have a beautiful honey comb looking bread. It s generally sweet. A sweet syrup is poured over the buns once they are baked. And the filling is cream cheese and assorted nuts. Aparna of our We Knead To Bake fame, set this recipe for this month and she gave us a savory option too. Because we are not very sweet toothed people, i made the savory version. They are little pillows of yum. That s all i can say.
Recipe For Khaliat al Nahal
( Recipe for Honey comb pattern buns with a savory filling)

Prep Time: 15 mins for the dough
1 hour for the first rise
45 mins for the second rise
Cook Time: 5 mins for the filling
20 to 25 mins for baking at 180 C
Source: Adapted slightly from here
Allergy Info: Egg free
Ingredients
Flour 1.5 cups
Garlic paste 1 tsp
Lukewarm milk 1/2 cup
Instant yeast 3/4 tsp
sugar 1/2tsp
Salt 1 tsp
Unsalted butter 20 g melted
Milk 1 tbsp for brushing the dough
Sesame seeds for sprinkling
For The Filling
Bell peppers 1 small chopped finely
Onion 1 smalll chopped finely
Red chili powder 1/4 tsp
Garam masala a pinch
Salt to taste
Oil 1 tsp
Cumin seeds 1/2 tsp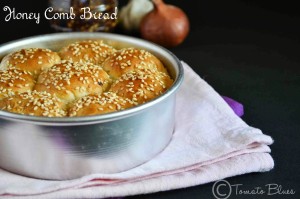 Directions:
You can make the whole thing in a food processor too. I dont own one so i used my hands.
Cool down the melted butter a wee bit.
In a big bowl, add flour and salt . Begin with a cup of flour.
Combine well using a hand whisk or sieve.
Now, add melted butter and garlic paste to this and rub it into the flour until it resembles bread crumbs. Just like you would do for pie dough.
In a bowl, combine milk, sugar and yeast. Let it rest for 5 mins until it turns frothy.
Once done, add this to the flour mixture and knead until it all comes together into a elastic and slightly sticky dough. Add the remaining flour gradually to achieve this consistency.
You are looking at a smooth and soft ball of dough that s slightly sticky. It took me about 5 to 7 mins of kneading to achieve this. In case you have a food processor, it will take much less time.
Once done, cover with a clean damp kitchen towel and let it rise until double in volume. This will take anywhere between an hour to two depending on the weather.
In the meanwhile, get the filling ready.
Heat oil in a pan.
Add cumin and once it crackles, add bell pepper and onion.
Fry till onions turn a golden brown.
Add all spice powders and salt.
Mix well.
Set aside.
Once the dough has risen, deflate the dough and transfer to a lightly floured work surface.
Make a rope of the dough that s approx 9″ long.
Now divide the rope into nine 1″ pieces.
Take each piece and roll into a ball.
Flatten the ball into a disc.
Place 1/2 tsp of the filling on the disc and bring together the edges of the disc and pinch them.
Again gently shape it into a ball.
Grease a 6″ round cake tin with oil.
Place the ball in the tin along the edges.
Repeat the same with the remaining dough balls.
Place them about 1/2″ apart. Once the outer edge fills up, place them inside the outer ring of dough balls.
Once done, cover with a damp kitchen towel and let them rise until slightly double in volume.
You will know its done when you see the dough balls almost touching each other.
Towards the end of the second rise, preheat oven to 180 C.
Now, brush the balls with a tbsp of milk.
Sprinkle sesame seeds generously on the top.
Bake for 20 to 25 mins or until tops turn golden brown. Mine took 18 mins exactly.
Once done, let cool in the tin for about 10 mins.
Invert and cool further on a wire rack.
Dig in once considerably warm.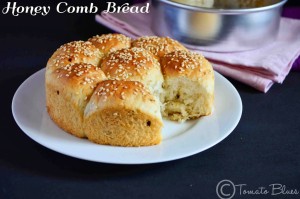 Dont forget to make that mug of coffee.