Its quite hard to believe its the last week of the month almost. This month has been a whirlwind of sorts. Among almost accepting a job as an English teacher, struggling to fix the ignition in the stove and trying to get the bike up and running, i also managed to bake some
chocolate doughnuts
and get in my hands into a delicious
pie
. I also managed to kick start a baking class and read up on a few favorite recipes. And that s where this
Kashmiri Gobi Aloo
figures.
The Avant Garde Cookies
chose
Kashmiri cuisine
as the theme for week 3. And i m kicking off the week with this delicious and ridiculously simple recipe. Believe me, its so simple yet so rewarding that it will put a few family favorites like
shahi paneer
to shame. After my tryst with the
malai kofta
, which is the most demanded recipe in the neighborhood when i cook, i had a thoroughly awesome time making this curry. It calls for very few ingredients and is amazingly flavor loaded. So, try it when you are short on time and yet you want that one dish that will make your table glow.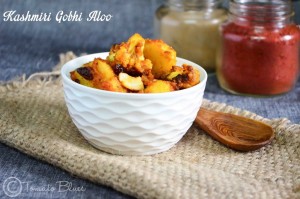 Recipe For Kashmiri Gobhi Aloo Subji
( Simple curry with potatoes and cauliflower)

Prep Time: 10 mins
Cook Time: 20 mins
Serves 2 generously
Source: Adapted from here
Allergy Info: Vegan, Gluten free and Grain free

Ingredients
Potatoes 2 medium peeled and quartered
Cauliflower florets 3/4 c
Onion 1 medium chopped
Tomato 1 medium chopped
Garlic cloves 4
Ginger 1/4″ bit
Bay leaves 2
Chili powder 1 tsp
Garam masala 1/4 tsp
Turmeric powder 1/4 tsp
Oil 2 tbsp divided
Salt to taste
Sugar 1/2 tsp
To Garnish
Cashews 4 to 5 broken
Raisins 1 tbsp
Oil 1 tsp
Directions
Steam the potatoes for 10 mins until tender. I used my pressure cooker for this. I peeled and quartered them, placed them in a bowl and pressure cooked for 10 mins. I dint add any water to the bowl of potatoes.
In the meanwhile, heat a pan with 1 tbsp oil.
Shallow fry the cauliflower until golden.Takes 5 mins on medium flame.
Drain and set aside.
Grind onion, tomato, ginger and garlic to a fine paste without adding any water in a blender.
Once the potatoes are done, heat the same pan with the remaining oil.
Now, add the bay leaves and follow with the ground paste.
Let it cook till oil separates.
Add chili powder, garam masala and turmeric powder and cook for 30 secs.
Now , toss in the potatoes and cauliflower.
Add salt and mix well.
Sprinkle sugar and cook covered for 5 mins on medium low flame.
Once done, heat 1 tsp of oil in a pan.
Add the broken cashews and roast till light brown.
Quickly toss in the raisins and immediately transfer to the curry.
Mix well.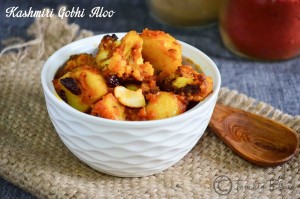 Serve hot with rotis.