HOW TO MAKE MANDAKKI OGARANE (PORI UPMA)?
MANDAKKI OGARANE- A NORTH KARNATAKA SPECIAL DISH USING PUFFED RICE.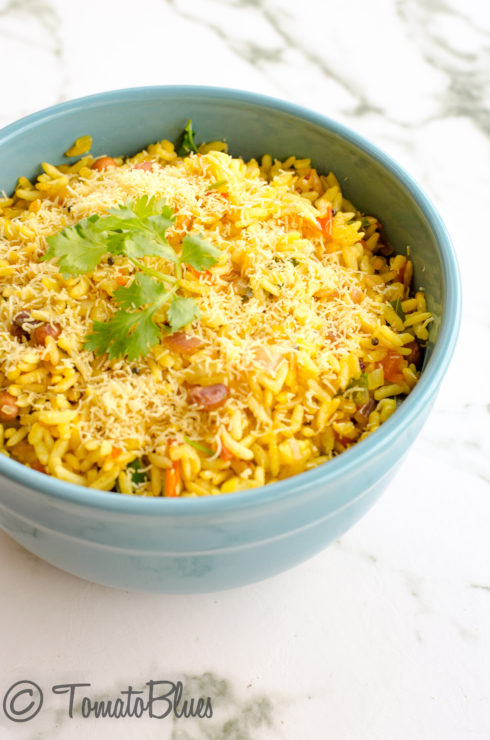 Mandakki Ogarane is a Uttara Karnataka (North Karnataka) special dish that uses Puffed rice which Pori in Tamil and Murmura in Hindi. Some people call this Kadale Puri usili while some call it Sushila. But however you want to call it, this humble mandakki ogarane is a revelation.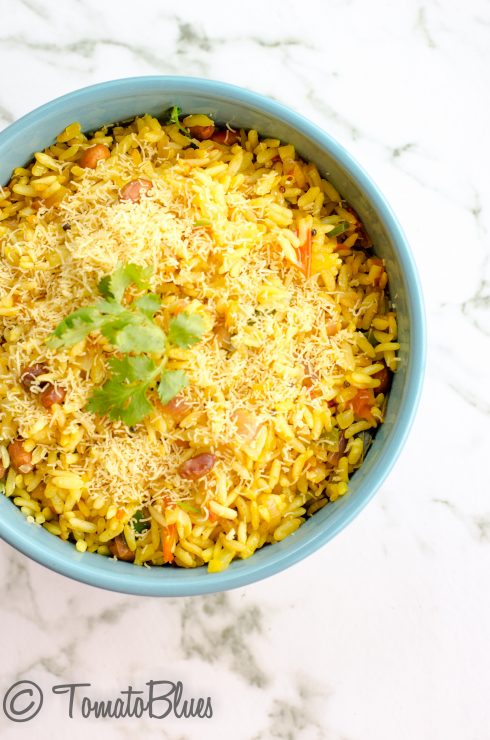 This is eaten in different ways in Karnataka. And i have our own version, replete with sev et al. Some people add powdered roasted gram dal (puttani/ pottu kadalai) to this. This is especially done if you soak your Mandakki for a long time and they become mushy. Skip this step if your Mandakki is not soggy.
If you are looking for more breakfast recipes, then check out all our recipes under the breakfast category.
Here s a small video from my Instagram profile on how to make Mandakki Ogarane:
https://www.instagram.com/p/BuNRKpUBSyd/
Recipe For Mandakki Ogarane (Pori Upma)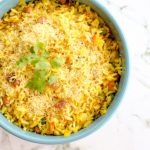 Print Recipe
Karnataka Style Mandakki Ogarane Recipe| Pori Upma
Mandakki Ogarane is a stir fry or upma made with Puffed rice (Pori/ Murmura). It makes a filling breakfast. Serve a light juice or fruit salad on the side to make it a complete meal.
Ingredients
Puffed rice

murmura, mandakki, Pori 4 c

Onion 2 largish chopped finely

Tomato 1 chopped finely.

Green chili 5 chopped finely

Curry leaves a few.

Peanuts 3 tbsp

Turmeric powder 1 tsp

Oil 1.5 tbsp

Mustard seeds 1 tsp

Urad dal 1 tsp

Coriander leaves for garnish

Lemon juice for serving

Sev for garnish
Instructions
Wash the Mandakki in running water and drain completely in a colander.

Do not soak it in water.

Heat a pan with oil.

Fry the peanut till golden first and drain.

Next, pop the mustard seeds and add urad dal.

When dal begins to brown, add onion, green chili and curry leaves.

Fry till onions become pink and soft. Now add chopped tomatoes, turmeric powder and salt.

Check for seasoning before you add salt because most Puffed rice( Mandakki) come salted.

Mix well.

Now add the washed pori and peanut to the pan. Mix well.

Garnish with coriander leaves and add the lemon juice. Mix well.

Garnish with sev and serve hot.
For Instant Pot & Air Fryer Recipes
Instant Pot timings may vary based on your geographic location. Air fryer settings and timings may vary based on the capacity and the model of the Air fryer.
Disclaimer
Nutrition values are provided here as a courtesy and are only a rough guide. Please consult a health care provider if you have any concerns.