How To Make Kadai Paneer, Restaurant Style?
Learn how to make kadai paneer just like the way they do in restaurants.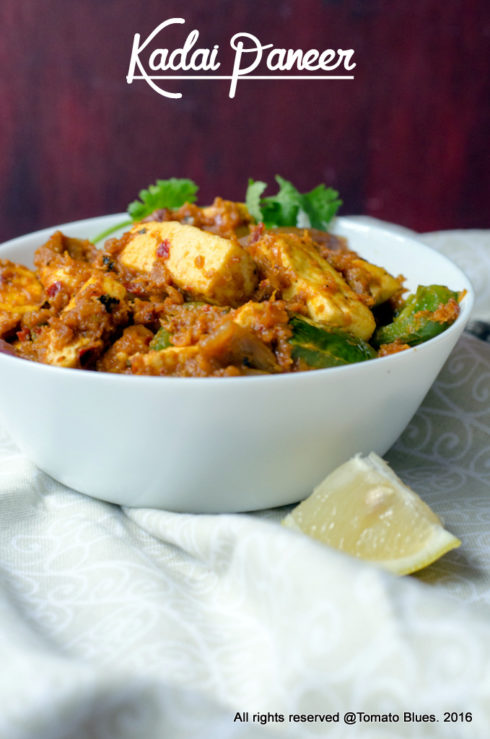 Kadai Paneer is a classic paneer side dish made with paneer and capsicums. I m yet to come across a person who doesnt like this spicy Kadai Paneer and Hot Roti combination. When i went shopping last week, i could not resist those fresh crisp bell peppers that were cutely sitting in the fridge at the super market. They were screaming "take me home and cook me up". I couldnt resist and i bought four of those beauties home. I decided to use them in kadai paneer  and the taste was so awesome. Must try totally!!!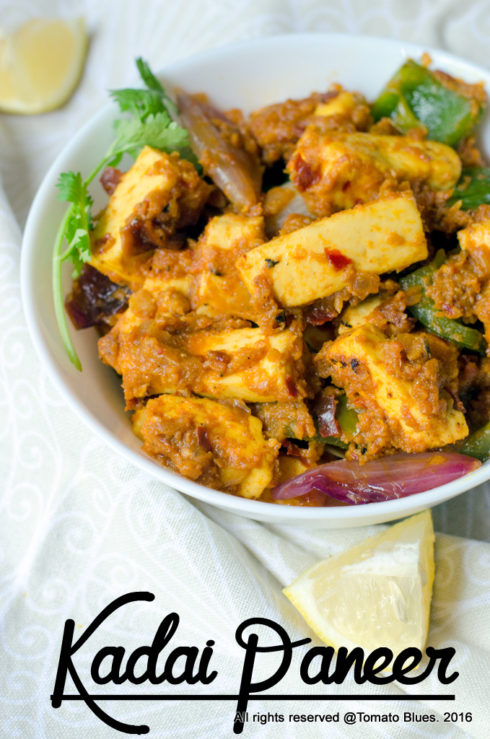 When i made Kadai Paneer the first time at home, something was amiss. I like the kadai paneer that they serve in restaurants and dhabas ( roadside eateries). And i knew they had a different technique. When i visited a dhaba that we frequent a lot, i asked the cook about their ways of making a good Kadai Paneer. This recipe is based on his version and it is simply lip smacking.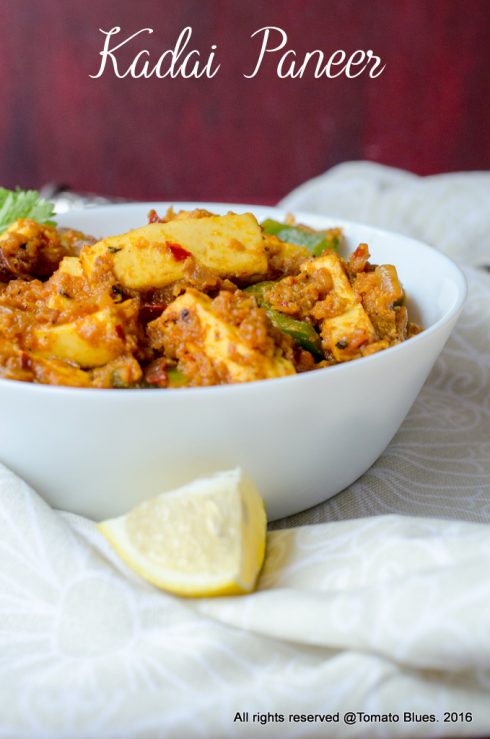 Recipe For Restaurant Style Kadai Paneer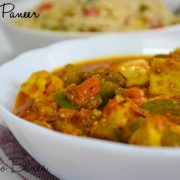 Print Recipe
Kadai Paneer Recipe
Kadai Paneer is a famous side dish that is served with rotis or flatbreads across India. This recipe is a restaurant style version of this popular gravy
Ingredients
Paneer cubed or cut into fingers 1 cup

Green bell peppers 2 small ones cubed

Onion 1 small cut into large chunks

Tomato puree ½ cup

2 small tomatoes pureed

Oil 2 tbsp

Salt as needed

Cumin Seeds 1 tsp

To be ground into a paste:

Onion 1 large

Garlic 3 cloves

Ginger ½ '' bit

Dry red chili 1

Spices Powders:

Garam Masala powder 1 tsp

Chilli powder 1 tsp

Coriander cumin powder 1 tsp

Turmeric powder a large pinch

For Garnish:

Chopped coriander 2 tbsp
Instructions
Blend together onion, red chili, garlic and ginger to a coarse paste without adding any water. Set aside.

Heat a pan with 2 tablespoon oil.

Add the large chunks of onion and bell pepper and fry till the onion turns pink.

Remove and drain on a kitchen towel,

To the same pan, add 2 teaspoon oil.

Once the oil is hot enough, crackle the cumin and add the ground paste.

Add salt to this and turn the flame to medium.

Cook till the paste turns a light golden brown.

To this paste, add all the spice powder and mix well.

Cook for 30 secs.

Now, add tomato puree and mix well.

Cook this mixture until oil leaves from the sides.

At this stage, add the paneer and fried onion and bell peppers.

Mix well.

Cook on low flame for about 2 to 3 mins

Garnish with coriander leaves.

Serve hot with rotis or naan