Sago is everybody s favourite here. Little translucent pearls. Make them into kichdi, upma, kheer or these crispy fritters, anyone will love them. I m not very fond of sago kheer. But anything else which has sago and i m jumping forward to grab a bite. I made these fritters long ago. I dont even remember when. That long ago. But it came out so well that i thought it will be a regular on our palate. But then , hubby launched into this crazy low carb fruits and fibres only diet. Imagine!! How can someone live like that?? Duh…. So sago fritters was forgotten. Then, when i was clearing up the picture folder on my lappie, i discovered these fritters and i thought, oh my god!! I ve not posted this…. I think that is prejudice.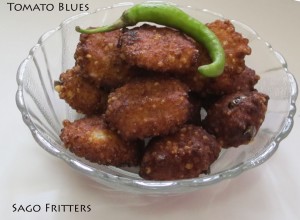 Recipe For Javvarisi Vadai
( Learn how to make Javvarisi Vadai, crispy crunchy fritters with sago pearls)
Prep Time: 1 to 2 hours
Cook Time: Under 20 mins
Yields 10 to 15 fritters


What you need?
Sago or sabudhana or jawarisi 1/2 cup
Rice flour 1/2 cup
Green chillies 4 to 5 chopped finely
Peanuts roasted 2 tbsp crushed roughly
Sour curd 1/4 and a lil more
Salt to taste
Grated coconut 2 tbsp( optional)
Oil for deep frying 2 cups
How to make it?
Add all the ingredients except the oil in a mixing bowl.
Start adding the curd and knead in to a dough. You just have to add enough curd to bind the mixture into a dough like mass.
Let it rest for an hour or till the sago becomes soft. Different varieties of sago take different times to soften. So adjust accordingly.
You will find that the dough is crumbly now. The sago absorbs all the curd so the mixture becomes crumbly.
Add a little water if you feel the dough is too loose to bring back the dough like consistency.
Make small equal size balls of the dough and flatten them to little discs.
Heat up the oil in a kadai.
Drop the discs in the oil and fry on low flame until both sides turn golden brown.
Drain on a kitchen towel.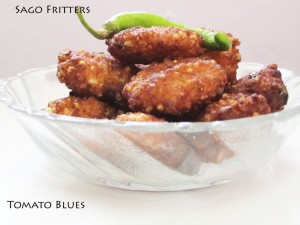 Serve hot with ketchup or mint chutney.