Growing up, i was never treated to sandwiches. My mother thought it a paltry meal that can only cater to my snacking hours. No, let me think. Even snacking didnt include sandwiches. Snacks included deep fried murukku, fruit salad, chaat or hot and spicy vegetable puffs from the nearby bakery. Amma definitely has something against
sandwiches
. Even today, she disapproves of me making sandwiches and eating them for lunch or breakfast. But obviously, i come from a different school of thought. I love sandwiches because they are filling and can be made in a jiffy. But what takes the cake here is that you can make it in so many different ways and sneak in any veggies that you want. In my case, i sneak in cheese cos Mr.P loathes cheese but it escapes his notice in a sandwich.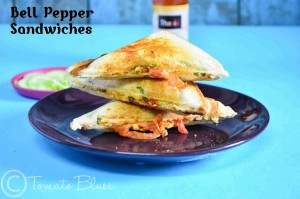 Lets talk some about today s sandwich. Now, if you all thought sandwiches are only synonymous to grilled cheese and pesto, i am about to change that thought. I dont follow recipes for a sandwich. Even salads too. I add what comes to my mind and strikes my fancy. And i have surprised myself each and every time. Because of the out come. This sandwich recipe is an indo chinese sandwich that i put together for lunch. The flavor burst simply took my tongue over. The soy and chili sauce lends a sharpness and heat to the sandwich but is balanced wonderfully by that cream cheese. The mint shines through all of this, making you crave for some more. Its not something one would normally come across in a sandwich stall but its something that you will love. As a snack box treat. As breakfast. As that tea time bite.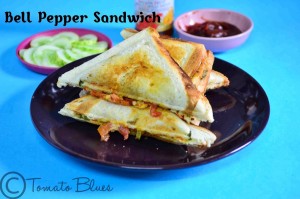 Recipe For Indo Chinese Bell Pepper Sandwich
( Sandwiches with bell peppers and indo chinese sandwich spread)

Prep Time: 10 mins
Cook Time: 10 mins
Serves 2

Ingredients
Sandwich bread slices 6 divided
Tomato 1 large sliced
Green bell pepper 1 small sliced
Butter 2 tbsp
For The Spread
Cream cheese 1/2 c softened
Mint leaves 10 shredded
Green chili sauce 1 tbsp ( I used Ching's)
Soy sauce 1.5 tsp( I used Ching's)
Oregano 1/2 tsp
Salt to taste
Directions
In a mixing bowl, combine all ingredients for the spread and mix well.
Apply 1 tbsp of spread on one slice of bread evenly.
Place a few slices of tomato and bell pepper.
Cover with one more slice.
Again apply the spread on the top slice.
Place bell pepper slices and tomato slices and place another slice over the slice.
Repeat with the remaining three slices of bread and spread.
Apply butter on both the sides of the sandwich and grill.
Alternatively, you can toast them on a griddle too.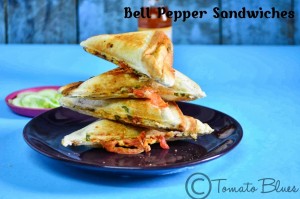 Serve hot with ketchup.
This is sandwich 1 for our Palooza In A Pan this month. We are making sandwiches and some fun stuff with muffin tins. Stay tuned.