Roasted egg curry is a spicy, piquant egg curry that goes well withflatbreads and rice alike. When it comes to eggs,i always make them only when Mr.P is not around for meals. He is not fond of eggs andi, well, can perhaps just live on eggs. I mean, what s not to love about a good oval egg, huh? Pretty much anything made with eggs or eggs made in any way floats my boat any time. And this curry comes to the rescue of my "hungry yet craving something delicious" many a time. I m now seriously wondering whyi haven't had the brains to share this recipe with you all before. I m not going to banter much.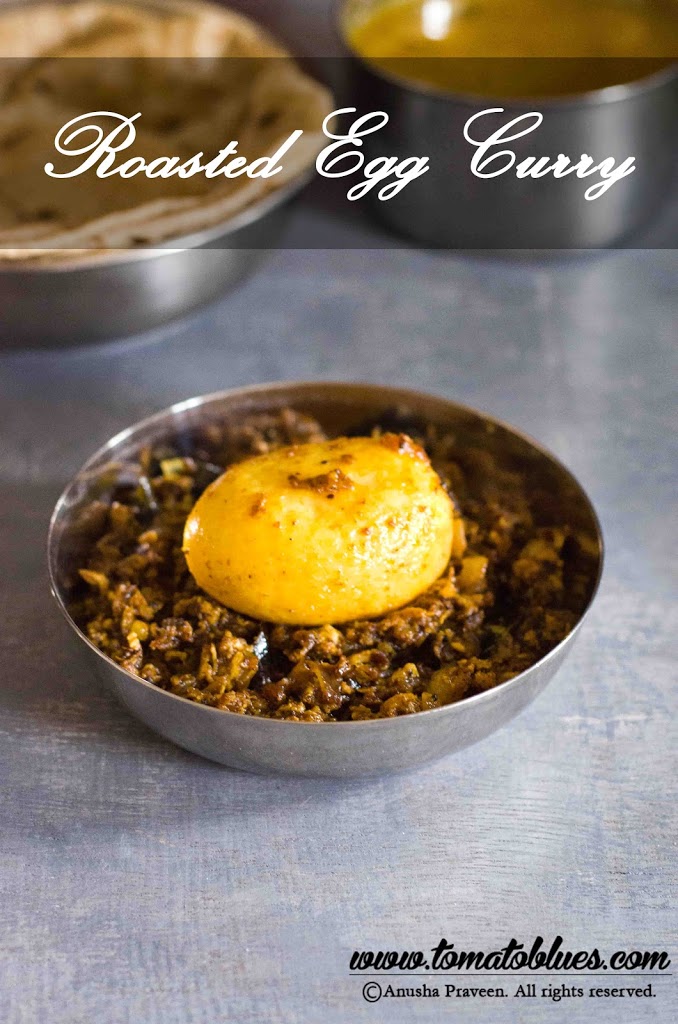 Ha. But i must tell you all how this recipe evolved in my kitchen. My very nosy very inquisitive stand in cook whom i had during my pregnancy taught me that eggs fried whole in oil can be lip smacking good. And then a friend taught me that tamarind and eggs sing to your taste buds when they come together. I just put two and two together, added a little of this and that and voila! this egg curry came to be. Now for the recipe.
Recipe For Roasted Egg Curry
( Learn how to make Roasted Egg Curry, a flavorsome egg curry with tamarind and freshly ground spice paste)
Prep Time: 20 mins
Cook Time: 20 mins
Serves 2 
Allergy Info: Gluten free, Soy free, Nut free
Course: Accompaniment, Side Dish
Cuisine: Indian ( South mostly)
Serving Suggestions: Phulkas, Sri Lankan Flavored Rice

Ingredients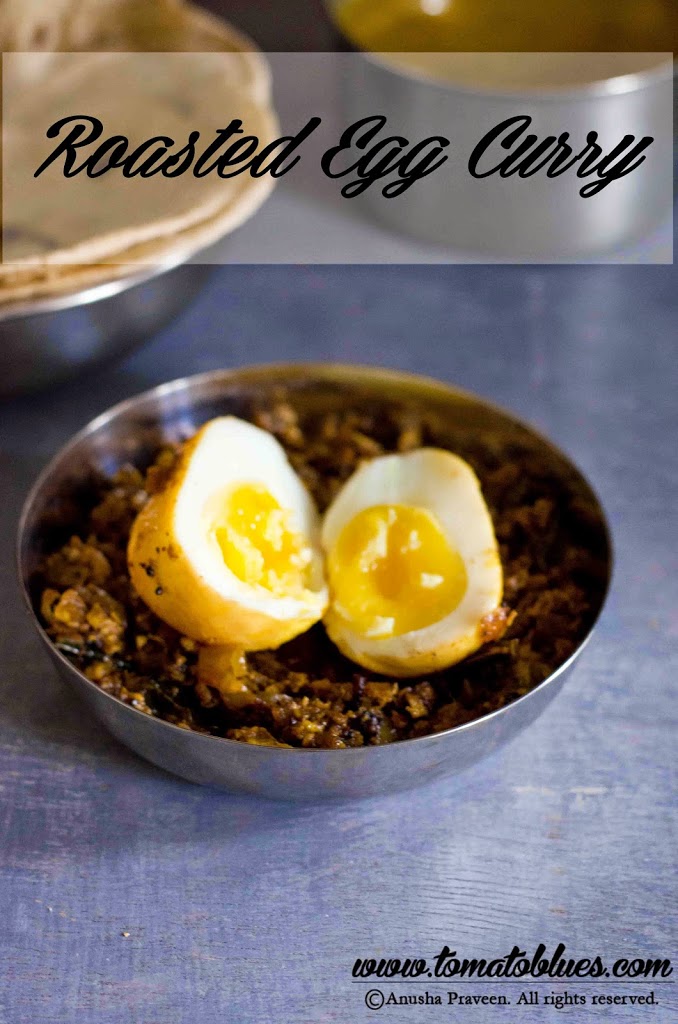 Eggs 2
Egg 1
Onion 2 medium chopped finely
Tamarind paste 1.5 tbsp ( see notes)
Ginger 1/2″ grated
Garlic cloves 3 to 4
Oil 3 tbsp
Chili powder 1 tsp
Salt to taste
Mustard seeds 1 tsp
Urad dal 1 tsp
Curry leaves a sprig
To Be Ground Into A Powder( See Notes)
Green cardamom 1
Cloves 2
Cinnamon 1/2″
Coriander seeds 1 tbsp
Fennel seeds 1/2 tsp
Pepper corns 1/2 tsp
Mace 1 small bit
Notes:
1. Hard boiled eggs work for this recipe perfectly. Do not worry if they are not thoroughly hard. A boiled egg that can hold its shape well will work just fine too. But then you may have runny yolk.
2. In case you dont have tamarind paste, substitute with 2 tomatoes finely chopped or 1 tsp of dry mango powder.
3. Mace  is nothing but nutmeg flower.
4. In case you want a really quick version of this curry, skip the roasting and grinding part and use 1 tsp of garam masala in which case, you can simply mince garlic and add it while you add the onions.
Directions
Place the eggs in a bowl and cover with just enough water to immerse the eggs.
Boil the eggs for about 5 mins on med high flame.
In the meanwhile, heat a pan and dry roast all the ingredients mentioned under " To Be Ground Into A Powder" list one by one until aromatic.
Let cool completely.
In the same pan, heat 1 tsp oil and saute ginger and  garlic until  garlic turns golden.
Transfer the same to a blender.
Add the roasted ingredients and blend to a coarse mixture without adding any water.
Once done, remove and transfer to a bowl.
Once the eggs are done, remove the shell and set aside.
Heat the remaining oil in a shallow pan.
Place the boiled eggs gently in the hot oil and fry them until golden.
Make sure you toss them gently in the oil to ensure that the egg is evenly fried on all sides.
Once done, remove and drain on a kitchen towel.
Pop the mustard in the same pan in the remaining oil and tip in urad dal and curry leaves next.
Now, to this  add chopped onions and grated ginger and saute till onions turn translucent.
Next add the tamarind paste and the ground spice powder along with salt and mix well.
Cook for about 2 mins or so until the raw smell of tamarind goes away.
At this stage, break the remaining egg and mix it into the mixture and cook till done. You must have a scrambled egg sort of texture in the curry.
To this add the roasted eggs and mix well but gently.
Let cook  closed for about 2 mins on low flame until all flavors merge well.
Once done, switch off flame.
Garnish with more curry leaves.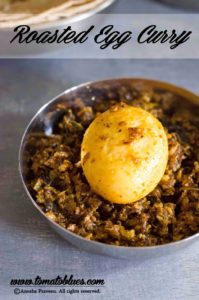 Serve hot.