While Mr.P is not very fond of the pennes and bowties, I have a fetish for pasta and the tongue twisting names that come along with them. It also happens that not only do I like the names but I enjoy eating pasta immensely. Because, its always a one woman meal affair when it comes to pasta, I hardly make it at home. In fact, it s been aeons since we even ordered pasta outside. But then, when I decided at the beginning of this year that I shall expand my culinary horizons to every bit possible, I sure did add cooking pasta to that list.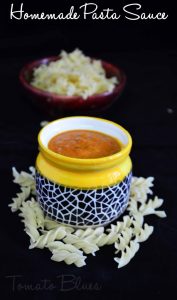 I ve seen many a pasta sauce in the aisles of supermarkets here. But I ve never fancied buying one of those tall jars for two reasons. One, I don't believe in buying hideously expensive jars that I ll probably open only once and then, frantically search for a space in my pantry to shove that jar in. And then there remains the fact that I enjoy cooking from scratch so much. In fact, I m so fond of making things myself that , I even bake bread every week. We stopped buying bread ages ago. Pasta sauce was no exception. And this time, I didn't even research for a recipe. Having eaten pasta in a few restaurants that serve authentic Italian, I remember the taste so vividly that I tried and recreated the same in my sauce. I followed no particular recipe at all and I cooked by my instincts. And I must say, I was more than happy with the results. The correct word would be euphoric. Yeah. That s how I felt when I popped a spoon of this sauce into my mouth. Euphoric.
Recipe For Homemade Pasta Sauce
( Sauce with tomatoes and herbs for pasta recipes)
Prep Time: 10 mins
Cook Time: 20 mins
Yields 1.5 cups
Level: Easy
Ingredients
Tomatoes 5 large ripe ones chopped finely
Onion 1 large chopped very finely
Garlic 5 cloves minced
Fresh basil leaves 2 tbsp chopped finely
Balsamic vinegar 2 to 3 tbsp
Sugar 1/2 tsp
Red paprika 2 tsp or chili flakes 1 tbsp
Oregano 1 tsp
Salt to taste
Olive oil 2 tbsp
Directions
Heat the olive oil in a pan.
Add the garlic and saute till it turns golden brown.
Next add the onions and fry till golden.
Now, add the basil leaves and fry for about 30 secs. Turn down the flame to the lowest.
Add the balsamic vinegar and sugar. Add the paprika or chili flakes next and saute for anouth 30 secs.
Follow with the chopped tomatoes next and add oregano. Add salt.
Now, cook the tomatoes until completely mushy and oil just appears on the surface.
At this stage, switch off the stove and let cool completely.
Once cooled, place the mixture in a blender and blend to a smooth puree. Blend a little less if you want a chunky sauce. But i like mine as a smooth puree. So i blended it completely.
Transfer to an airtight container and keep refrigerated until use.
This sauce keeps well for 2 to 3 days in the fridge.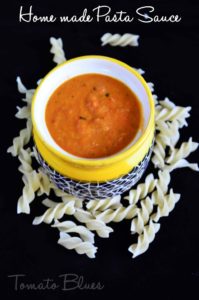 Now, how can you possibly use this divine sauce? Stay tuned for those ideas!