We are exactly a day away from Valentines Day. And these Home Made Strawberry Chocolates are a perfect gift to surprise your beloveds. They are easy and quick to make and they take less than 30 mins in the freezer to set. If you are short of time or gift ideas or if your beloved loves chocolates, then look no further. These chocolates make a wonderful gift.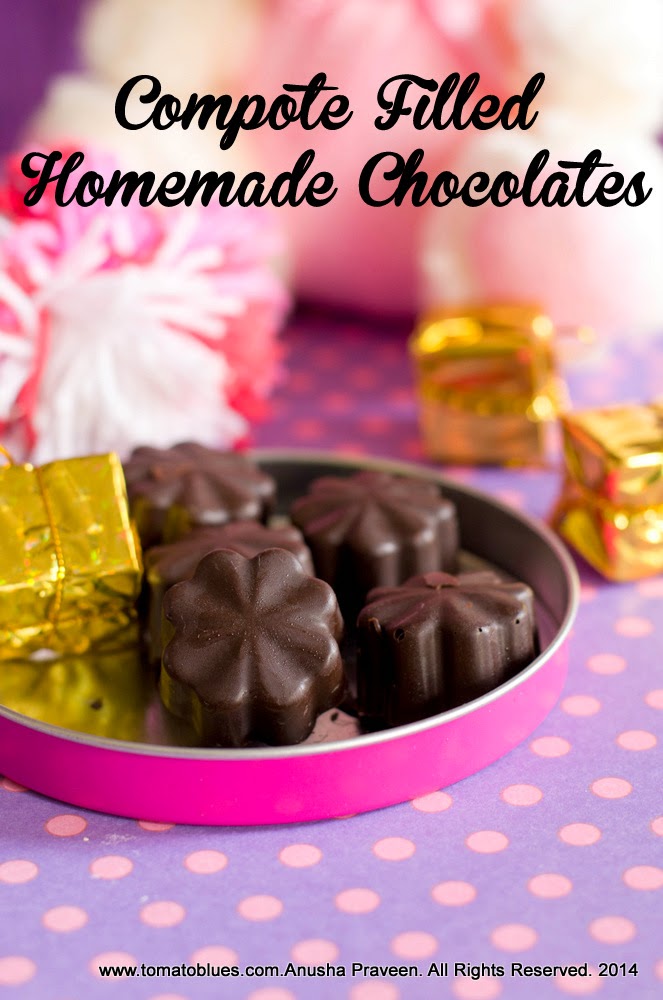 I was unable to click step by step photos for making these chocolates as Lil A simply refused to cooperate. Plus i had to work quickly lest the chocolate becomes cold and i may have to begin the melting process once again. But it really is simple if you follow the directions to the T. There s little chance that you can go wrong here. So yes, here s how to make Home Made Strawberry Chocolates.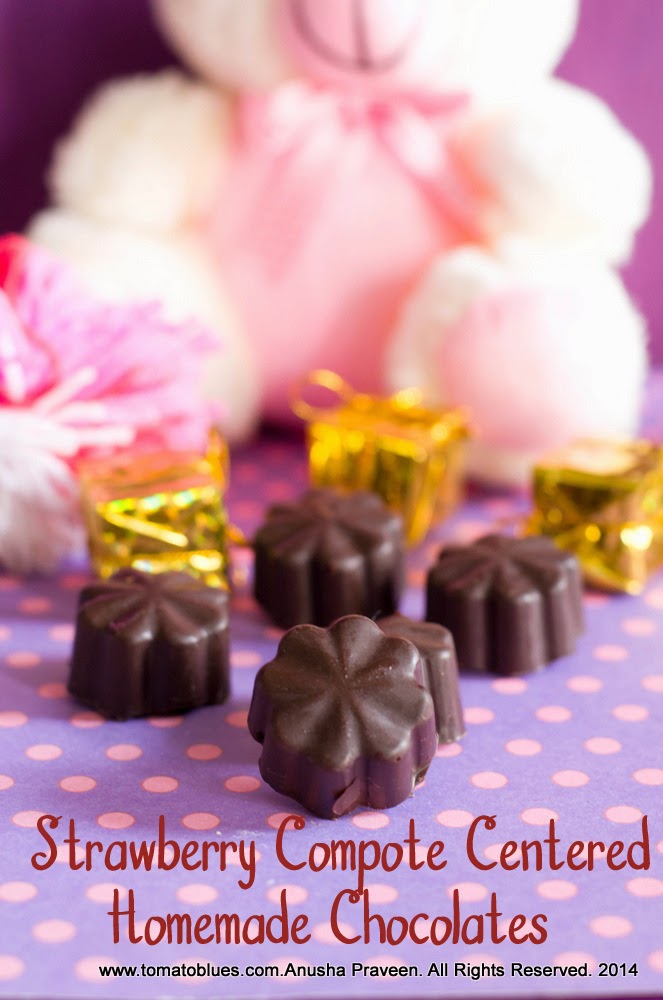 Recipe For Home Made Strawberry Chocolates
( Learn how to make Home Made Strawberry Chocolates, dark chocolate filled with strawberry compote)

Prep Time: 10 mins plus 15 mins in the freezer
Cook Time: 10 mins
Makes 18 chocolates
Allergy Info: Vegan*, Soy free, Nut free, Gluten free
Course: Dessert, Candy, Chocolate, Gifts
Cuisine: International

Ingredients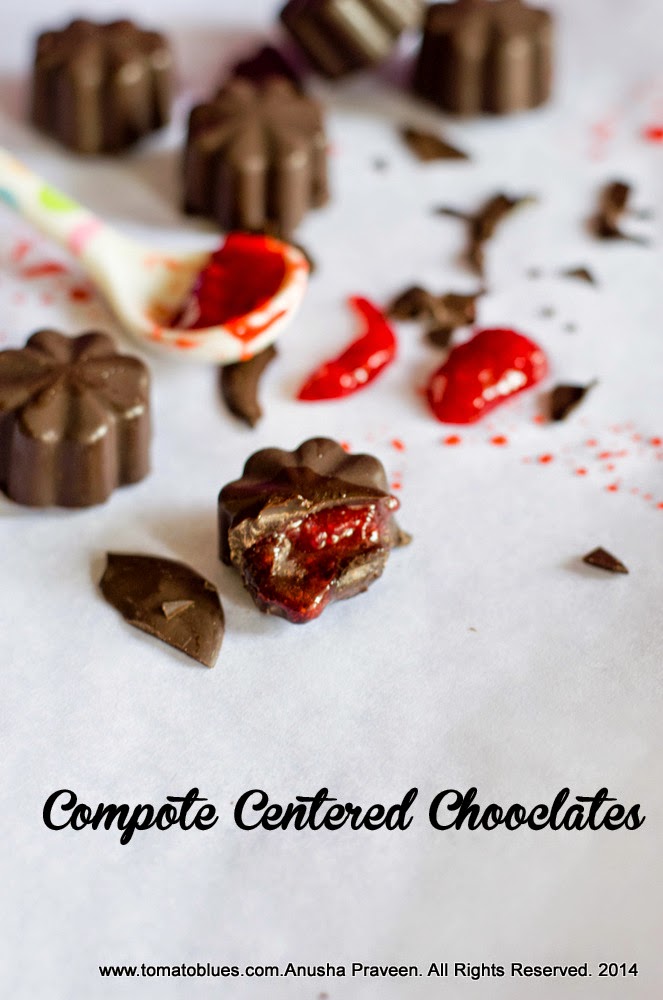 Dark cooking chocolate 125 g cut into bits
Strawberry Compote 9 tsp
Chocolate Making Mould
Notes:
Dark chocolates are generally vegan. But do read the ingredients on the chocolate box before you buy to make sure that it is vegan.
You may use strawberry jam here instead of strawberry compote. Works well too.
You may require a little more or little less chocolate depending on the size of the mould you use.
Directions
Prepare your chocolate mould and keep ready.
Heat a wide skillet with an inch deep of water.
Transfer the chopped chocolate to a stainless steel or tempered glass bowl and place the bowl over the water.
Once the water begins to simmer or boil slightly, switch off flame and let the chocolate sit in the water until melted.
Once the chocolate has melted whisk the chocolate once with a hand whisk. This is to make sure that any lumps in the chocolate get melted.
Now using a spoon fill the cavities in the mould to the brim one by one.
Once full, invert the mould over a bowl.
You can see all the chocolate dripping and falling out.
The concept here is to create a shell and we are creating the outer shell here.
Once the chocolate has fallen out, place the mould in the freezer for 10 mins to set.
In the meanwhile, place the melted chocolate over the hot water in the skillet.
After 10 mins, remove the mould from the fridge.
Again fill each cavity with 1/2 tsp of Strawberry Compote. 
Cover this with the melted chocolate completely by spooning the chocolate into each cavity until full.
Once done, place this in the freezer for 10 mins to set completely.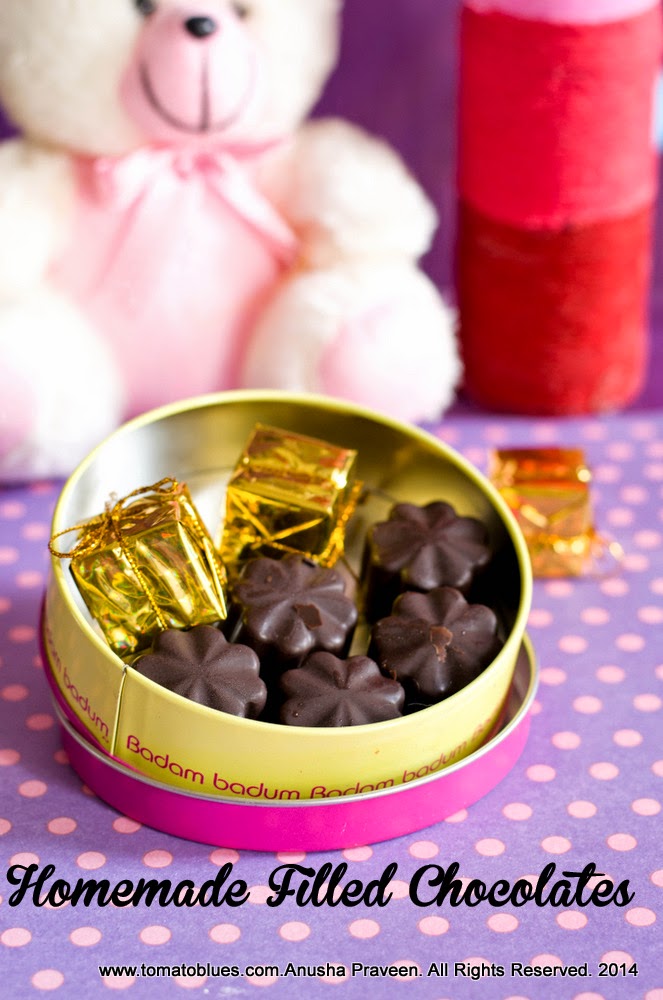 Once set, transfer to the fridge and keep chilled till ready to serve.