Do you know what is to love about that short span of time between autumn and winter? You get the best of both in this short while. Ripe plump deep red tomatoes, bunches of crisp spinach, snowy whiteDaikon radishes, fragrant oranges, chubby sweet potatoes and bunches of  fresh green garlic. If you are a garlic lover and have not tasted green garlic yet, this post is going to change your life. Its going to make you love garlic with a passion, well heightened passion, that is.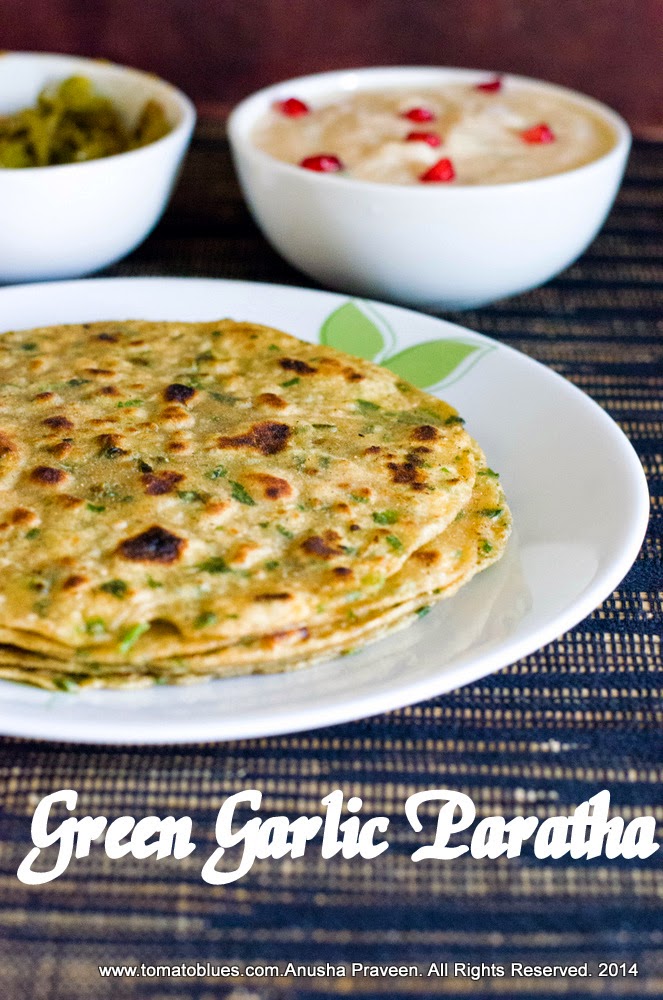 I have not had the fortune to come across green garlic while in South India. But the western and north India is a different story altogether. You step into the local farmer's market and you are greeted by an assortment of fragrances and flavors but the fresh mint and young green garlic are the magic here. The fresh mint for that gorgeous green and green garlic for those tender white roots in the bottom and crisp pungent stalks on the top. I really have no idea how this is used in the Gujarati cuisine. But i decided to experiment with this in a few recipes. The first in that venture are these parathas that i made using tender green garlic shoots. I did not use the white bulbs and reserved it for another recipe. And these tasted garlicky, delicious and gratifying to the winter soul. This is not a stuffed paratha so it must prove easy to make even for newbie cooks.
Recipe For Green Garlic Paratha
( Learn how to make Green Garlic Paratha Recipe, a vegan flatbread flavored with tender green garlic shoots)

Prep Time: 10 mins
Cook Time: 15 mins
Yields 10 medium parathas
Allergy Info: Vegan, Vegetarian, Soy free, Nut free
Course: Mains, Breads
Cuisine: Indian ( North)

Ingredients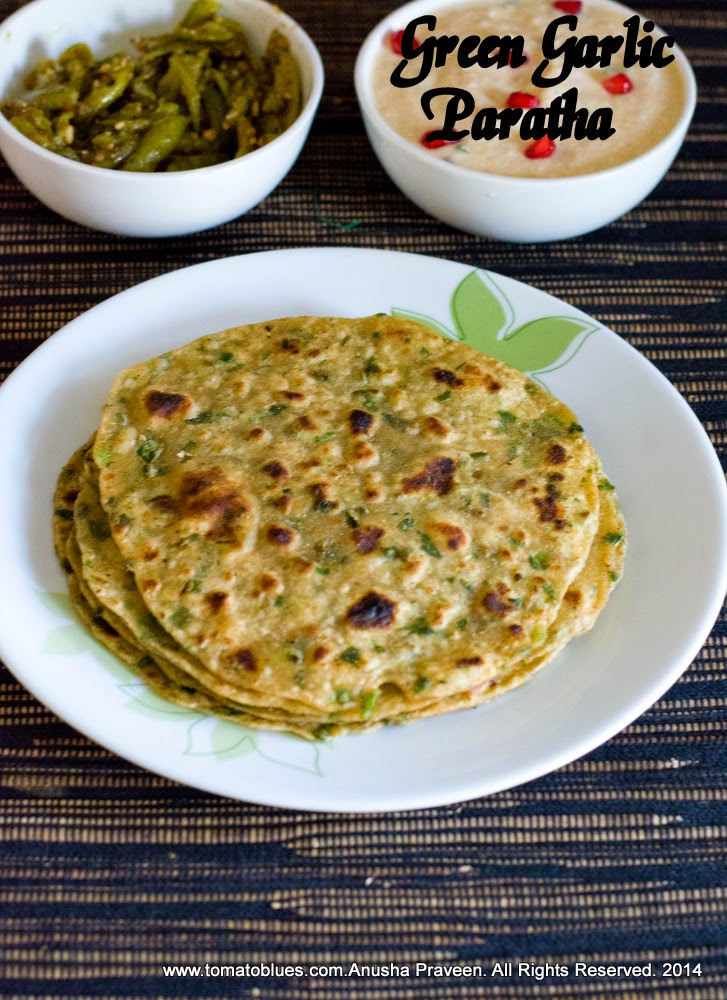 Whole wheat flour 2 c
Tender green garlic shoots 1/2 c chopped finely
Green chilies 3 minced finely
Coriander leaves 3 tbsp chopped finely
Salt to taste
Oil 2 tbsp plus more to cook
Water as required to knead
Wheat flour for dusting
Note
1. You can also add one finely chopped onion to the dough for a variation.
2. Addition of sesame seeds is recommended if you want a slight crunch to your parathas.
Directions
In a mixing bowl, combine wheat flour and salt using a whisk.
To this add the chopped garlic, chilies and coriander and mix again until the flour has coated the herbs well.
Make a well in the center of this mixture.
Pour the oil in the well.
Now addd water gradually and knead to a make a smooth soft dough. I should say it takes about 1/2 c to 2/3 c water to reach this stage.
Once done, divide the dough into 10 equal parts.
Shape each part into a smooth ball.
Now, to roll the parathas flatten a ball of dough slightly with your hands, dust lightly with flour and roll into a thin circle that s about 7 inches in diameter.
Repeat for the remaining dough.
Heat a girdle.
Place the rolled paratha on the tawa and cook for about 30 secs.
Flip, smear a little oil on the cooked side.
Cook for another 30 secs.
Again flip and smear oil on the other side.
Now, flip again and cook for 10 secs more.
In a similar fashion, cook the rolled out parathas.
Once done, serve hot with pickles.